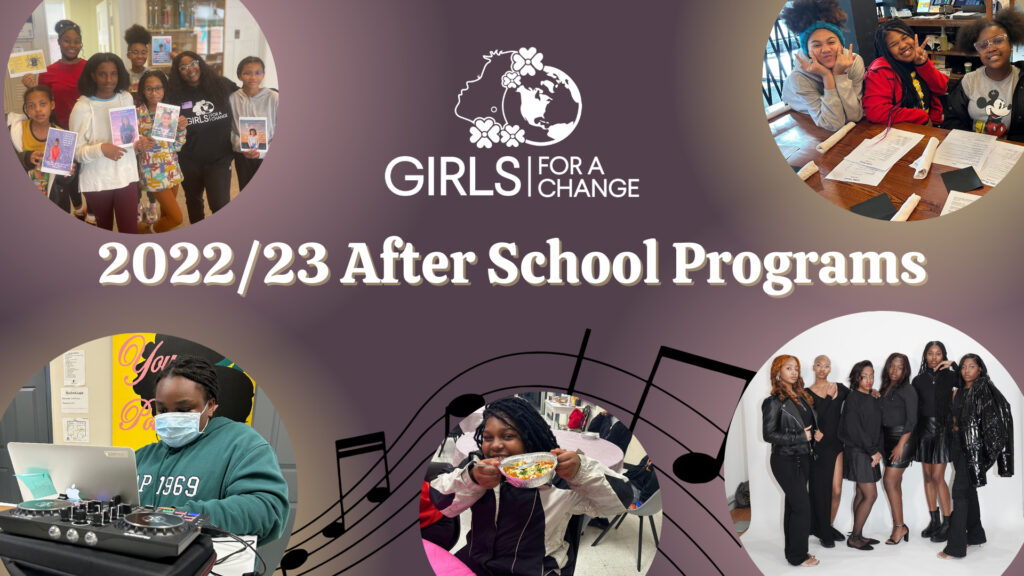 Closing Gaps through Disruptive Innovation
Every year we reflect on our after school programs to recap and celebrate the achievements and stick-to–itiveness of participants. The 2022-2023 school year was especially profound for us as an organization. This year, our partnerships ran deeper as we dreamed up our Girl Action Team projects and program themes, with intention going into the experiences we offered. As we navigate what it means to co-create with Black girls and truly meet their needs, there are certian patterns we see – a lack of representation in fields that should not exist.
This school year, we focused on creating pipelines and access to more fields where Black women are not seen. If it's all about access and exposure, then we're going to bring it. And we're going to do it on our own terms, in our own way.
In business, the phrase "Disruptive innovation" refers to innovation that makes expensive or high tech products more affordable and accessible to a broader population. We are taking that concept to a whole other level by transforming career pathways for Black girls. By exposing them to new careers, offering skill based learning, and access to people who look like them in those fields. Here's a look at our projects and programs this past school year.
Recipes for Success: Culinary, Culture, and Change
Knowing the basics of cooking is an essential skill that can change your relationship with food and the way you nourish yourself. Our Recipes for Success Girl Action Team provided participants with knowledge from local chefs on how to cook essential foods and desserts, how to begin a career in culinary arts, food science hospitality food service management, and how food is strongly connected to culture.
This Girl Action Team addressed two problems in one: the lack of diversity among chefs and food scientists and the disconnection often found in marginalized communities between healthy food choices and cooking skills. Our connection with food and culture dove deeper with the help of Happily Natural Day, where we explored urban farming and agriculture, connecting the earth and its bounties with our plates at their urban farm, Sankofa.
After learning about food history and culture and discussing the issues faced in our communities around access to healthy foods, this Girl Action Team came up with the following "Recipe for Success":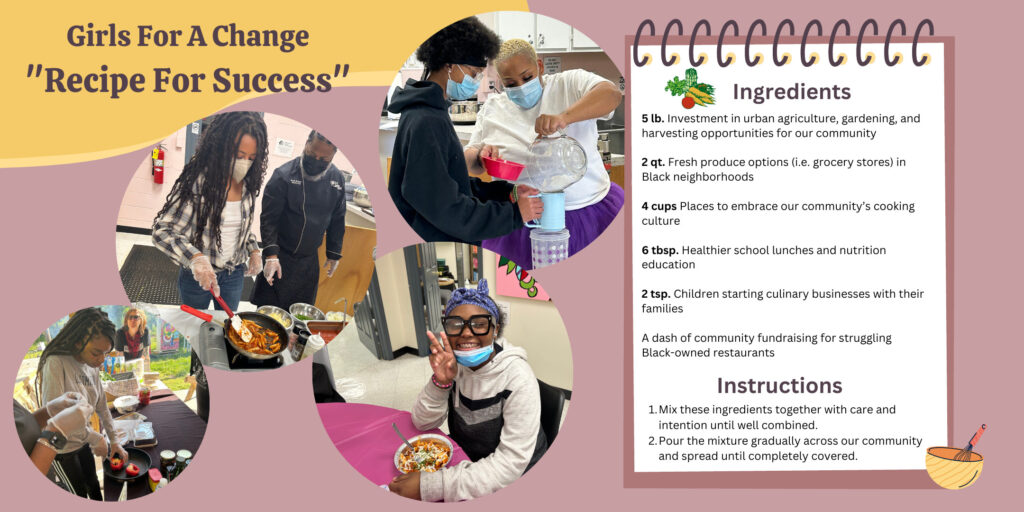 We want to thank all of the chefs and food industry professionals who spent time sharing their career journeys and knowledge with our Recipes for Success participants: The Kitchen Magician, Happily Natural Day, Fat Rabbit, Vegan Action, Favour Cookie Company, Lille Pearl, Fancy & Spicy, The Roosevelt, and Cupcakes by Shyla.
Girls Drop Beats Too
Music Can Change the World and is the perfect partner for social change. But the music industry has a series lack of representation when it comes to DJ's. Our Girls Drop Beats, Too Girl Action Team tackled the male dominated industry head on by learning the skills of the trade. Yet another pipeline of young, female DJs are headed to the Richmond music scene thanks to this Girl Action Team!
During the 12-week class, participants learned the fundamentals of DJ'ing and mixing with contemporary electronic music and Hip-Hop techniques from Coach/DJ Layla Janell, as well some other amazing DJs at BlendMasters DJ Services. In addition to learning professional DJing skills, participants boosted their confidence, refined their presentation skills, learned business fundamentals, and got hands on with technology and sound engineering. Girls created their own DJ persona and learned what it takes to open doors for paid DJ gigs. Look out, these ladies are equipped, and ready to spin!
VMFA Girl Action Team – A Story Untold
Another area we see lack of representation and engagement is within the museum space. We've been partnering with Virginia Museum of Fine Arts for three years now to change that, opening up doors to engage with Black girls and their families and show that we deserve our place in the exhibits and narratives.
This year's VMFA Girl Action Team worked in tandem with an exhibition about Frederick Douglass and Anna Douglas: Discover The Hidden History of Anna Murray Douglass. Participants discussed Black women, like Anna Douglas, who have been hidden in history and left out of the narrative. That neglect is in part due to the paucity of materials available on Anna; she was largely illiterate and left behind few physical traces of her life, whereas Frederick wrote thousands of letters and multiple books. But without Anna, Frederick may never have achieved such fame for his abolitionism—or even escaped slavery.
Participants discussed suppression, the movie "Hidden Figures" and created their own expression of it. They also had discussions around finding your power when you feel hidden and unseen. Below is their final project: a visual representation of what it feel like to be unseen vs. seen. Among the three heads, one woman feels suppressed and unheard and the other two heads were supporting their sister.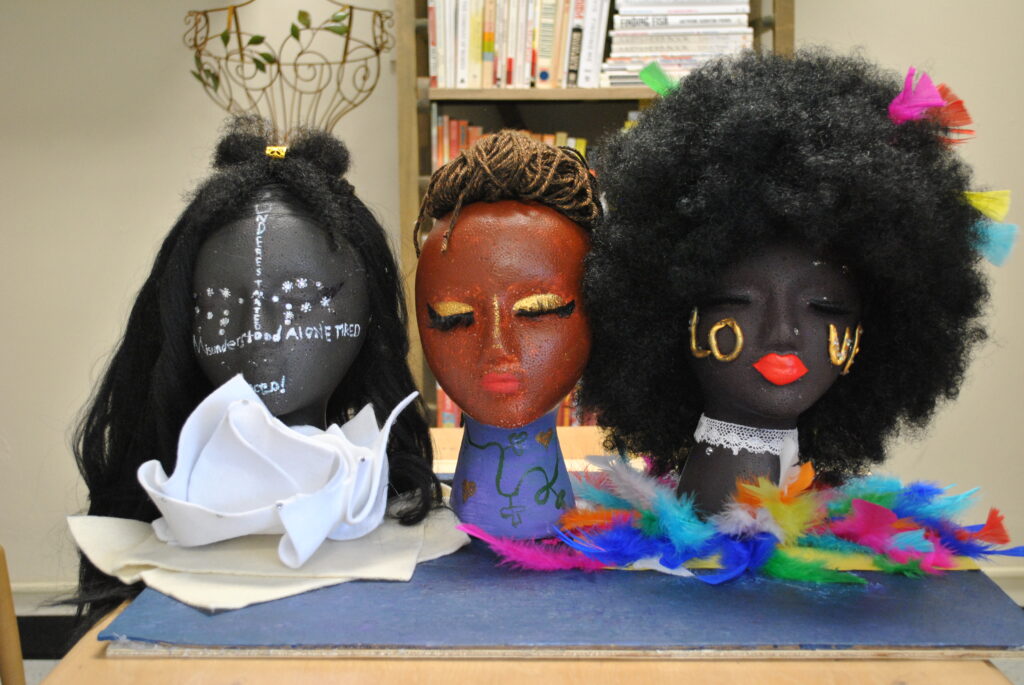 Meadowbrook High School Girl Action Team
Meadowbrook's participants addressed the lack of Creative Arts Education in public schools and that they are constantly on the cutting block. With the nation's current economic woes, the student discussed how to prepare for even deeper cuts. They used their voice to demonstrate that Meadowbrook was a school with creators and visionaries that deserve arts and humanities (central components of a productive society). Participants shared that neglecting the study of the arts put our community at risk of failing to provide our society with the skills and attributes needed to prosper in the future.
The Look, Learn, and Live Multicultural Fashion Symposium & Show was open to Meadowbrook High School Students and celebrated fashion, culture, and identity across the world. The event included guest speakers from professionals in creative fields like fashion, communications, music, and makeup who hosted workshops and shared tips with participants. The day also included a job fair with DTLR, our event sponsor.
Meadowbrook Highschool was such a blast! We have a FREE two week program this summer for Meadowbrook High School girls of color. Learn more about the Meadowbrook High School Girl Ambassador Program here.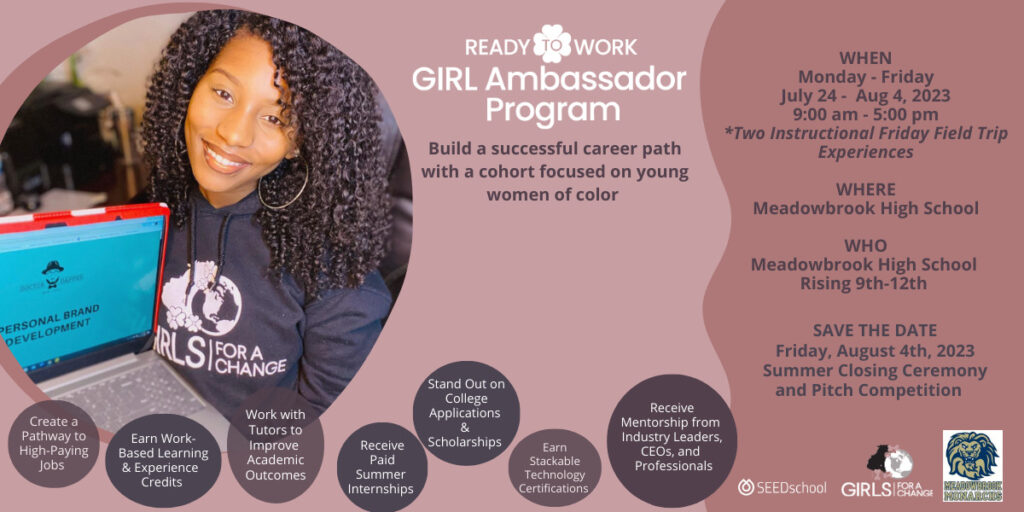 Thomas Jefferson High School Girl Action Team
Representation within the fashion industry is what helps girls form their own ideas of beauty and self-expression. Black representation, while it is progressing, is not where it should be. The Thomas Jefferson High School Girl Action Team worked to change that by bringing the community together with a Fashion Show like no other in partnership with RVA Fashion Week!
"Show Up, TJ and Secure the Bag" was a call to action to create change in the fashion industry while also showcasing the creativity that flows through Richmond Public Schools and uplifting school spirit through style. The show's title sponsor was national lifestyle retailer DTLR.
The event, which was officially part of RVA Fashion Week, was the result of months of work uncovering challenges in the Fashion industry and creating a social change project to bring about awareness, introduce solutions, and inspire their peers to drive innovation with better decision-making and more opportunities in the Fashion Industry. Participants spent the school year meeting with designers, artists, entrepreneurs, and other creatives to develop repurposed pieces as a collective project that expresses fashion as a message for social change and represents their perspectives on the intersection of fashion and culture.
"Working with the Girls For A Change team and witnessing how they inspire, motivate and challenge their girls in this fashion industry as well as teaching them how to navigate through the necessary steps and processes has been unbelievable. These types of stepping stones are what turn into milestones as they continue to grow and explore. These girls are very bright and very passionate about their craft and I cannot wait to see all of their hard work come to fruition on Tuesday, April 18th at Thomas Jefferson High School!" – Jimmy Budd, Executive Producer, RVA Fashion Week
Beyond the runway, there was a panel of local talent, and an opportunity for students to engage with local designers and creatives during the school day. The event was a success, bringing out local media, fashion icons in the community, students, and parents. Participants even received a letter from Mayor Levar Stoney, commending them for bringing the community together and putting on a spectacular event!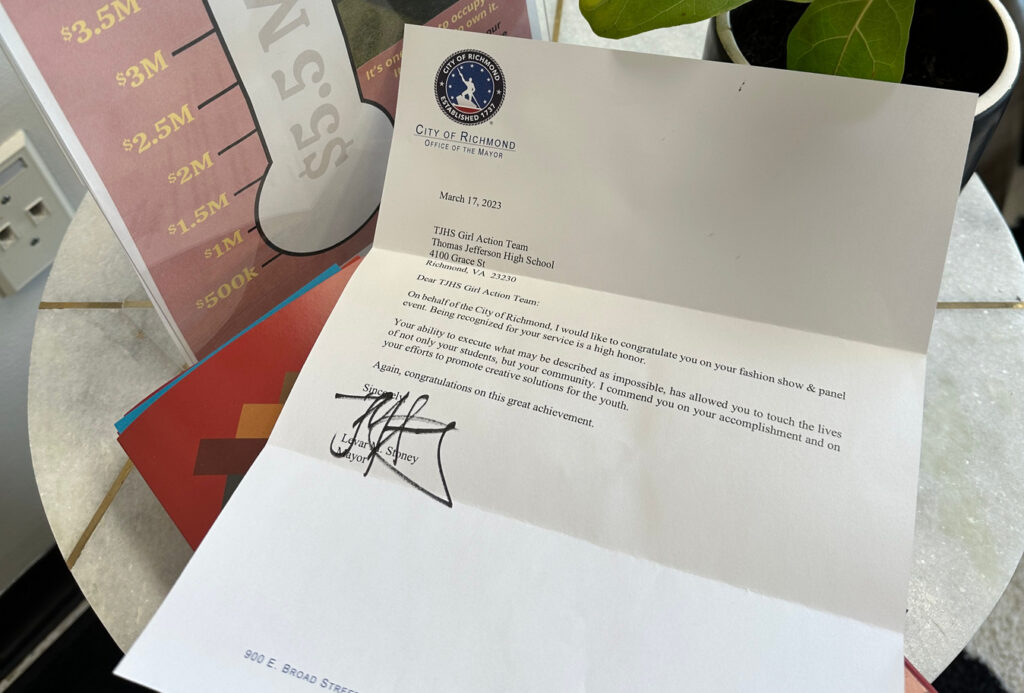 Orchard House
With guidance from the 'Finding Her Voice' curriculum, the Orchard House Girl Action Team discovered new and impactful ways to be agents of change. The girls worked through journal exercises, tackling topics like intersectionality, body image, stereotypes, identity, and more. For their final project, they created "I AM" posters as affirmations for healing and purpose, and affirmation of who we are, who we want to be and how we want to feel.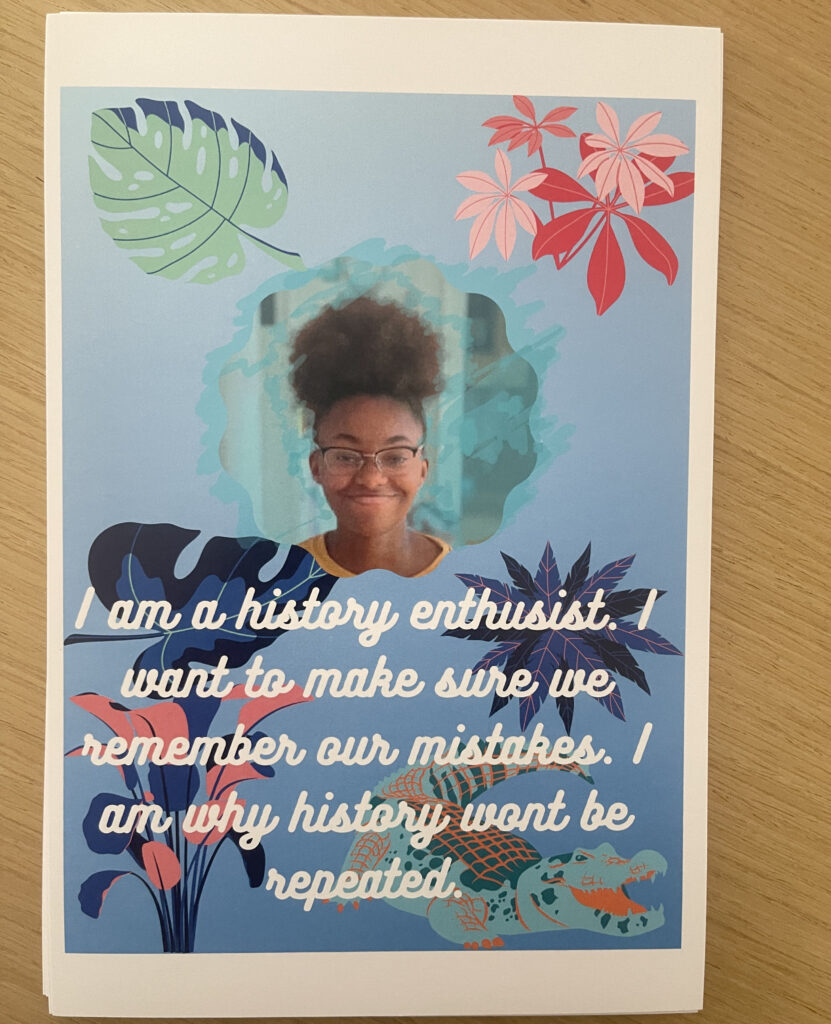 Immersion Lab at GFAC Branch
Since 2020, the number of Black owned business owners has declined by 40%. Entrepreneurship should be accessible to anyone who has an idea and a dream to work for themselves. Our Immersion Lab is here to ensure future Black entrepreneurs have the support they need on their path to success. Immersion Lab participants learned from entrepreneurs and professionals in the community, worked on their business pitches, portfolios, and got a chance to invite other youth entrepreneurs and Black food trucks to showcase their businesses and sell their products at our Show Up, TJ and Secure the Bag Fashion Show.
L. Douglas Wilder Middle School Girl Action Team
The L. Douglas Wilder Middle School Girl Action Team tackled the STEM experience (or lack thereof) for Black girls through a partnership with SciGirls. They used the Finding Her Voice Curriculum to examine the negative messages we're told as girls that discourage us from pursuing careers in STEM. They also used the SciGirls curriculum to go through STEM activities and come up with their own social change project that shined a light on the issues and encouraged girls to pursue STEM fields. Participants came up with messages of encouragement to help girls find their voice in STEM spaces and change the narrative. They also started conceptualizing a STEM Fair to help engage girls in STEM while also affirming their voices in STEM.
Fairfield Middle School Immersion Lab Mini Series
Entrepreneurship skills are beneficial no matter what path in life you choose. It's important to share those skills and messages of encouragement with girls early on. That's why we started the Immersion Lab Mini Series. Participants at Fairfield Middle School were introduced to artistry and business ownership with the help of Nappy Nerd. They discovered what they liked to make, how to build a brand and market it to the community.
We're excited about taking these ideas to Camp Diva this Summer! Fairfield participants were invited to join us at Camp Diva to continue exploring entrepreneurship and learn more. We've invited professionals from the community to judge the final products during our Annual Market Day on Wednesday, August 2nd from 4:00-7:00pm (open to the community). The winner will get to vend at the Richmond Night Market.
Highland Springs High School Immersion Lab
Our Highland Springs Immersion Lab discussed the lack of information about starting a business. They got to work planning an overnight Business Fair for Girls in Business to have a fun, engaging experience for their peers. They plan to invite Henrico girls interested in exploring entrepreneurship for workshops, speakers, a DJ, and more at The Oak. Attendees of the event will learn a simple framework for starting their own business and engage with successful business owners from the community. We're excited to launch this program at Highland Springs and get girls engaged in entrepreneurship.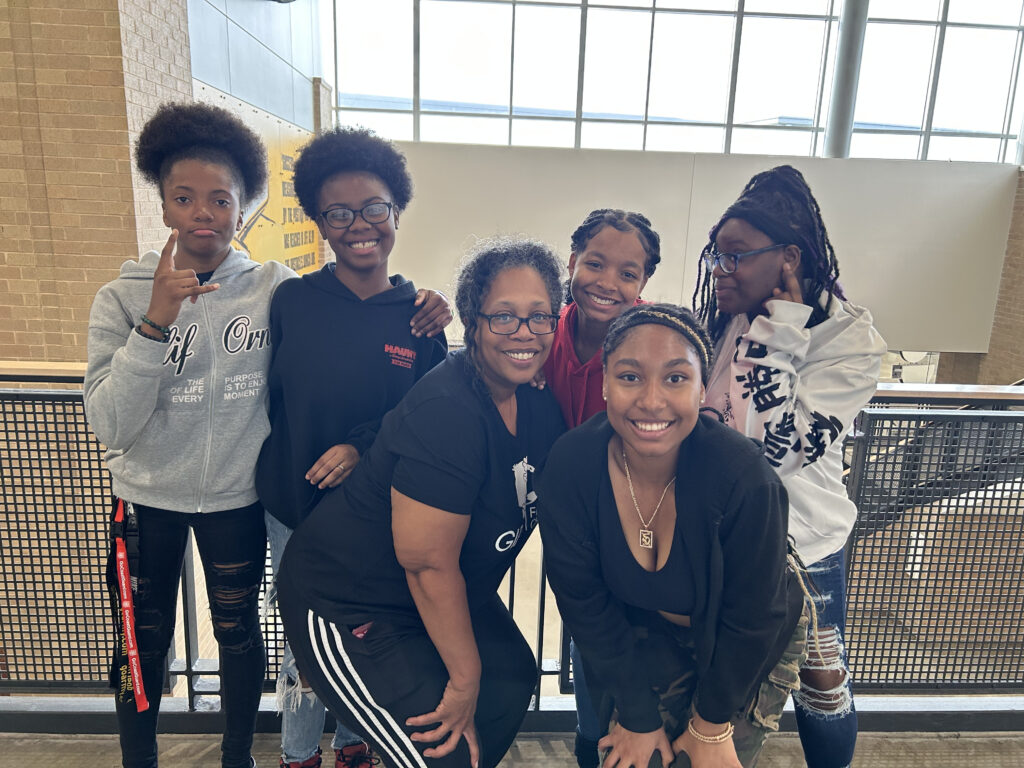 Albert Hill Middle School – Don't Toss Those Old Sneakers
Nappy Nerd knows a thing or two about sneaker design. She took her skills to the Albert Hill Middle School Girl Action Team to teach them about sustainable fashion and sustainable fashion businesses through sneaker design. Their final project was to design sneakers of their own.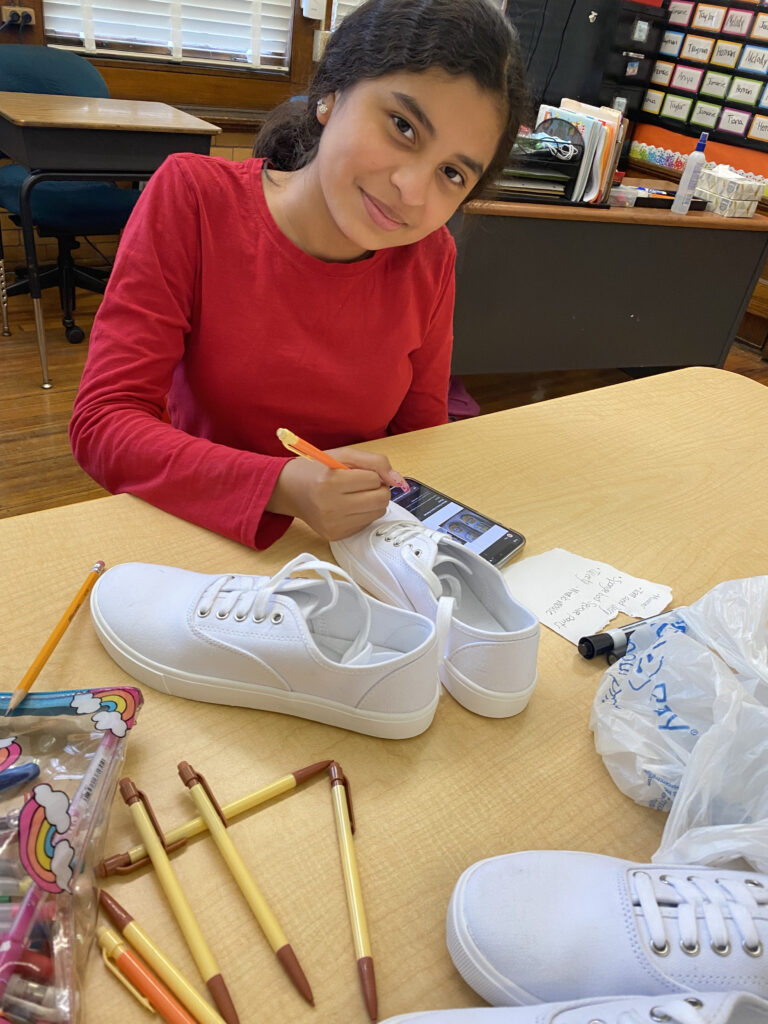 Girls Who Code: Power On !
This semester, Girls Who Code learned how to create digital art using Javascript coding language. Javascript is a powerful to know because it's in a lot of technology we use everyday. Participants got hands on practicing and using the design process, got to know a range of Black and female-identifying designers and artists, and created digital art of their own.
Did you that women's representation in tech companies with more than 10,000 workers stands at 26.2 %? We engage girls in STEM experiences early on to disrupt the constant criticism, negative messages, and underrepresented voices in STEM. We make it fun and exciting and we bring in women from all backgrounds who work in technology and science to show representation.
As you can see, Girls For A Change had an action packed School Year! Stay tuned to learn more about our upcoming Fall programs and opportunities. Programs will be available at multiple sites to give more Black girls access to STEM education. GFAC will also have job opportunities for individuals seeking to facilitate technology courses to increase gender, racial and ethnic diversity. Sign up for our Newsletter to register for our programs this fall.
Save the Date: Black Girl Rally
Our Annual Black Girl Rally brings together community members, leaders, dynamic speakers, and our youth. This signature event is a GFAC tradition that teaches Black girls and their supporters how they can create change in their neighborhoods, cities, and schools. In addition, participants will get a sneak peek into GFAC's programs, a taste of that Girls For A Change energy and culture, and a chance to join the movement. The Black Girl Rally is designed to get participants excited about recognizing and celebrating Black women and girls, engaging in their schools and community, and expanding their network.
Save the dates:
Friday, October 6
Saturday, October 7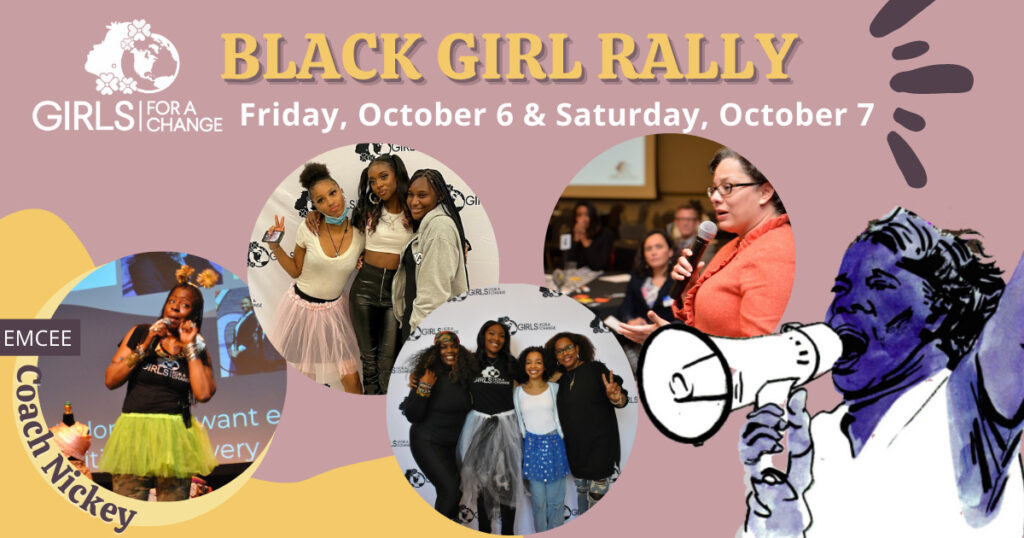 Be a coach
Want to be a Girls For A Change Coach next academic year 2023-2024? Being a Girls For A Change Coach means working with a team of girls (Girl Action Team) between 12 and 24 weeks (Fall and/or Spring semesters), supporting them in designing and implementing a social change project, and, most importantly, demonstrating to girls that they're important and powerful and that they can change their world. GFAC offers training, staff support, and a manual to support you during the fall and/or spring semesters.
Coach Fee: $25