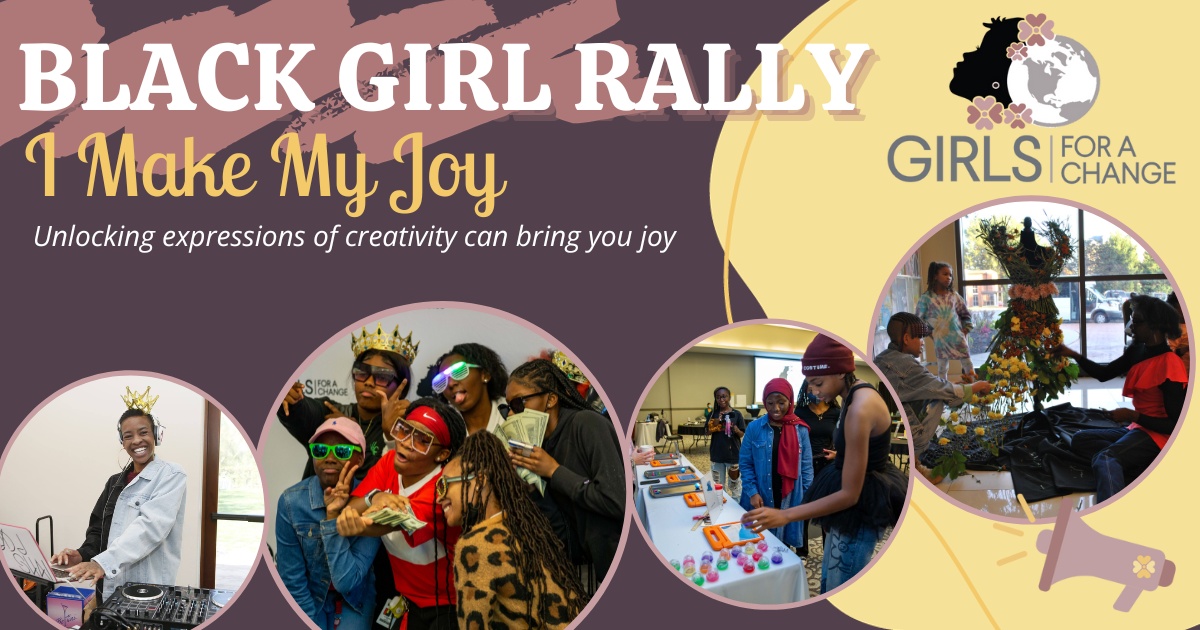 NOTE: Discounted group sales of 8 tickets are available in Eventbrite. Look for the Black Girl Rally Youth Group Tickets option.
Girls For A Change Annual Black Girl Rally Returns!
When: Friday, October 6
Where: Virginia Union University's Living and Learning Center, 1813-1899 Bath St, Richmond, VA 23220
Join us for our signature event, a cherished GFAC tradition aimed at empowering Black girls and their supporters to create positive change in their communities. The event will be a day of learning, networking, and exploring solutions, fostering excitement and a commitment to supporting Black girls in our community.
Daytime: The Joy Market, open to everyone, focuses on community solutions and promoting unity.
Evening: Exclusive activities for girls in rising 6th through 12th grades offer a glimpse into GFAC's programs and culture, encouraging them to join the movement.
Experience the energy, the culture, and the spirit of change! See you at the Rally!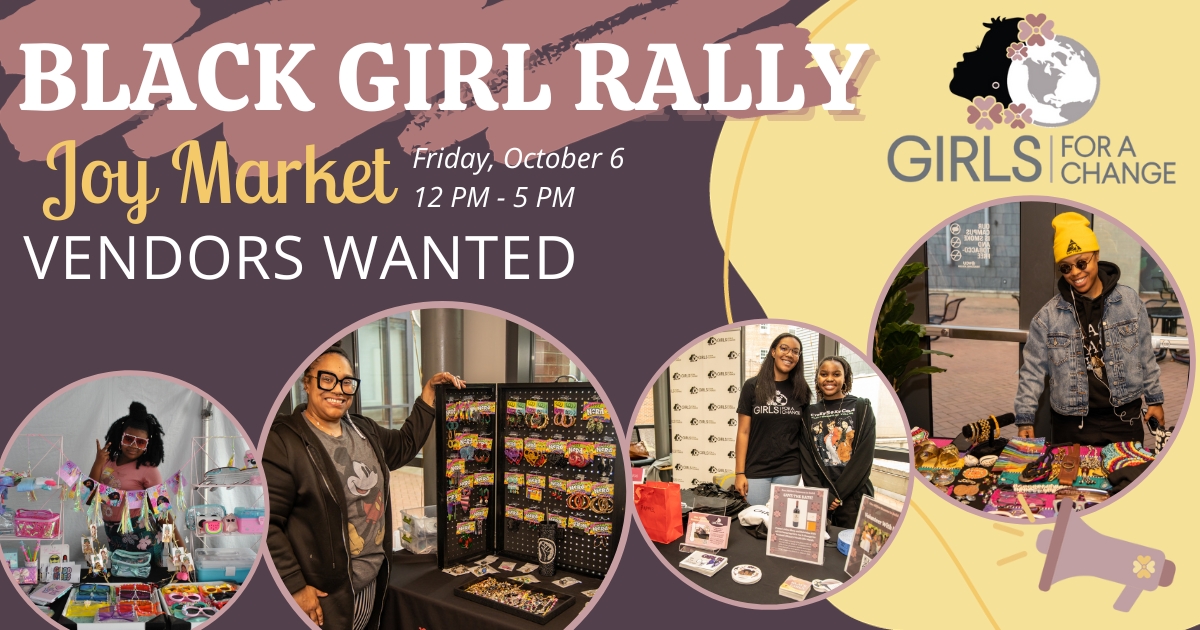 Calling All Vendors for Our Joy Market!
We invite you to join us as a vendor at the Joy Market, part of our Annual Black Girl Rally!
Date: October 6th, 2023
Time: 12:00pm-5:00pm
Location: Virginia Union University's Living and Learning Center
How to Participate:
Please complete the 
application form
 if you are interested, and be ready to provide the following information:
Business Name

State Tax ID

Vending License

Business Logo

$50 Fee (please indicate your preferred payment method)
We look forward to your participation and to making this event a success together!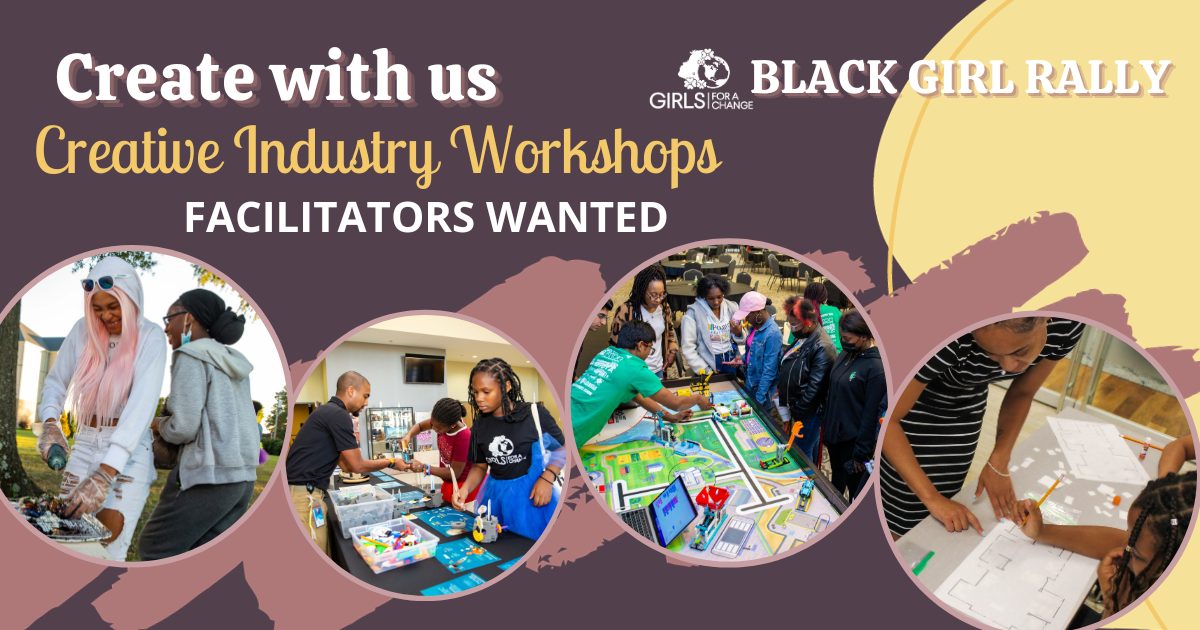 Seeking Experts for Table Facilitations at the Black Girl Rally!
We're excited to invite professionals from the Creative, Tech, Wellness, and Fashion industries to host immersive creative tables at this year's event, offering unique experiences for our attendees as they rotate through different stations.
Participants: 75-100 girls
Time: Setup by 6:00pm - 6:30 pm; Sessions from 7:00 pm to 9:00 pm
What We Provide: One table and required chairs.
Interested in Hosting?
Questions: Contact Na'Kera Richardson at nakera@girlsforachange.org for any queries.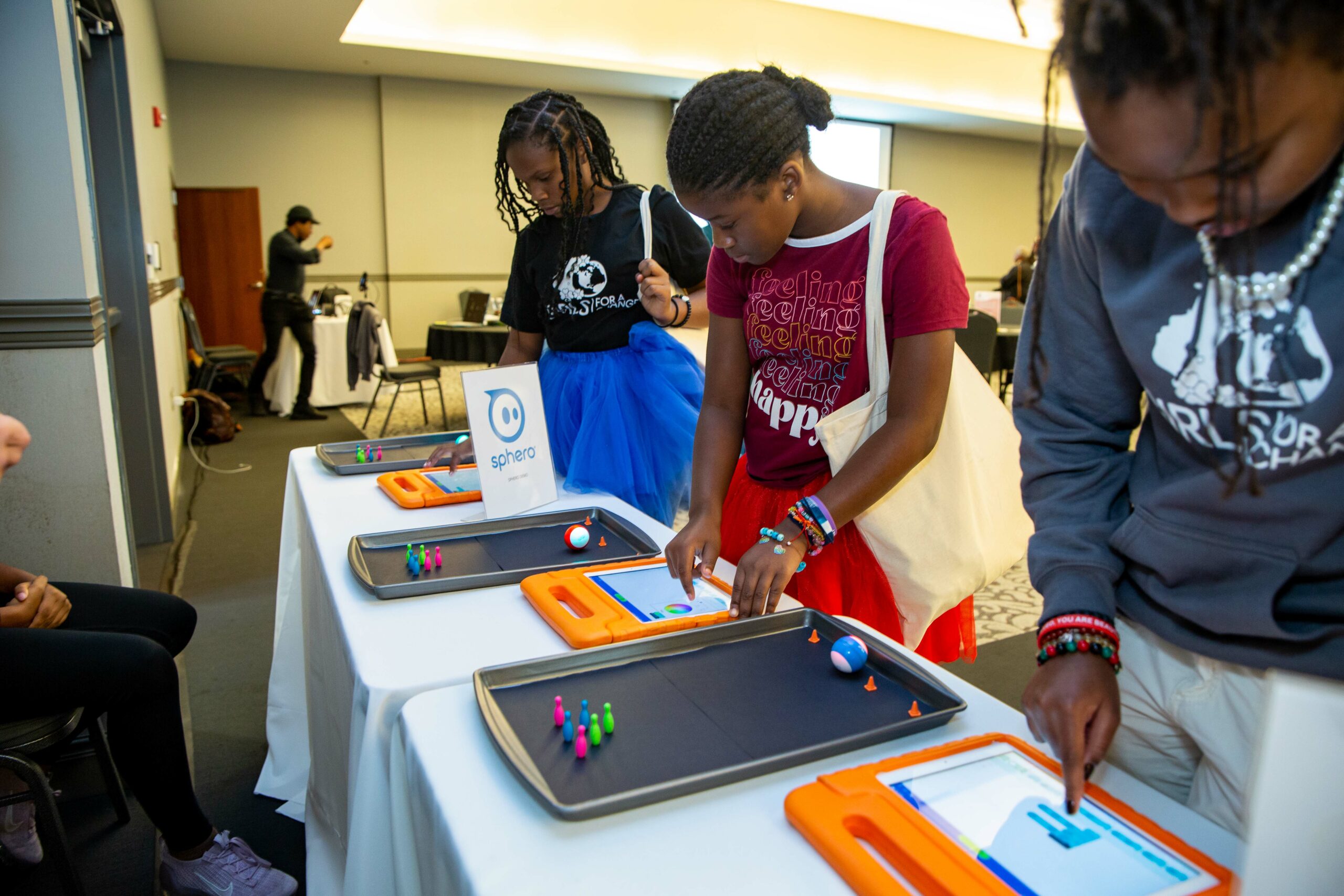 Sponsor a table of Girls.
Help us get girls to the Black Girl Rally!
Calling: Girl-centered programs, Nonprofit Organizations, Schools, Churches, faith-based organizations, and Youth Organizations. Sponsor a table at the Black Girl Rally. With your table purchase you get the following perks!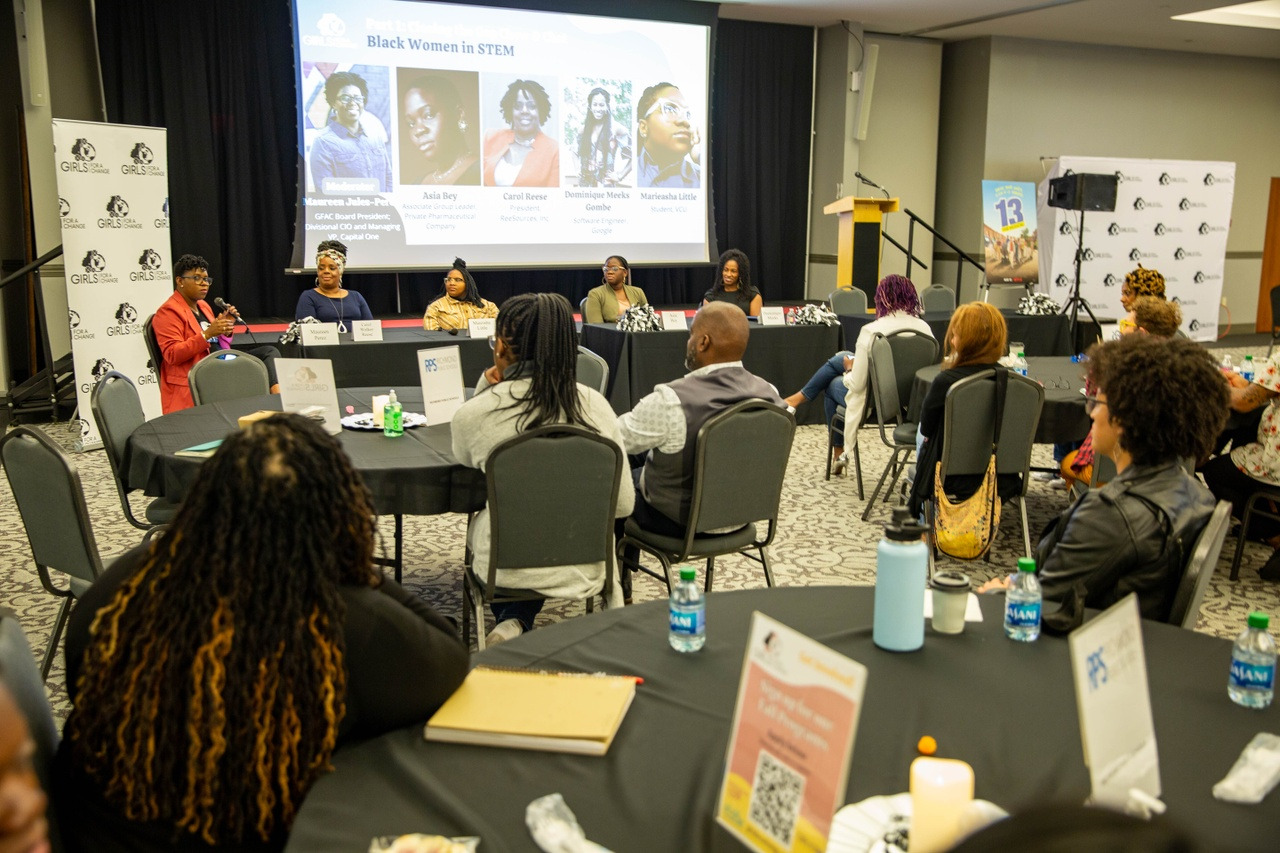 Group Sales Available
Have a group of 8 or more girls? Save 25% off individual tickets by purchasing a set of 8.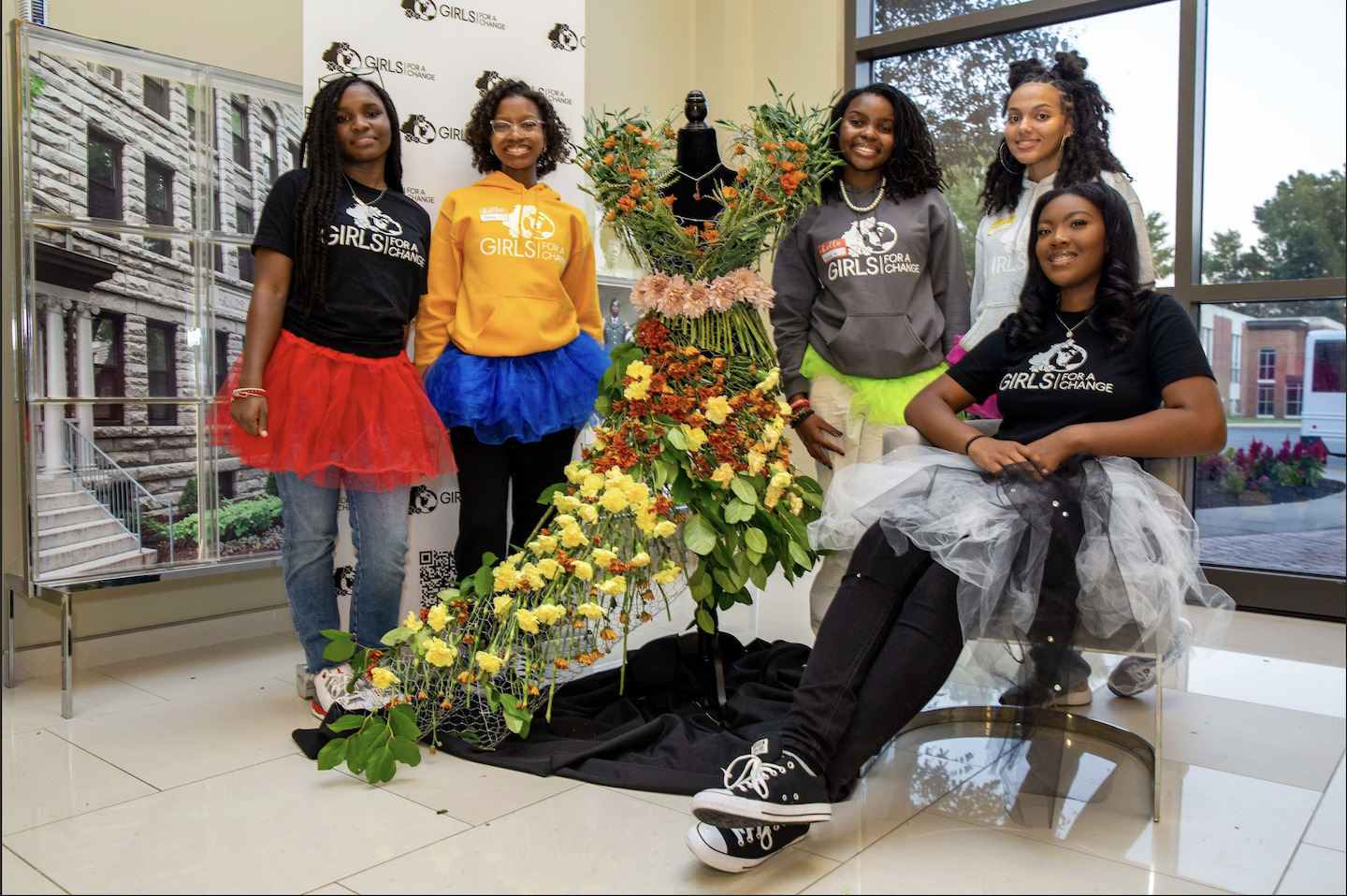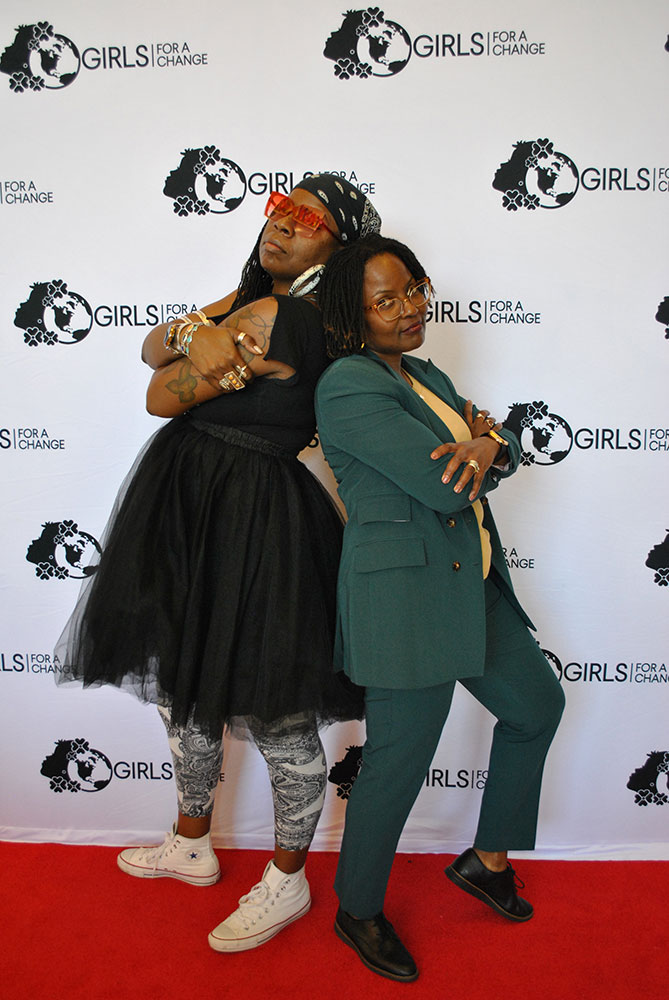 This year's Black Girl Rally theme is "I Make My Joy: Unlocking expressions of creativity can bring you joy." The full-day agenda aims to ignite each girl's imagination, inspire her next big idea, and serve as a catalyst for positive change. This creative, fun-filled event will include:
Shop with Us: Joy Market (Open to the public)
The community is invited to shop the "Joy Market", a vibrant marketplace full of local creators, designers, collectors, and curators, a DJ, and food trucks. Virginia Union University students and surrounding college students can enjoy discounts on food and treasures by presenting a school ID.
Eat with Us: "Where Black Girls Create Joy" Chew & Chat (Rising 6th- 12th grade girls only)
The evening activities will focus on teaching girls how to tap into their creative joy, even under stressful conditions. Girls For A Change will host a dinner and panel discussion featuring dynamic Black women in creative industries who will share how they use creativity to spearhead movements, leave enduring legacies, and cultivate joy.
Create with Us: Creative Industry Workshops (Rising 6th -12th grade girls only)
Skilled facilitators will guide attendees through a series of creative exercises, ranging from T-shirt screen printing to virtual reality experiences, aimed at helping every girl identify what brings them joy and how to incorporate it into their daily lives.
Support Girls Attending the Black Girl Rally
Consider donating $25-$50 to help us provide transportation for our participants. Due to current transportation shortages, getting to the event may be a hurdle for some of our young attendees. With your support, we can secure a coach bus, offering free and reliable transportation to ensure that all girls have the opportunity to attend. Your contribution can make a real difference in making this event accessible to everyone.
Visit Eventbrite by clicking Donate below. Then click on Get tickets and scroll to the Donations section at the bottom to donate toward transportation costs.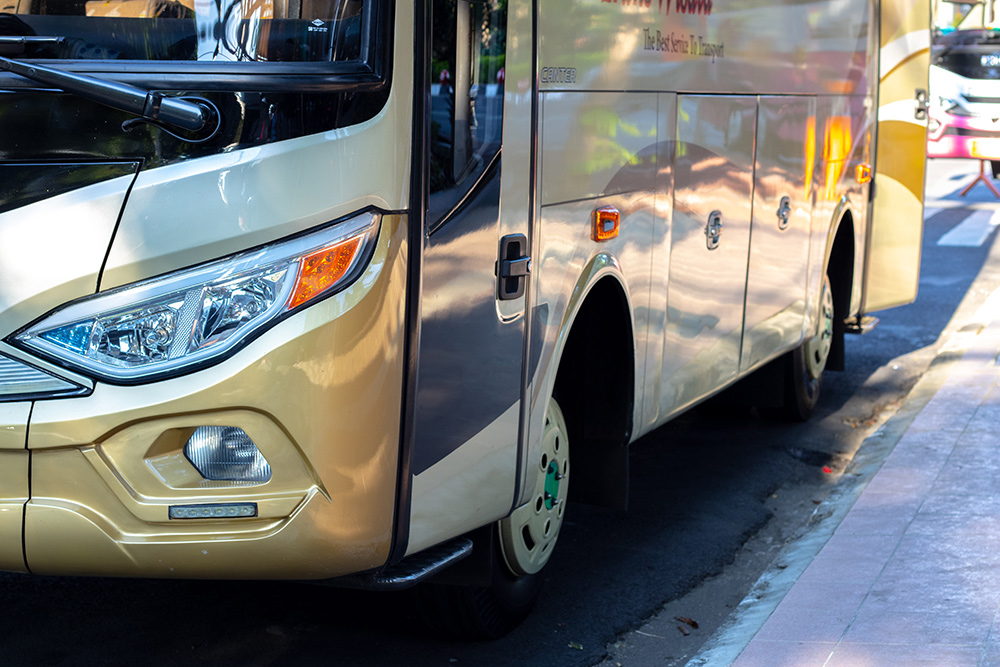 10+ schools, community centers and
faith-based organizations have hosted
Black Girl Rallies
Black Girl Rally is hosted at the VUU Living Learning Center
1500 N Lombardy
Richmond, VA 23220
Friday, October 6, 2023
12:00 PM - 5:00 PM: Shop with Us (Open to the public)
5:30 PM - 7:00 PM: Eat with Us
7:00 PM - 9:00 PM: Create with Us
9:15 PM - 10:00 PM: Closing - The Art for Selfcare Sistah Circle
The Joy Market represents the community-centric component of our Black Girl Rally and welcomes all attendees. However, please note that the evening activities are designed for and limited to girls advancing to 6th through 12th grades.