One Million Reasons to Build
Legacy Wall
Our Legacy Wall is going to be a three-dimensional installation full of inspiration and encouragement - reasons why our work is important. Throughout the space of our building, these Girls For A Change branded flowers, made from engraved acrylic, will list each donor's name and a personal word of encouragement directly to Black girls.
We invite you to share your reason with us and be a part of our Legacy Wall installation. We're working with interior designer Jen Fell, from studio505, to create a beautiful installation that flows throughout the space and incorporates the words of our supporters.
This is a great way to show your support as a Corporate or Individual Donor. See below for the room mockup showing the flowers on the wall and review Donor Options lower on the page.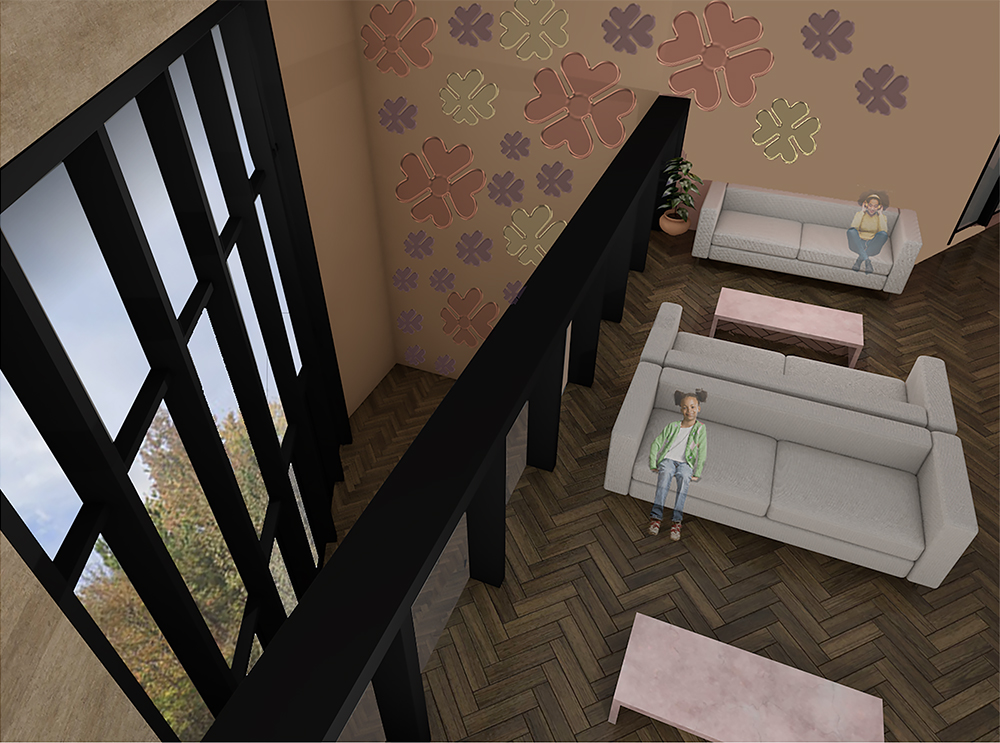 Every contribution or pledge supports our building campaign.
Give Now - for online donations below $10,000
Pledge Today - for pledges below $10,000
Join the Legacy Wall - Pledges and donations $10,000 or greater will add your name to our Legacy Flower Wall installation, that will flow throughout the building. See below for all donation levels.
What is the Legacy Wall supporting?
Restorative work to heal, build, and uplift Black girls, can only happen within sacred spaces dedicated to that work. Our Legacy Wall supports the One Million Reasons to Build Capital Campaign to create a brave and safe space for Black girls. Building a space of our own, on our own terms, shows Black girls that we can break down the historic and systemic barriers to opportunity, education, wealth-building, business ownership, nonprofit leadership and property ownership. Girls For A Change is changing the face of North Chesterfield with an Africentric design, co-created with the Black girls who will occupy the space. Our space signifies a community that welcomes, accepts, and protects Black girls. With tenacity and effort, we can build this space and show Black girls that they can live these changes into existence.
Additional info for Government Workers
If you are a United States Government employee, get involved on a larger scale through the Combined Federal Campaign. You can find our organization here using our CFC# 91677.
Girls For A Change is an approved non-profit organization for the 2022-2023 Virginia Neighborhood Assistance Program (NAP). For a minimum gift of $500, an individual donor may be eligible to receive a 65% tax credit against their Virginia state income tax. The maximum allowable individual gift is $125,000. For businesses: $616 is the minimum donation eligible for tax credits in their taxable year. There is no maximum donation limitation for businesses.
Learn more about NAP for VA donors here.
Flower Mockups Shown Below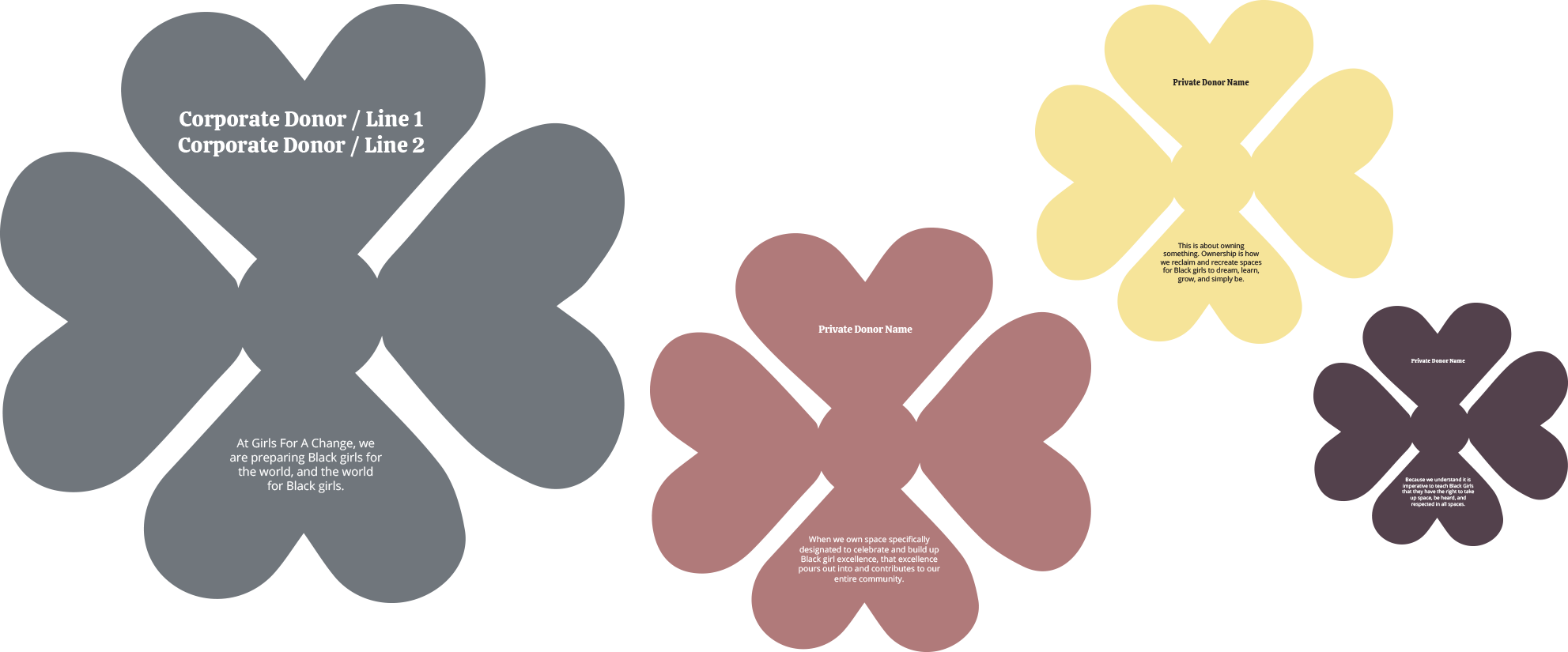 Legacy Wall Donor Options - Flowers
$150,000 - 47" Gray flower. One per room. 13 available. Includes naming rights for the room where the flower is installed.
Family Foundation / Individual
$50,000 - 25" Burnt Rose flower. 20 available. Located throughout the building.
Foundations / Organizations / Families
$30,000 - 18" Yellow flower. 30 available. Located throughout the building.
$20,000 - 12" Eggplant flower. 40 available. Located throughout the building.
$20,000 - 12" Pale Rose. 20 available. Located in the reception area
Legacy Wall Donor Options - Other Recognition
$10,000 - $19,999 - Stairwell Name Display. First and last name. 2-year recognition in our stairwell.
$5,000 - $9,999 - Digital Donor Wall. First and last name. Displayed in the reception area.
$500 - $4,999 - Website Donor Wall. First and last name. Displayed on the website.
Creative NxGen Petroleum, LLC
Creative Insurance Concepts, Inc.