Thousands of girls have the opportunity to participate in community teams during this free 12-week program. Girls in grades 6-12 identify challenges in their communities, and design and implement creative solutions to address them as teams. Each group has two women coaches to guide and support the girls through the project. This is a free after school program in partnership with public schools and communities. Girl Action Teams can be offered through schools, community centers, faith-based organizations and other places.
About Girl Action Teams
IMPORTANT NOTE: Girl Action Teams that meet in community schools are only open to students enrolled in those schools. If your child does not attend the school she is registering for, she will not be accepted.
Girls For A Change supports Black girls in multiple ways. For High School Girls, our Girl Ambassador Program and Immersion Lab are great programs to consider. Want to start a Girl Action Team in your school or community center? We accept new teams in the summer for a Fall launch. Learn more here.
What do girls get?
a community team dedicated to creative problem solving
monetary stipend available
a community service certificate
opportunity for a free Immersion Lab membership
Girl Action Teams support girls in fully developing their voices, abilities, and problem-solving capacities to realize their full potential. They tackle social issues they feel passionate about, coming up with solutions with guidance from their coaches. Action Teams are at the heart of Girls For A Change (GFAC).
Find your school below and Apply to Join a Girl Action Team.
Girl Action Team Locations and Projects

With guidance from the 'Finding Her Voice' curriculum, our girls will be taking the time to discover new and impactful ways to be agents of change. Together we will tackle topics like intersectionality, body image, stereotypes, identity, and more. It is our mission to ensure that our sistah girls end sessions feeling empowered and inspired. Leading to the Spring Showcase, where our OHS girls will curate a project that represents their voices and identity to their community at-large.
Meeting Days:
Mondays, 11:40am - 12:20pm 

With support from The Virginia Museum of Fine Arts and The Martin Agency this Girl Action Team will explore all of the ways that "Black Girls Museum, Too." Rewriting the narrative that museums historically have not been accessible to us through creating stories that invigorate and cultivate and guide future museum explorers to create new adventures of their own.
Meeting Days:
Wednesdays, 5:30-6:50p

Info session:
In-person information session January 19
at the VMFA from 6:00-7:30pm

John Marshall High School Girl Action Team members will be working with Mending Walls artist Jowarnise Cason and Ms. Dena Byrd, Dean of Students, on bringing more representation of Black women to art and design. Activities will include painting, doll making, and creating digital images that represent Black girls and women that will be shared broadly.
Meeting Days:
Mondays & Wednesdays, 5:15-6:15pm
Registration for this Girl Action Team is closed.

Thomas Jefferson High School Girl Action Team members will explore how the fashion industry affects climate change. Girls will meet shoe designers, fashionistas, and design and create their own vegan sneakers. Girls will even get a chance to have their shoes made professionally to advocate for sustainable practices in the industry and launch a global campaign for more sustainable wear!
Meeting Days:
Wednesdays, 12:20-2:00pm
Registration for this Girl Action Team is closed.

Wellness is an important topic needed for all students during this stressful and uncertain time. As a way to advocate for healthy minds and healthy bodies, our Huguenot High School Girl Action Team will explore and design an in-school mental health day experience. Once created, they will pitch their plan to be adopted in schools across the Richmond Region. 12 participants total.
Meeting Days:
Wednesdays, 4:00-5:45pm
Registration for this Girl Action Team is closed.

Thomas Dale High School Girl Action Team members will be exploring the Care Initiative. Using the book Finding Her Voice: How Black Girls in White Spaces Can Speak Up and Live Their Truth, students will practice speaking their truth. They will lean on their own life experiences to share what care looks like for a Black girl - culturally relevant and identity-affirming. 12 participants total.
Meeting Days:
Mondays & Wednesdays, 10:50-11:25am
The Thomas Dale Girl Action Team is FULL

Improv is a useful skill for more than laughter. It builds self-confidence, public speaking skills, creativity, and offers an avenue for developing your own unique voice and style. The Salem Middle School Girl Action Team will learn the art of improv and create a narrative that centers on their own identity. Girls will perform their improv at the Black Girl Showcase. 12 participants total.
Meeting Days:
Mondays, 2:00-3:15pm
Registration for this Girl Action Team is closed.
Girl Action Team in the News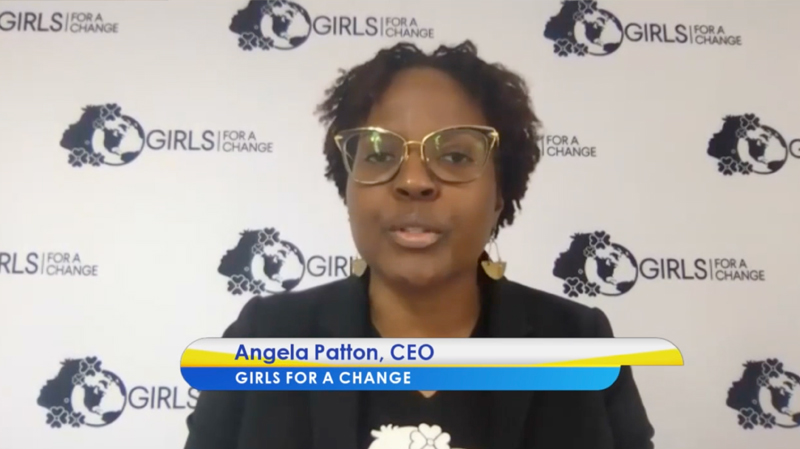 Girls For A Change hosts FREE Virtual Black Girl Summit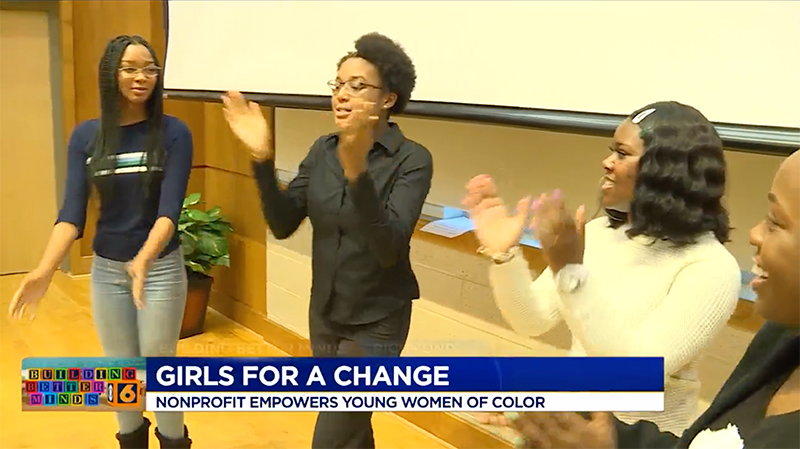 Girls for a Change is helping these students find their voices
Posted at
6:30 AM, Feb 19, 2020 
and last updated
2:24 PM, Feb 26, 2020
RICHMOND, Va. -- Richmond Public Schools has partnered with the non-profit group Girls for a Change for the past ten years. In that time, Girls for a Change has helped girls of color develop their voices, experience sisterhood, find a safe space to work through problems, and provide motivation.
Girl Action Team Projects Include: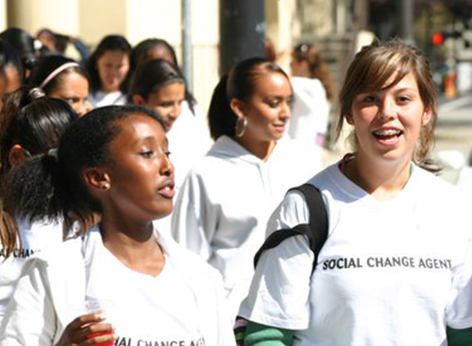 Impact
Empower girls to be social-change-makers by providing the tools, resources and support they need. Girls experience the process of shifting attitudes, values, and actions to address social problems in a positive way.
Promote engagement with professionals who support their projects and their journey toward becoming social-change-makers and innovators.

Identify and respond to community needs to help girls become empathetic, reflective individuals.
There are many benefits when young people are involved as leaders in social change efforts. Involved youth gain experience and confidence, and the skills and leadership abilities that will broaden their future opportunities.