Save the Date for the Black Girl Rally
Friday, October 6, 2023
Theme: I Make My Joy
VUU Living Learning Center
Joy Market: 12:00 pm - 5:00 pm
Evening Programming: 5:00 pm to 7:00 pm
Learn more
When we think about the future of work, we see Black women in the boardroom, Black women starting businesses, and Black women leading the next tech revolution. 
By creating access to relevant skills, experiences, and support, we can ensure Black Women not only see themselves in those roles, but have a clear path and the resources to get there. That's why the Girl Ambassador Program (GAP) was created.
The 2023 Girl Ambassador Program is full.
Applications reopen December 2023 for the 2024 cohort.
Getting Ready to Work: The GAP Experience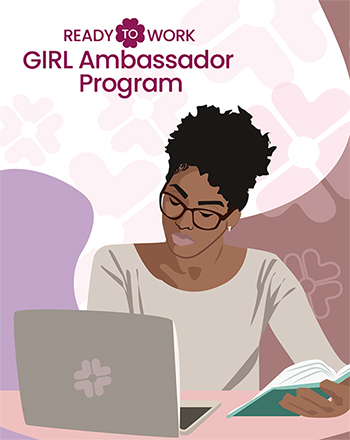 What if before you got your driver's license, you were equipped with skills and certifications to help you on your career path? What if you had opportunities to learn digital, professional, and soft skills alongside other Black girls who share your same drive to succeed?
The Girl Ambassador Program (GAP) is a four-year, tiered approach to workforce development. Through paced learning and development, our certified instructors work with girls based on their individual software and hardware proficiencies and life experiences to teach hybrid skills and prepare them for better-paying jobs and leadership roles. Girls are introduced to thought leaders and subject matter experts on job readiness, leadership, networking, and financial literacy in order to give them a head start on professional and entrepreneurial career pathways.
Our sessions run twice a week for an hour. Every 15 weeks there is a Saturday session lasting 6-8 hours. These sessions are a chance for participants to learn and also build their own peer networks while creating a bond of sisterhood through cultivated experiences. We take field trips, meet powerful professionals from all ethic groups and backgrounds , learn self efficacy and confidence. All of this culminates in a six week paid summer internship where participants will get the chance to put their skills to work in the real world with one of our vetted hiring partners.
We recognize it is important to teach the next generation the power of Black philanthropy. Additionally, girls will learn the power of paying it forward by participating in a giving circle and fundraising efforts.
At the end of the program, each girl will walk away with a new network of peers, allies, and mentors, transferable skills, in-demand career certifications, and experiences she will take with her for the rest of her life. She will be full and confidently prepared for work with a community to support her.
Attendance and Participation
Showing up is an important part of getting the most out of your Girl Ambassador experience. We allow one excused absence for mentoring sessions, two excused absences for weekday virtual sessions, and two excused absence for in-person sessions. We understand that emergencies happen and participants may need to be excused from class. We ask that participants and their parents communicate any anticipated absence with our program staff and make arrangements to make up any missed work. Participants who miss the maximum number of program sessions allowed may be removed from the program and/or forfeit part or all of the allotted program incentives.
Benefits
At the end of the program, each girl will walk away with a new network of peers, allies, and mentors, transferable skills, in-demand career certifications, and experiences she will take with her for the rest of her life. She will be full and confidently prepared for work with a community to support her. Participants have experiences working in a safe, brave and productive space via the support of certified instructors, guest speakers and facilitators, and out of school time counselors. They will progress through the curriculum towards acquiring career and IT certifications, earning hours to be applied towards Virginia Department of Education's High-Quality Work-Based Learning (HQWBL) learning credits, and earning a chance of being offered a paid summer internship with a vetted Hiring Partner, courtesy of GFAC's established community partnerships, upon program completion.
How to Build an App
This training brings our girls together in partnership with NOCODE to teach them how to code effortlessly while making it relatable and easier for girls to feel comfortable and learn the skills to build their own apps. Participants will also walk away with a better understanding of coding and a coding  certification from NOCODE. 
"Girls For A Change didn't give me my worth, they helped me see my worth."
- Genisus Holland
Girl Ambassador Program - Current Scholarship Opportunities
Girls who have completed 3-4 years of the Girl Ambassador Program have the opportunity to apply for scholarships through our Private Donor Fund. Each donor has their own set of eligibility requirements based on their scholarship. Girls For A Change strongly encourages our returning senior Girl Ambassador participants to research and plan early to apply.
Girl Ambassador Program - Private Donor Fund
In August 2020, The Ezer Agency's Founder, Altimese Curry, partnered with Girls For A Change to start a scholarship fund and then petitioned other Black Women Business Owners to join her in supporting future Black women leaders. What started as one scholarship to Virginia Commonwealth University has blossomed into a scholarship program with multiple scholarship opportunities being offered by women who want to give back.
---
All donations made before April will go to girls entering higher education or a training program in the current year Fall semester.
Donations made between May and December will go towards the following year's Fall semester scholarships.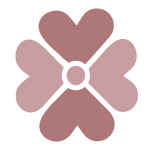 Girl Ambassador Program - Become A Summer Internship Hiring Partner
Black women have been historically excluded and exploited by the rules of the American economy. Even before the onset of the Covid pandemic, when Black women suffered the most significant unemployment in the United States, they also suffered on-the-job marginalization and suppression. On average, Black women and women of color in the United States are paid less than their counterparts. As a result, the average woman of color misses out on more than $1,000,000 during her career. Gender and racial equality are critical for organizations that want to perform better.
Because of these harsh realities, Black women frequently turn to entrepreneurship to mitigate the racist and sexist realities that limit their opportunities in the workplace. Yet even in entrepreneurship, Black women face disproportionate challenges - namely the lack of adequate capital and mentorship, and the inability to test their business ideas without jeopardizing their financial security. Girls For A Change (GFAC) is on a mission to help Black girls and young women chart stronger paths towards economic success and empowerment as they enter adulthood. 
Provide Safe and Brave Learning and Workspace

Learn, develop and apply a culturally-relevant, socio-emotional workplace competence for young Black women in the Greater Richmond area.

Be Part of the Solution Amid the Pandemic

The current COVID-19 crisis has exposed and is widening the equity gap and has exacerbated the challenges Black girls face. Now, more than ever, we need to ensure those wanting to enhance their skills and have gainful summer work experience have the opportunity to do so. You can help us fill these gaps by partnering with us to provide summer jobs for participants. 
Increase Opportunity

As a hiring partner you offer a unique lens into a career path our participants may not have known existed, while connecting to individuals who they might never have met before. As a hiring partner you open pathways for new career opportunities in your field and business. This increases opportunity and strengthens our participants' career options.

Catalyze Culture Change

For organizations seeking to become more adaptive and innovative, culture change is often the most challenging part of the transformation. Innovation demands new behaviors from leaders and employees that are often antithetical to corporate cultures, which are historically focused on operational excellence and efficiency.

Program Schedule & Deadline
The Girl Ambassador program begins every spring and goes through the summer. Girls attend various workshops and build their skills through specialized training sessions. In the summer, they take action—volunteering, job shadowing, participating in paid or unpaid internships and working on projects for real employers.
The Application Process
The application process for the 2023 Girl Ambassador Program closes on Friday, January 20, 2023 at 11:59PM
The Program Schedule
The program will require participants to commit to 8 hours a week. Participants will attend class for one hour during the weekdays (*Thursdays) and 6 hours on *Saturday.
The program runs from January 26, 2023 - August 4, 2023. Internships will take place over the summer months, June - August.
*Schedule is subject to change
Each participant will be matched with a hiring partner working in person. remotely or on a hybrid schedule, depending on the hiring partner requirements.
Hiring partners and the participants attend a speed hiring event, one day in-person or virtual orientation During the internship, there are ongoing professional development opportunities, including diversity and inclusion in the workplace training, resume workshops, and career exploration. Hiring partners, mentors and instructors are available to provide guidance and support and continue to learn and unlearn practices that have harmed Black women in the workplace as they help our participants prepare to enter the workplace.
2023 Internship commitment six weeks June - August.
Words From Our Hiring Partners
"If I loved Angela W Patton and Girls For Change before, I am even more enamoured today. The preparation she provides her business partners for creating an amazing experience in summer internships for our young Black girls. I am so excited to be part of this community." - Vida Williams, Singlestone
"Jhanee was extremely dependable and enjoyed being an integral part of the process. She was able to deliver exactly what I needed... There were many times I needed to be in two places at the same time. Jhanee was a force multiplier and I could not have have done all  I did and been everywhere I needed to be without her help and understanding of the process." - Nadira Chase, Owner, Adiva Naturals
"I can't say enough about how much I loved working with Abena. At first, I was worried I wouldn't have enough for her to do but turns out I had a ton and Abena was game to try it all! She took direction well, picked up new concepts quickly and was always looking for ways to grow and improve. We were so lucky to have her this summer and I hope we'll be able to include her in many future projects." - Louise Keeton, Digital Producer at PBS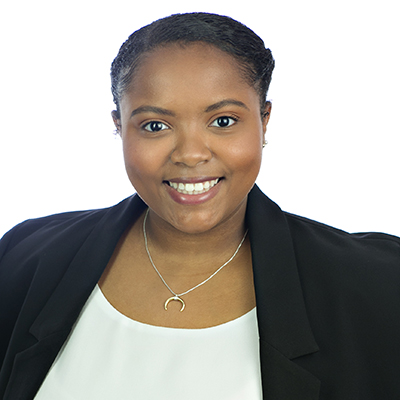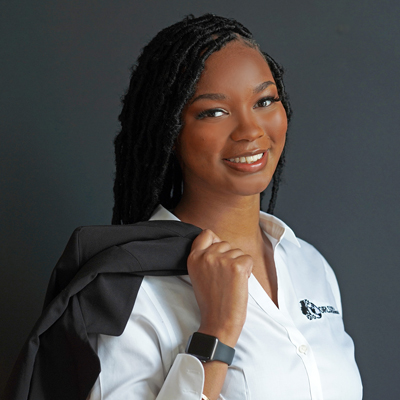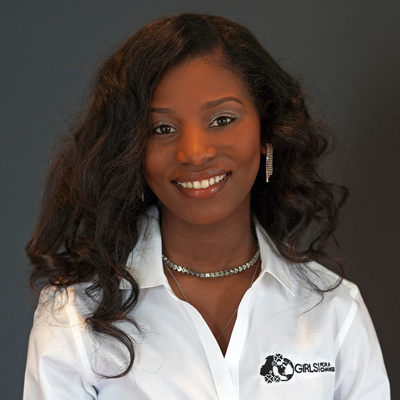 The GAP program provides SAT and other test preparation courses, college application and tours visits, as well as financial literacy and planning workshops and scholarships for our seniors for both students and parents to feel some ease. Training and certification includes Microsoft, Google Badges, Project Management, Coding, Entrepreneurship, and the list keeps growing.