Girls For A Change (GFAC) was formed in 2000, and achieved nonprofit status in 2004, with the idea of empowering young women by inviting them to design, lead, fund and implement social change projects that tackle issues girls face in their own neighborhoods.
Since 2013, GFAC has focused more deeply on the empowerment and uplifting of a population whose needs are most unmet — Black girls. We, as an organization and movement, view this action as a first step to end the prejudice, poverty and lack of resources that leave Black girls and young women vulnerable at the margins of society.
Through GFAC programs, not only do girls create change by engaging in social change projects, but in the process, they learn problem-solving skills, as well as what it means to change policy and create movements. GFAC programs also focus on leadership skills, goal-planning, financial literacy, building a network, exposure, community engagement, skill-building, sisterhood building, and socio-emotional learning among other things. We also address various issues to include institutional racism, sexism, the digital divide, and the glass ceiling, which for many Black girls can be a concrete ceiling.
GFAC programs are designed to provide consistent support to girls, from their youth into their young adulthood, and beyond. We also provide outreach programs for middle and high school girls. Through experiential learning and consistent exposure, we focus on ensuring girls are ahead of the learning curve, breaking cycles and closing the opportunity gaps faced by too many disadvantaged, marginalized or underrepresented girls — specifically Black girls. We want to give every girl* who aspires to get ahead a chance to be seen, heard and celebrated.
*While GFAC has chosen to focus on Black girls for the various reasons listed above, all girls are welcome to participate in our programs as our vision is for every girl to be seen, heard and celebrated.
Girls For A Change focuses on the development of self identifying Black girls as leaders and change makers across the Greater Richmond Metro Area. Our programs teach participants to understand the world they live in, advocate for their rights, and exercise agency over their lives through a continuum approach and creative platforms. Our programs are unique to the Black girl experience as they have been co-designed with Black girls. Our curriculum is culturally responsive and focused on skill building, opportunity access, community building, and emotional restoration. Learn more about GFAC programs and services.
Our core values include:
Giving Black girls radical permission to set bold visions, take risks, play, and be kids.
Act with uncompromising integrity and excellence in everything we do.
We must work systematically and in community with the others to achieve the best outcomes for Black girls.
Welcoming Black girls to co-create programming and help set the tone and the pace of engagement.
Always challenge the status quo.
95%
of the girls served by Girls For A Change are
Black girls
3%
are other girls of color
80%
qualify for the Federal Free
and Reduced Lunch Program

We provide support and programs for girls from elementary school age to early adulthood

Middle and High school Girls who have participated in our programs for 3+ years are eligible to serve as Co-Coaches of our Girl Action Teams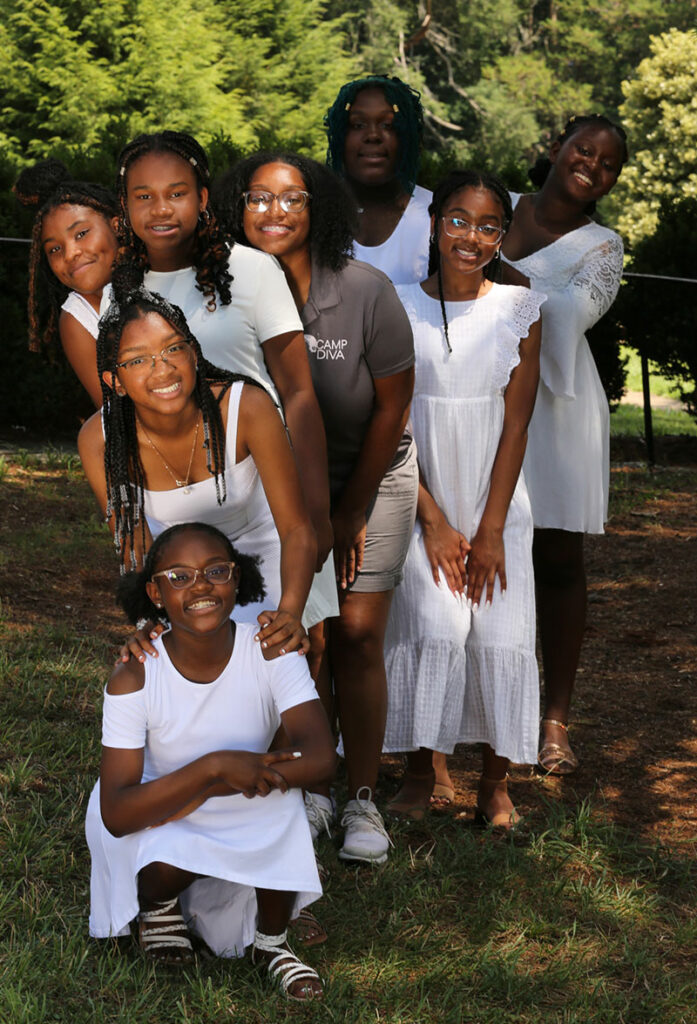 We expect to change the trajectory of Black girls' lives and increase the contribution of Black girls in the 21st century. We want every girl to be seen, heard and celebrated. They should have the emotional, social and practical skills necessary to overcome obstacles to their advancement. Girls should be able to succeed in school, college, workplaces and their communities, and build the skills that will help them reach economic prosperity and dignity as adults.
Our Public Financial Disclosures