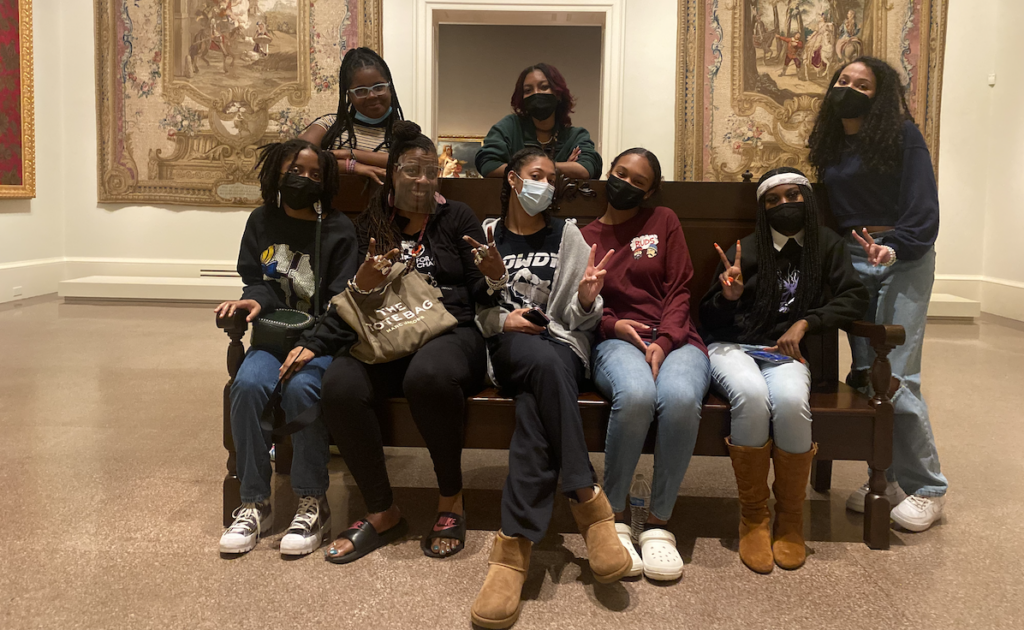 Creating Social Change After School
What did you do after school as a High Schooler? Did your activities include tackling a social issue and coming up with a solution to drive social change? This year, Girls For A Change worked with seven Girl Action Teams to do just that.
Each year, with the help of our Girl Action Team coaches help facilitate youth social change projects with groups of Black girls in Richmond Region schools. These Girl Action Teams learn what it means to start social change movements and work together to create their own project throughout the school year with the help of a trained, Girl Action Team coach.
Girl Action Teams create space for girls to "be the change" and design a social change project that solves a problem they see. With the help of a female changemaker, girls learn how activists have used their voice to make change in their communities. Along the way, they make new friends, play games, and have sisterhood circles to share thoughts and ideas – all in a safe space made just for Black girls.
"As our society wrestles with social injustices happening across the nation – in every facet of our society – let's be inspired by our youth. They know what they need, it's time for our country to listen," says GFAC CEO Angela Patton.
Here's a look at our Girl Action Team projects from the 2021/2022 school year.
Orchard House School
With guidance from the 'Finding Her Voice' curriculum, the Orchard House School Girl Action Team explored new and impactful ways to be agents of change. After weeks of tackling topics like intersectionality, body image, stereotypes, identity, and more, they took to art to share their voices and identity. The result? A creative Zine where each girl contributed a page representing their own take on a topic they felt passionate about.
"We did a whole project of Zines. We talked about different topics around issues like colorism, families, things like that. We had a lot of conversations about different things. It was really fun getting to know more about girls in other grades because I'm 8th grade I don't get to engage with other girls. It was a great program and I hope they get to do it next year too." – Asani Ka-Re
Virginia Museum of Fine Arts
With the help of the Virginia Museum of Fine Arts and The Martin Agency, this Girl Action Team discovered how "Black Girls Museum, too!" The team came together to rewrite the narrative that museums historically have not been accessible to us through creating stories that invigorate and cultivate and guide future museum explorers to create new adventures of their own.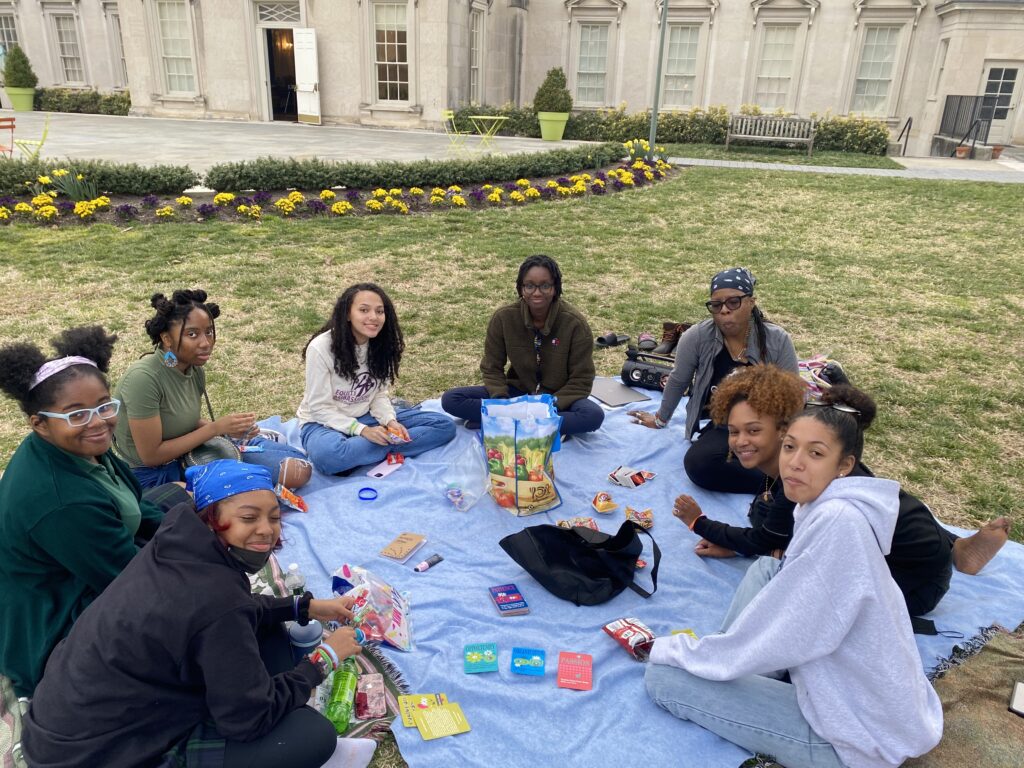 "We often don't see ourselves as part of the museum experience because a lot of museums are European centric. Through this year's Girl Action Team project, our girls are learning that the way they dress, their culture, and their form of expression is a part of history and will be in a museum one day, too. Our girls are exploring how they can see themselves in all museums because they are a part of history." – Angela Patton
With JPMorgan Chase's support, the VMFA sponsored and hosted a Girl Action Team at the museum AND will have an intern through the Girl Ambassador Program
John Marshall High School
The John Marshall High School team worked with Mending Walls artist Jowarnise Cason and Ms. Dena Byrd, Dean of Students, on bringing more representation of Black women to art and design. During the exploration phase of their project, they quickly discovered how hard it was to find Black representation in the form of stock photography, gifs, icons, and other digital assets. With the guidance of coach Dena, they explored how to create their own digital media assets.
In their final project, they used multiple mediums to create images that represent Black girls and women as physical art expressions affirming the need for Black representation.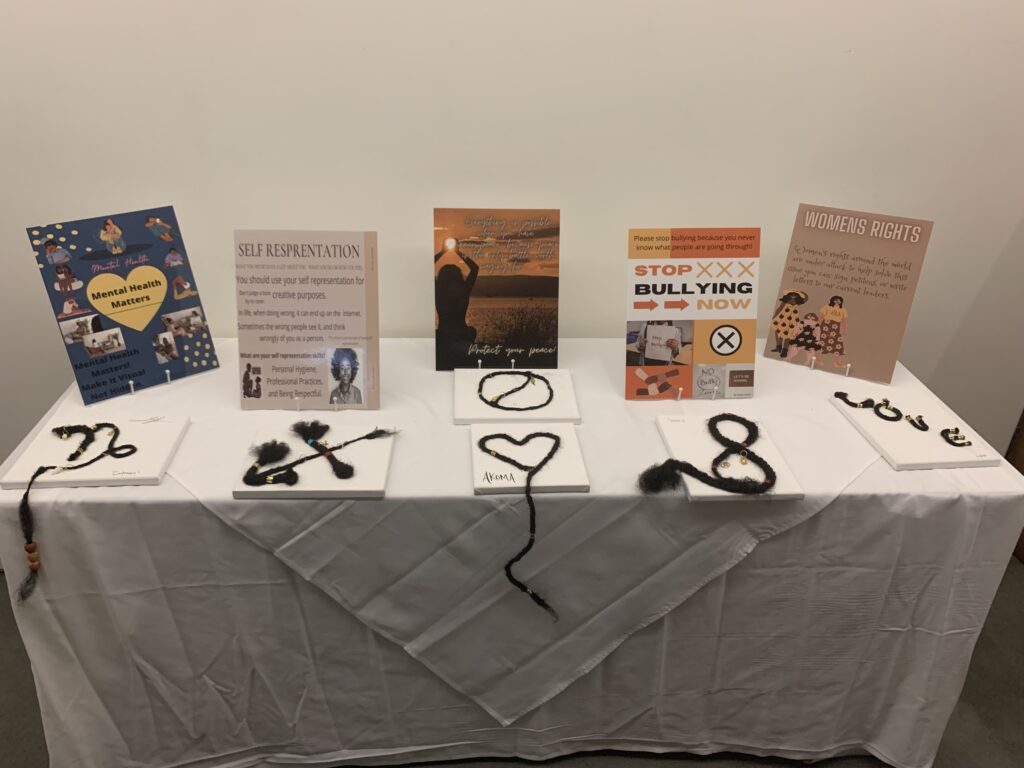 Thomas Jefferson High School
The Thomas Jefferson High School Girl Action Team explored how the fashion industry affects climate change with Tanita Gray of Last Report. After learning about sustainable shoe design and meeting other designers and fashionistas, they got to work creating their own vegan shoe in partnership with Community Made. Their final design will be made professionally and sold, proceeds benefit GFAC.
Huguenot High School
Wellness is an important topic needed for all students during this stressful and uncertain time. As a way to advocate for healthy minds and healthy bodies, our Huguenot High School Girl Action Team explored mental wellness and how they could make an impact in their school.
After exploration and discussion, they decided that there was a need for a stress free space where students could practice mindfulness and de-stress at school. Starting next year, they are going to build a Mindfulness Garden with the help of Duron Chavis of Happily Natural Day. They need your help to make it happen! Stay tuned as they will be collecting tools, seeds, and seedlings in the coming months.
Thomas Dale High School
The Thomas Dale High School Girl Action Team explored the Care Initiative, using the book Finding Her Voice: How Black Girls in White Spaces Can Speak Up and Live Their Truth. They explored finding their truth, leaning into their own life experiences, to share what care looks like for a Black girl – culturally relevant and identity-affirming. The final result? An uplifting and empowering song, called the Black Girl Affirmation song.
Salem Middle School
Improv is a useful skill for more than laughter. It builds self-confidence, public speaking skills, creativity, and offers an avenue for developing your own unique voice and style. After several weeks of exploring identity through improv, the Salem Middle School Girl Action Team honed their mental agility and performance skills. For their final project, they wrote, directed, and performed a skit that expresses how rude and insensitive comments from teachers can have a negative effect on students.
We are so proud of our Girl Action Teams and can't wait to see what they come up with in the next Fall/Spring sessions! Learn more about Girl Action Teams and how to join one here.