Girls For A Change + DTLR: Fresh Start for John Marshall High School
June 15th, 2021 at 1:00 pm

-

3:30 pm

EDT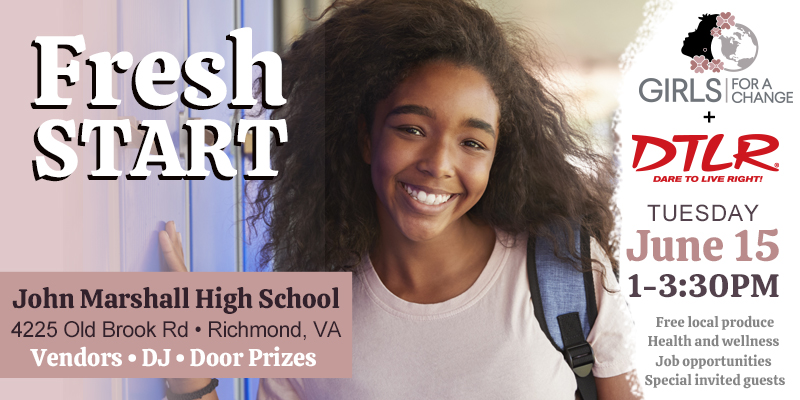 Fresh Start: A DTLR + Girls For A Change Affair 
Family & Community Engagement Day at John Marshall High School

4225 Old Brook Rd, Richmond, VA 23227 • 1:00 PM to 3:00M • FREE
With Vendors / Live DJ / Door Prizes / Health and wellness activities / Job opportunities / Special invited guests
Schools are reopening: Why students might need more support than ever… here is a way to get involved in their future.
Every year, youth group calendars are packed out with exciting activities that provide teenagers with a safe way to have fun and grow together in solidarity during those free days in the summer. Students look forward to spending time with their friends' at camp,  sporting events , sleepovers and other gathering programs and services. Now is the time and opportunity to invite friends and family to a special re-opening event to show them that they have not been forgotten.
With the COVID-19 crisis, however, youth leaders face new and diverse challenges. Leaders have used Zoom and social media in an attempt to stay connected with students, but, after months of screens, many are now hoping for ways to engage teens and help them enjoy the summer and an entire school year online in the midst of a difficult time.
Girls For A Change's most recent opportunity to partner with DTLR is the refresher we all need.  Our Girls Action Team participants will engage in creative solutions and guidelines for effectively — and safety — helping students to prepare for an enjoyable fun and safe – filled summer and to find joy in returning to school in person this fall.
We are exciting about our partnership and look forward to a FRESH START with you!
"Fresh Start" Initiative in partnership with DTLR x Girls For A Change 
Featuring a collaborative All In Together mural with muralist Hamilton Glass
Related Events