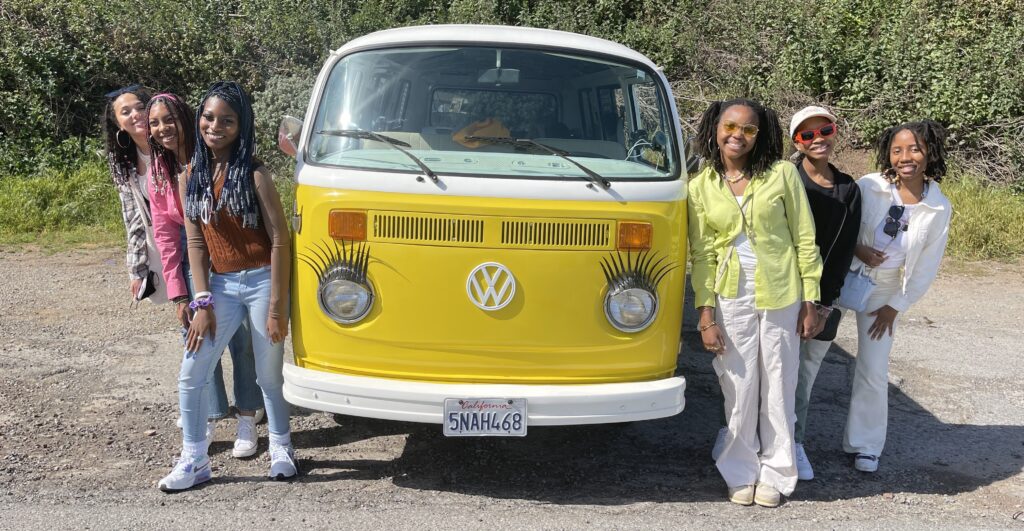 California Dreaming with Girls For A Change
Our Spring Break was action packed! We took six girls with us to California to play a role in the Recording Party ahead of the #DivaBagAuction AND network with the incredible supporters who have uplifted us in the process. We are so grateful to everyone who offered space, workshops, fundraisers, tours, and time to us in San Francisco and Los Angeles and to all who made donations to help cover our girls' expenses.
If you followed us along on Instagram and Facebook, you know that our girls took over our stories during the week to share the trip through their eyes. Well, they also blogged about it! Here are some snippets from their submissions.
Day 1: A day at Lucasfilm
Our first day started off with a bang! A tour of Lucasfilm, a meet and greet with Mellody Hobson (President and co-CEO of Ariel Investments / chairwoman of Starbucks Corporation) and a conversation with women of Lucasfilm: Queen Denchukwu (Head of Diversity at Lucasfilm), Lynwen Brennan (EVP and General Manager at Lucasfilm), and Janet Lewin (Senior VP Industrial Industrial Light & Magic). Our sponsor for the day was the fabulous Lynne Hale, who we had lunch with. Lynne recently retired as the PR Head at Lucasfilm. She has been helping us behind the scenes with making arrangements for the California trip and also with the Diva Bag Auction. We are so grateful for her support!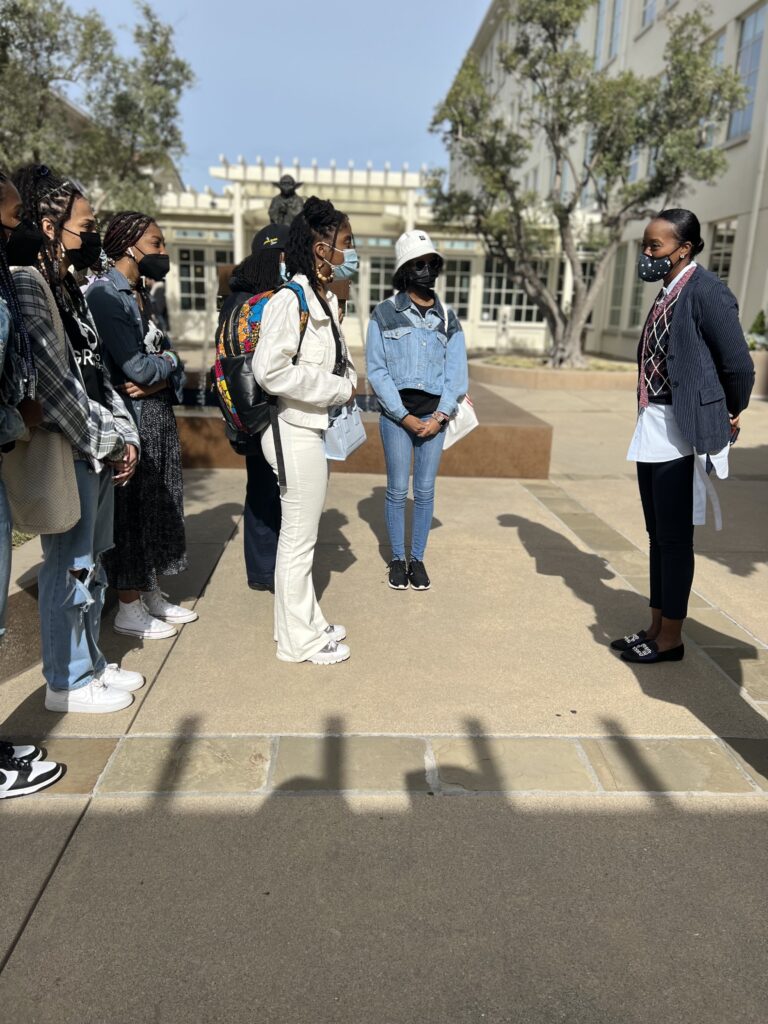 "Miss Denchhukwu said something that really spoke to me. She talked about how it's okay to take pivots. Meaning that you don't always have to stick to one thing only. It is okay if you majored in technology but now you want to be a music producer. After meeting with these amazing women, we went to the Japanese Tea Garden, San Francisco. The scenery was beautiful and it felt like I was in Mr. Miyagi's home in the movie Karate Kid. We went thrifting afterwards for about an hour. They were nice and full of cool clothes and accessories. We finally ate some food. We had Thai food from a restaurant called Siam Lotus Thai Cuisine. Today was a great day to start off day 1! I can't wait till day two." – Asani Ka-Re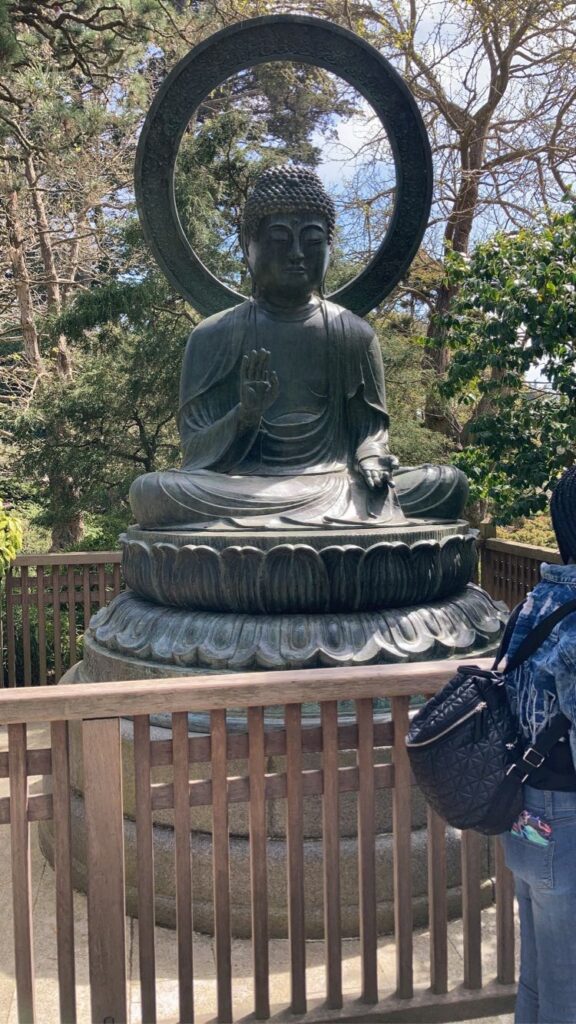 "My favorite thing that Mellody said to us today was to never take no for an answer. I will carry that with me all the way back to Richmond and hold onto it forever. We also got to meet Queen Denchukwu, Lynwen Brennan, and Janet Lewin. I really loved how they all told us to follow our dreams and that whenever we get a no or whenever we get turned down we should never let that discourage us. We should take it with us and use it to better ourselves." – Threvia Slayton
Day 2: Vintage tour of San Francisco
On day two, we took a tour of San Francisco in a 70's Vintage Bus, had lunch at the Four Seasons, and attended a fundraiser at ANINE BING.
"California Day 2 was quite the adventure! We started our day by going to the Painted Ladies bus tour in a yellow 70s vintage bus named Daisy. Which was quite a show-stopper! Our tour guide, Sam took us through the city of San Francisco. Where we saw all the city's well-known attractions. Some of my personal favorites were the Women's Mural, Golden Gate Bridge, and Twin Peak Towers. The girls and I took a lot of pictures and videos, especially at the infamous Golden Gate Bridge." – Iyanna Hardin
"Today we got to really experience the city and fall in love with the sights. I saw places that I didn't think I ever would. San Francisco is truly beautiful and everyone I have met has been nothing but kind and encouraging. Our fundraiser today helped me build my networking skills and meet more incredible women. I am so excited to continue our trip as we head off to L.A. tonight!" – Rachel Stanton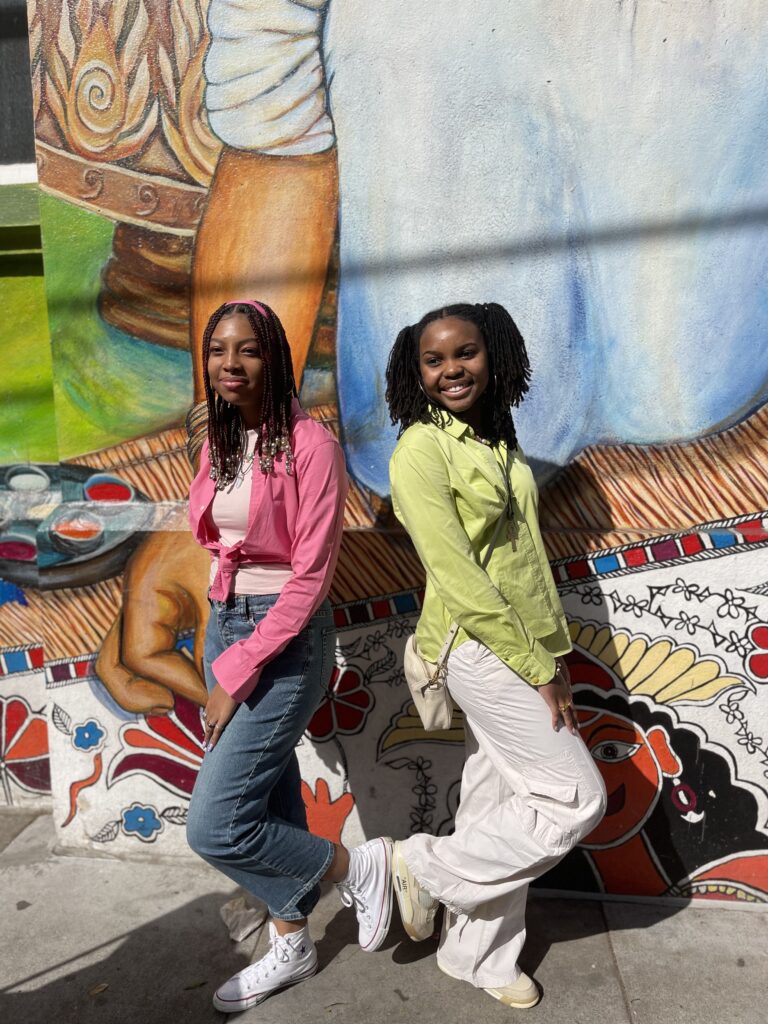 "My favorite part of the day was fundraising at Anine Bing. I was at the GFAC Info table telling everyone about my role at GFAC and what we do. I wasn't expecting such a big role at the fundraiser and I'm typically really nervous talking to people who I'm not too familiar with but I felt at ease talking to them and I barely even tripped over my words!" – Afryea Williams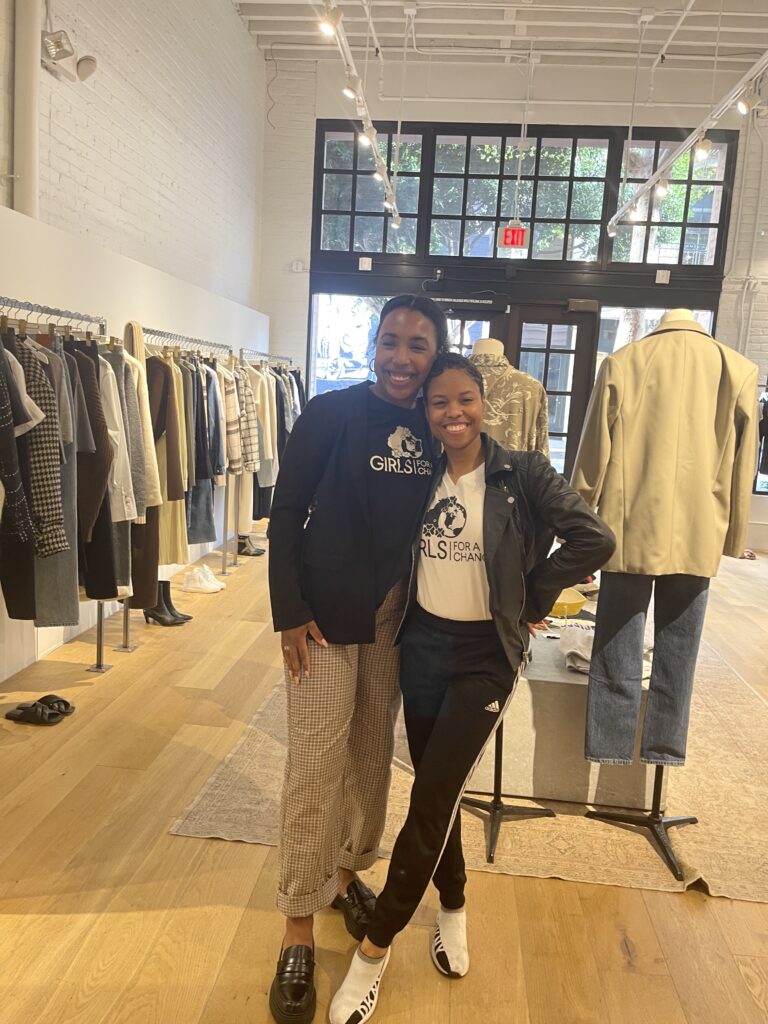 Day 3: Workshops and more in Los Angeles
When we asked for help getting the girls to LA, we did not imagine being in this GORGEOUS hotel! Thanks to Joel Edgerton and David Joseph Craig, we got to spend 5 days at The Maybourne Beverly Hills. Our first day in LA was full of workshops hosted by very talented professionals. We started with a self care Workshop by Rashin D'Angelo, PhD, Director of Overland IOP Los Angeles. From there, we headed to Writers Colony for a writing workshop with Mara Brock Akil of story27 Productions and Salim Akil of Akil Productions. We are so grateful for their time and for sponsoring our flights to San Francisco. We also had a wonderful virtual conversation with the NBA and WNBA.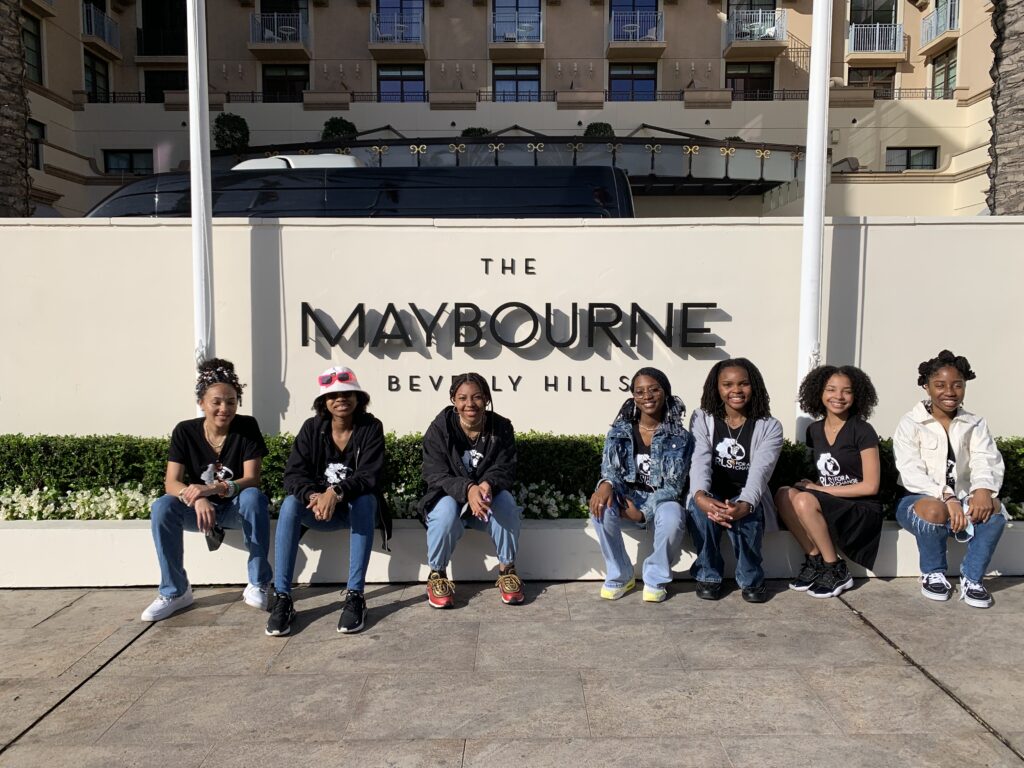 "There is so much I could say about today. It was emotional, motivating and inspiring. First thing we did was have a talk about mental health and self-care with Dr. Rashin D'Angelo. That was very emotional for me because I don't quite like to talk about my feelings, but I had the opportunity and space to do so. I really appreciate Dr. Rashin for allowing me to talk with her and listen to the advice she gave me was really touching and inspiring. Next, we went to Venice Beach which has been so far my favorite part of LA. I love being at the beach and walking the boardwalk, that really brings me happiness. After that we went to Akil Productions which I also loved. Mara and Salim Akil are some of the nicest people I've met. They were really inspiring and the things that they were telling us were so motivational. I will really take some of the things that they said to us and hold onto it forever. We also met Marvin (Tobias) from Black lightning. He also said some motivating things." – Threvia Slayton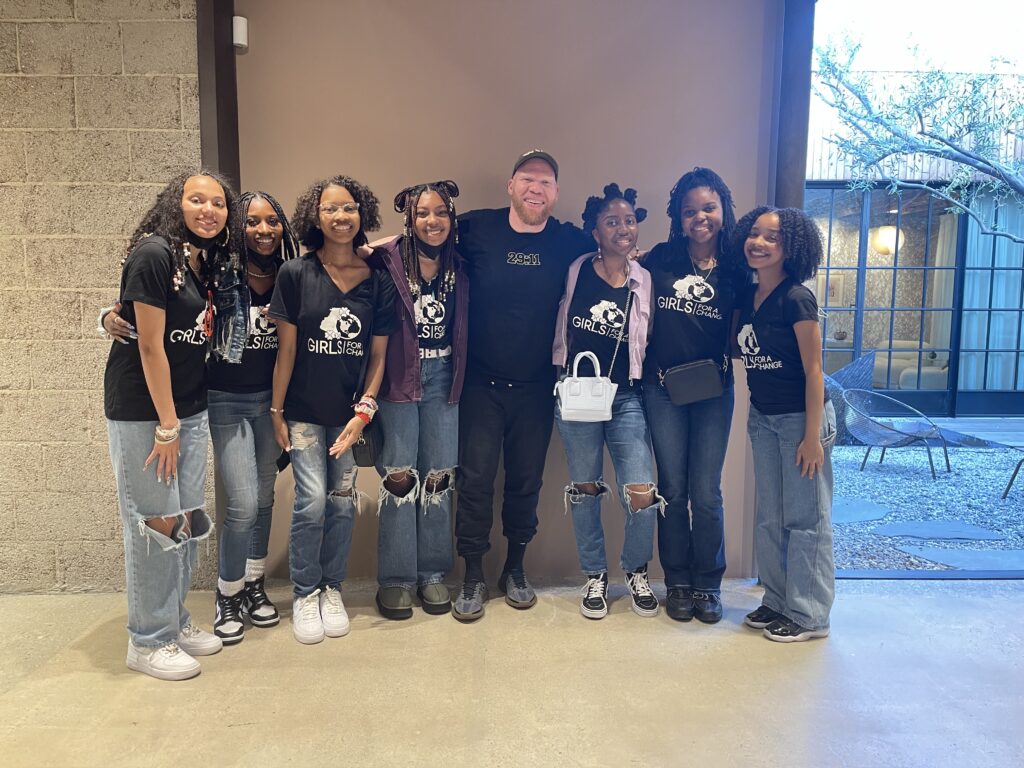 "Today we had our wellness session. At first, I thought we were just going to the spa but in fact, we had basically a whole therapy session. I think everyone really needed it because the emotions were high with Dr. Rashin D'Angelo. It's nice to have someone who truly listens to your thoughts without any judgment and understands how you feel on a daily." – Afryea Williams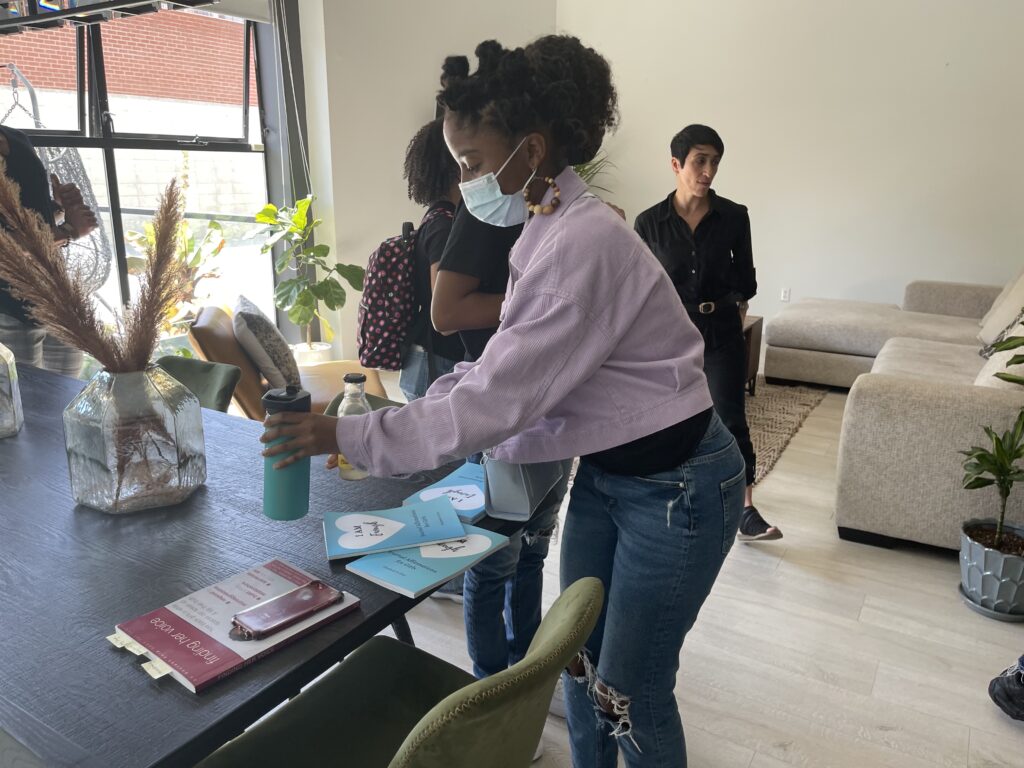 Day 4: On set and in person
Today was a big day! We had front row seats to a recording of The Ellen Show! Two of our girls (Threvia and Chayce) competed in a leg wrestling competition and won shirts. The episode airs on June 1st so tune in to see us! After Ellen, we headed to Object & Animal for dinner sponsored by Producers Lisa Mazzotta and Justin Benoliel and Director Natalie Rae. The girls got to check out the office, see some of their work, and hear firsthand about the industry and all of the careers and roles. Natalie and Lisa have both done work for some of the world's biggest brands (Facebook, Nike, Adidas, etc.) and are currently working on Daughter's, a documentary about our Date with Dad event in the jail. We also went on a tour of Venice Beach to end the evening with ice cream.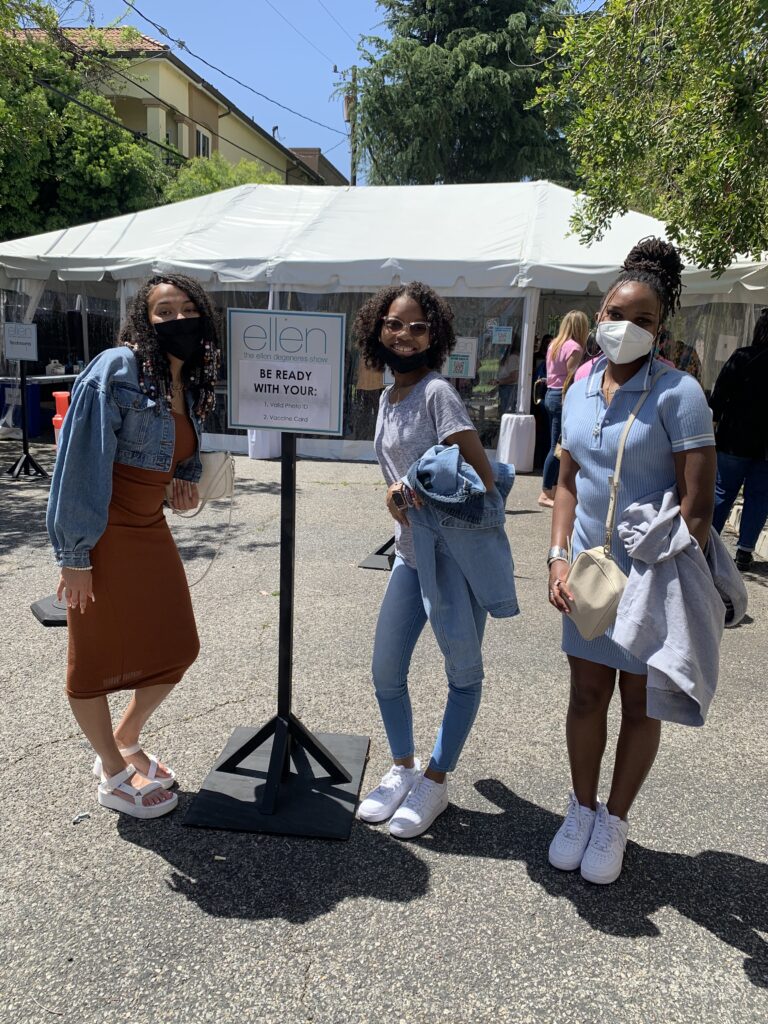 "IT'S ELLEN DAY! We went to a woman-owned dine-in called Blazin Burgers and OMG they had the best vegan chick'n sandwich and chick'n nuggets ever. They were so crispy and full of flavor. Then we went straight to the Ellen Show! It was so fun and the host, Tig Notaro, was really funny and for a second I forgot it was the Ellen show! After that we went to Object & Animal. This particular company does commercials, documentaries, and more. They talked about the behind the scenes and the different people they need to get the work done." – Asani Ka-Re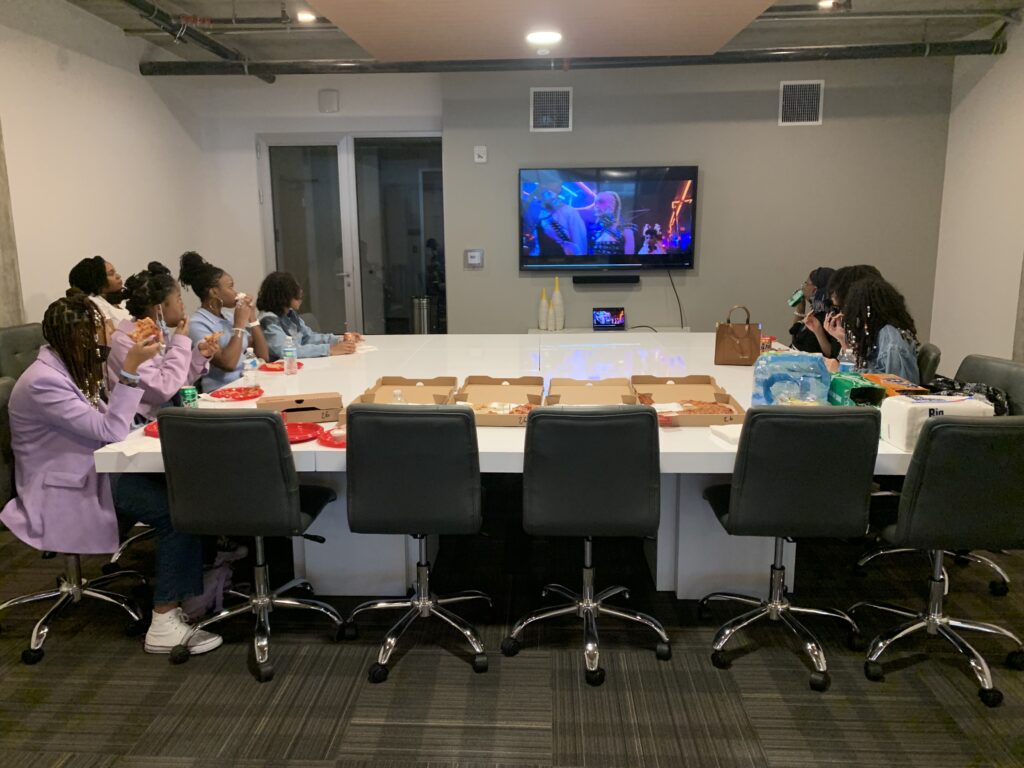 Day 5: Warner Bros. Studios
Thanks to our amazing supporters, we got a private tour of Warner Bros. Studios where we saw sets and props from some of our favorite television shows and movies. Next, we went shopping at Westfield Century City and ended the night celebrating the legendary Kareem Abdul-Jabbar for his Birthday with thousands of Los Angeles basketball fans! We want to thank the NBA for taking the time to chat with the girls over Zoom and giving us tickets to see the Los Angeles Lakers game.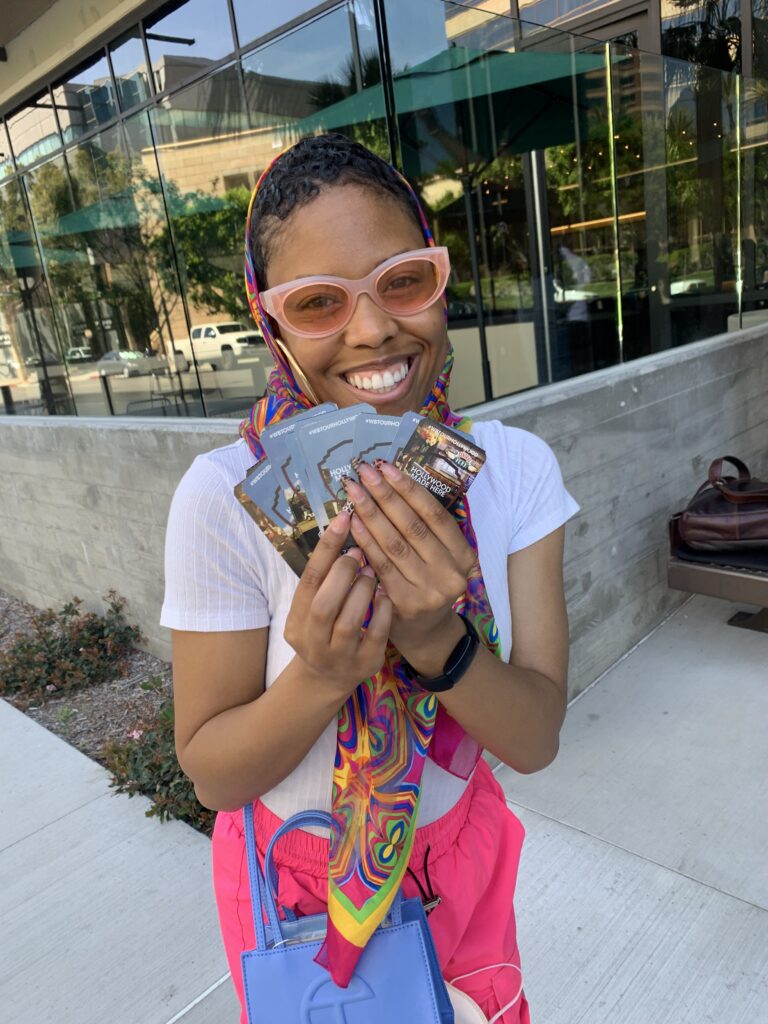 "My fifth day in California, we had a very adventurous day! We started off the morning by meeting a new friend, Livie Anderson. Then we went on a Warner Bros. Studio tour! I had an amazing time seeing all of the show sets, especially from one of my favorite shows, Gilmore Girls! The energy at the Warner Bros Studio was amazing and was a nice way to start the morning. Then we went to the Westfield mall where Livie was our "tour guide". We had amazing mochi donuts! The mall was so nice and big! Then we ended the day with the Lakers game! It was so exciting to watch and also be there for Kareem Abdul-Jabbar's birthday! The Lakers won the game, guess we were good luck!" – Chayce Evans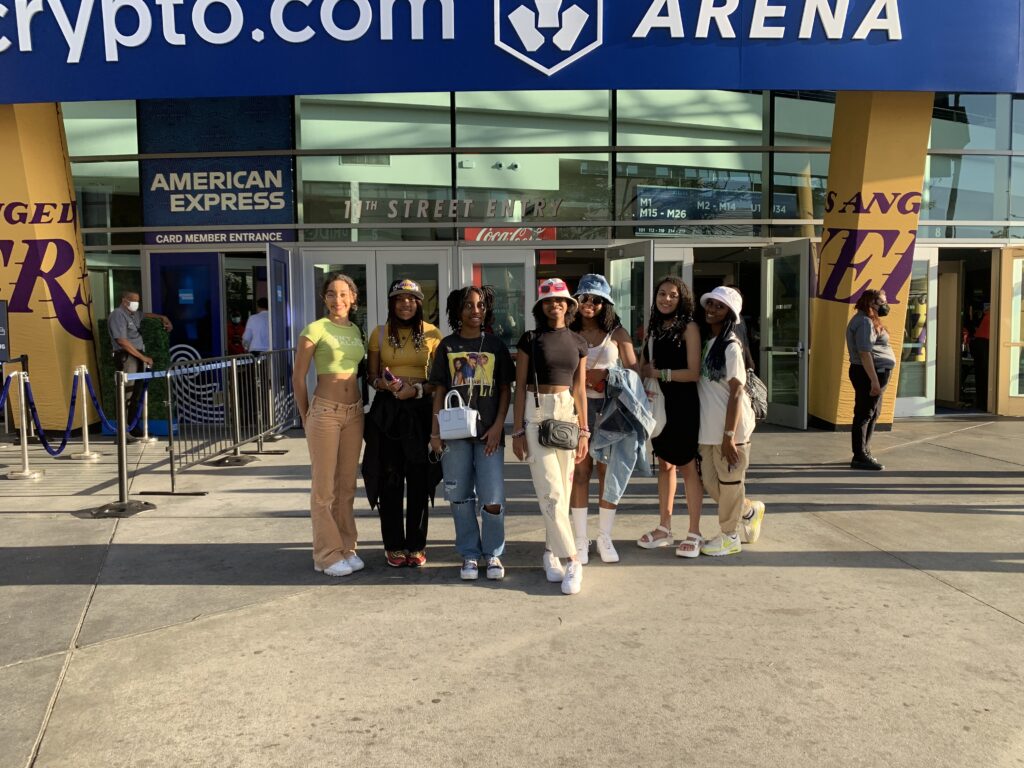 Day 6: Diva Bag Auction Recording Party
What a day! We spent all day at the beautiful blackbird.house with Director, Writer, and Producer Kelvin Parker of Splash Global Network and Actors and Artists Agency. Kelvin was our videographer and director for the day as we welcomed our celebrity guests to record their segments for the Diva Bag Auction. It was an action packed day FULL of talent and joy! Thank you, Lindsey Blackwell for being our host. Shoutout to David Joseph Craig for storing all of the bags for the auction, and helping us out during the Recording Party. As an actor and writer, David had some great tips to share with the girls covering the event.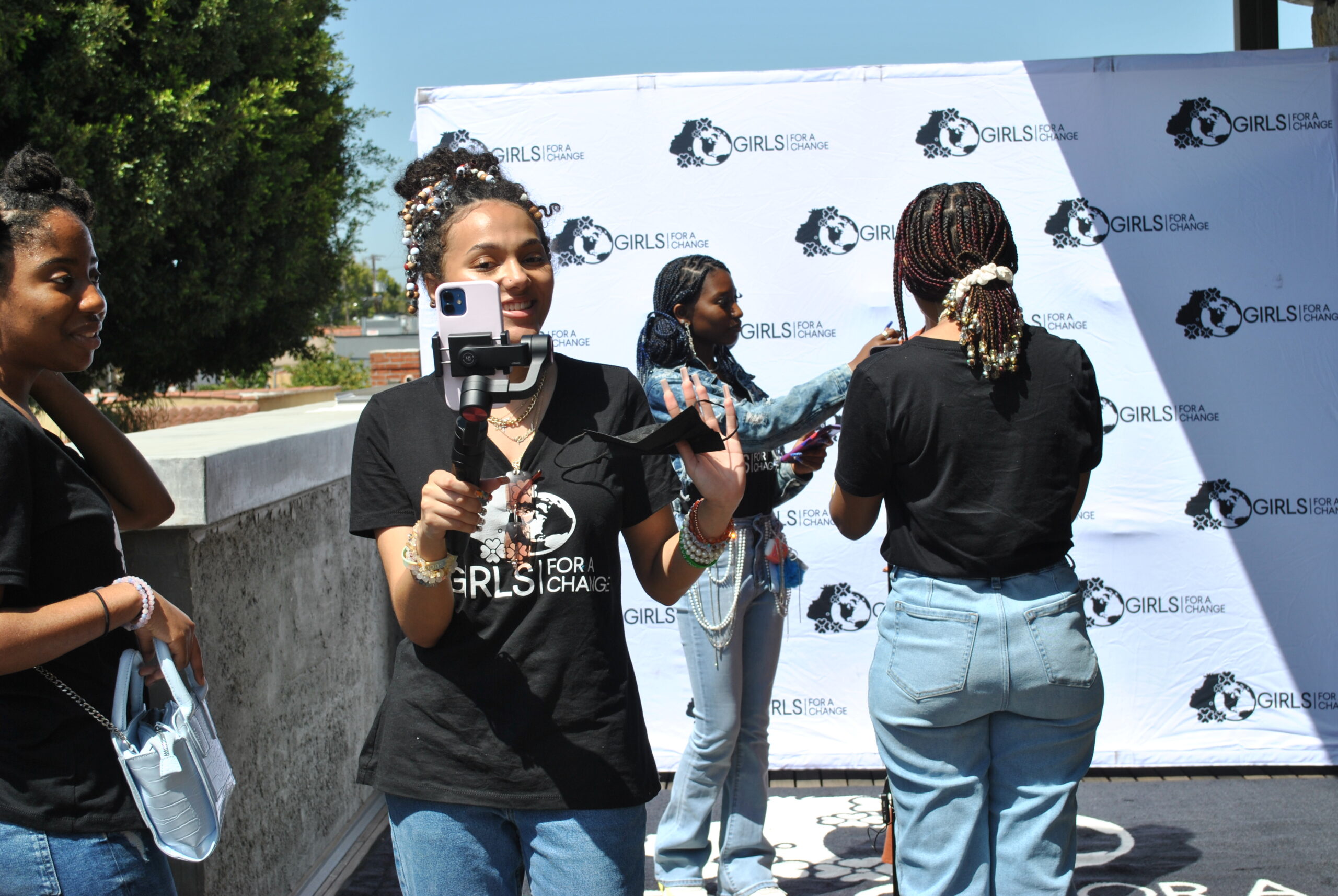 We also want to thank Emmy nominated Director and Producer Marta Cunningham for coming to Blackbird to do a workshop. She even gave the girls pointers for setting up our step and repeat and doing Red Carpet Interviews during the Recording Party!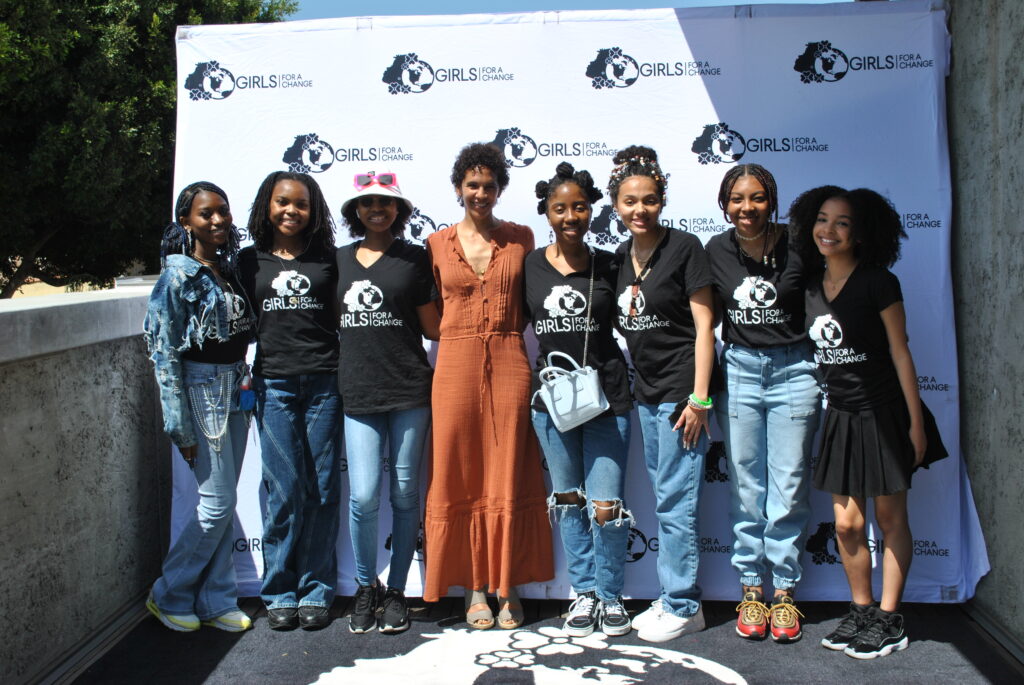 Day 7: Unexpected delays
Our flights home were delayed for a couple of days so we rolled with the punches and got to do and see more! After checking in with teachers, responding to emails, and doing some homework, David Joseph Craig took us to Still Life Studio for a pottery workshop. We also went shopping and saw more of LA.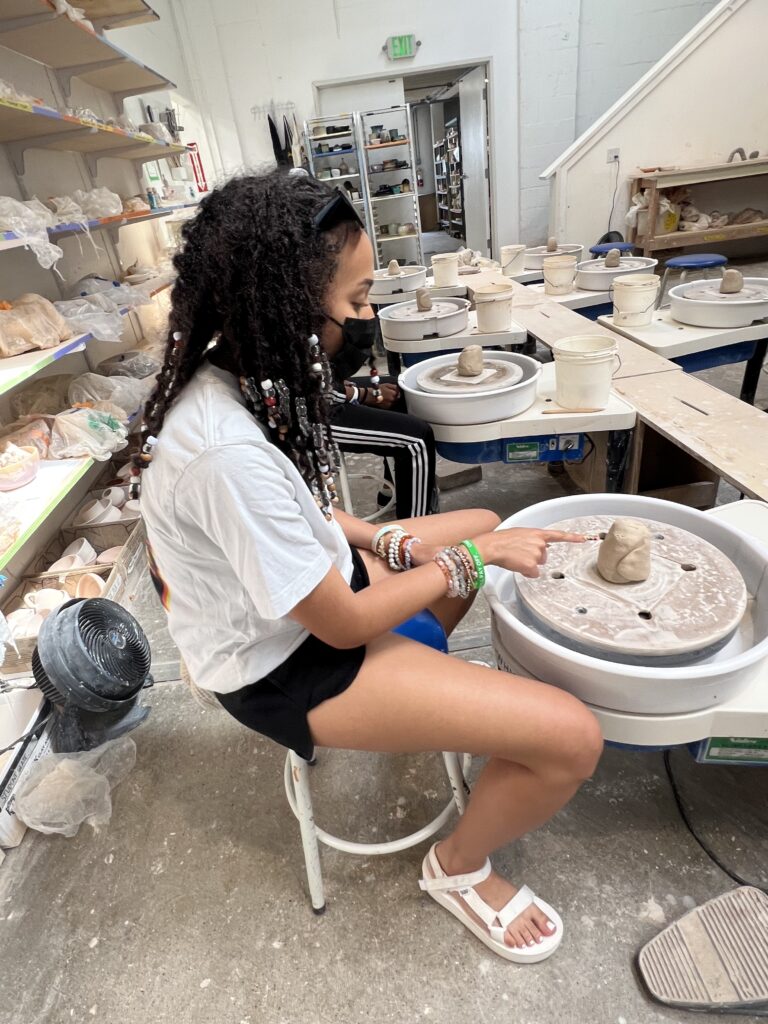 What a whirlwind! Our girls loved it! Special shout out to our girls' parents, who trusted us with their daughters. To Akil Productions who helped us get here and home by sponsoring our flights, and Lisa Gregorian for sponsoring our San Francisco stay. See all of our photos from the trip on Facebook here.