Celebrating the Principles of Kwanzaa
December 26th marks the first day of Kwanzaa, a seven day celebration of community, family and culture. Kwanzaa was established as a means to help African Americans reconnect with their African roots and heritage. Each day is connected to a principle that emphasize a unique set of values and ideals. At Girls For A Change, these seven principles are baked into everything we do. As we reflect on 2021 and look towards the new year, we wanted to share some stories from the year that personify each principle.
Principle 1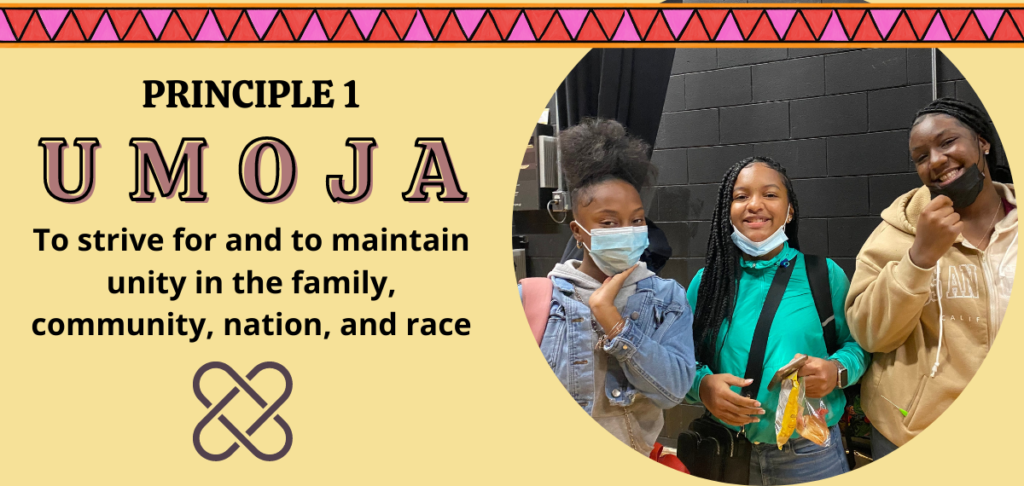 When change is made, unity is essential. At our Thomas Dale Girl Action Team, one girl felt that a conversation needed to be held in order to create a more united front among the team. This very honest, open conversation led to a strengthened bond across all fronts. A sisterhood was formed because of their willingness to be open and vulnerable. They continue to remind each other of the sisterhood that connects them and supports one another when in need.
Umoja, or unity, is the first principle of Kwanzaa, and at GFAC we strive in maintaining this powerful sense of community and sisterhood that we have created across our programs. Black girls need the safe spaces we create through our programs in order to be fully authentic and learn about themselves and others. Our Girl Action Team program is just one example of how we help Black girls thrive and build impactful relationships. 
Principle 2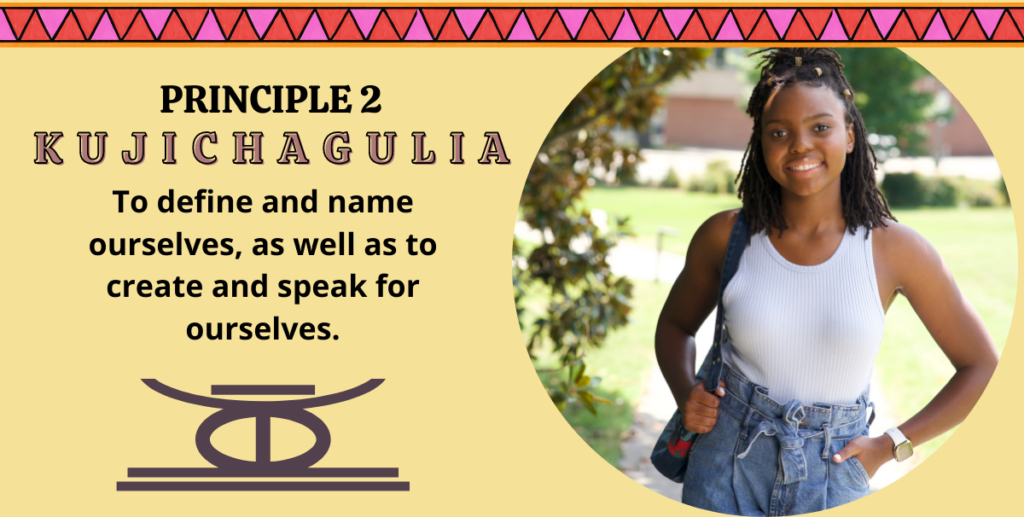 Kujichagulia, or self-determination, is a principle in which we define and speak for ourselves. Asani, a Camp Diva participant, exemplifies today's principle.
Last year, Asani was given the chance to talk about the power her name holds. Asani's work is now published in Open Access' Teen Spotlight e-zine. At GFAC, we strive to bring opportunities like this to our girls so they can reflect on their self-worth and build their self-confidence. You can read Asani's essay here.
Principle 3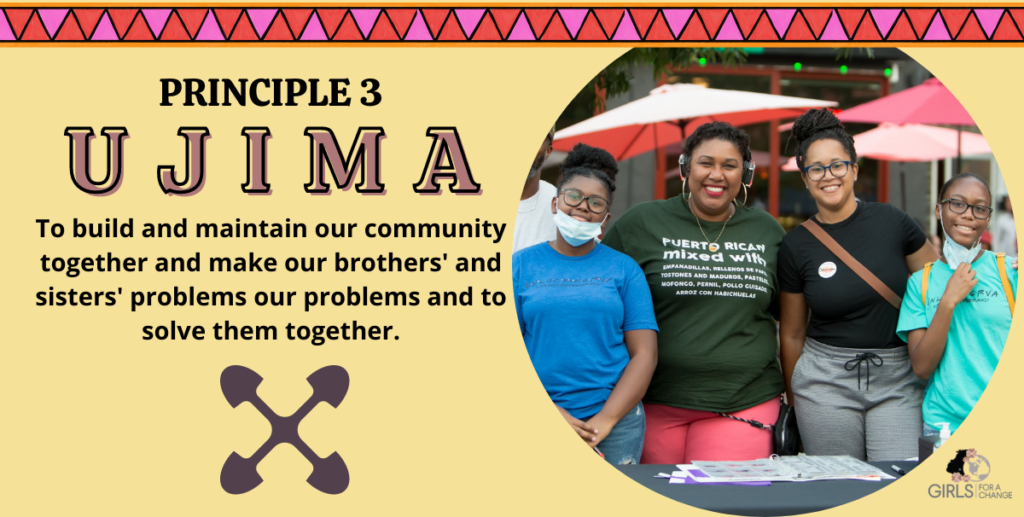 Our Girl Ambassador Program is the epitome of today's principle: Ujima, or collective work and responsibility. Thanks to our community, our Girl Ambassador Participants are supported in multiple ways. They learn professional skills training from the community, they intern with businesses in the community, some of them gain employment from the community, and this year, a new community of women business owners awarded two of our participants with scholarships. Each girl is able to tap into her community to ensure success.
We're recruiting hiring partners for 2022. Join our community! Learn more here.
Principle 4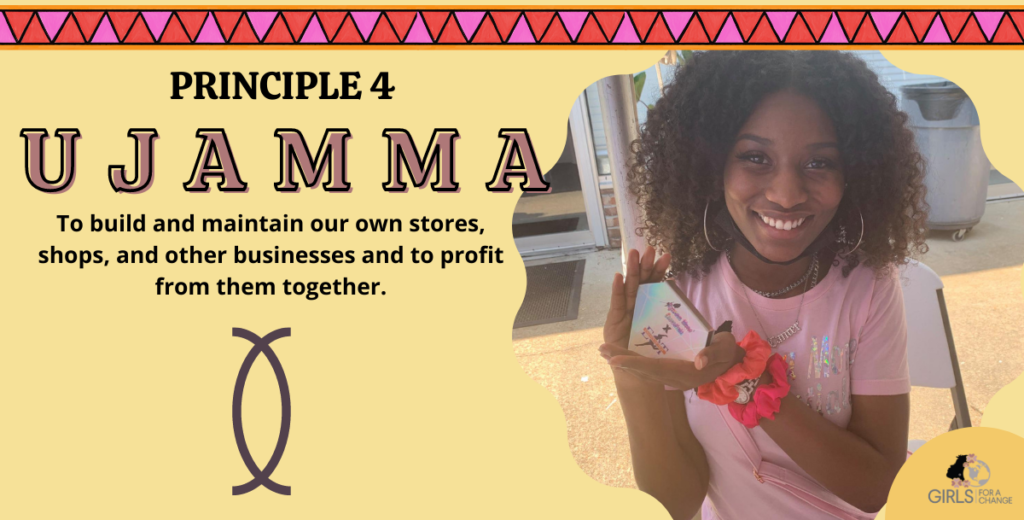 Building, maintaining, and supporting community businesses is what Ujamma, the fourth principle of Kwanzaa, is all about. In 2022, The Immersion Lab will help the next generation of business owners launch their businesses. Our Budding Black Entrepreneur Cohort will offer business mentorship, startup grants, and pop-up opportunities for girls to test the market. All girls who complete the program are then required to give back and support the next cohort. Applications are open now. Apply here.
Principle 5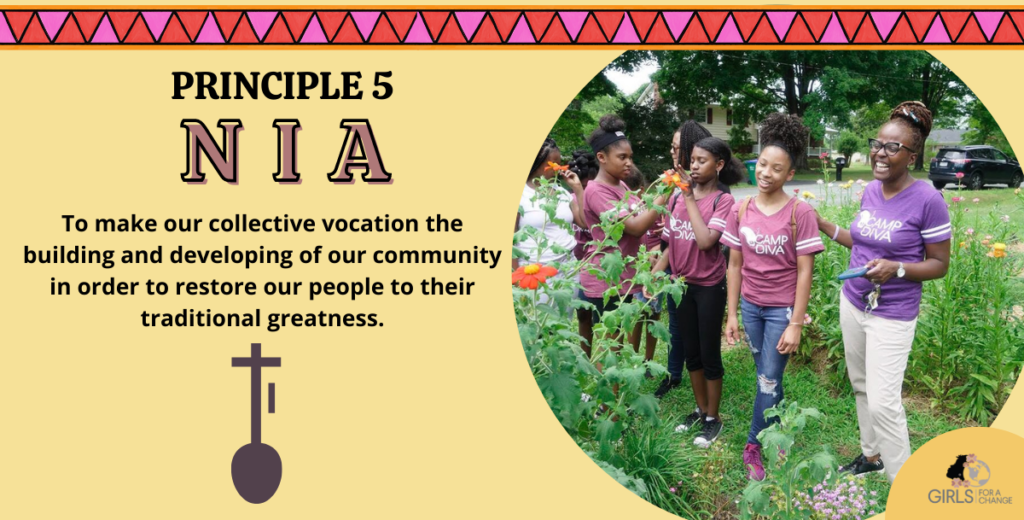 Our CEO, Angela Patton, is consistent in her work and advocacy because she knows her purpose: preparing Black girls for the world, and the world for Black girls. She personifies the fifth principle of Kwanzaa, Nia (purpose), and serves as a role model for our girls. As a community, we have to work together towards the purpose of restoring our people to their greatness. One of those ways is ensuring we have a space where Black girls can develop their voice, self-confidence, and learn their purpose. Help us build and develop our community by making a donation to our 1 Million Reasons to Build campaign. Donate here.
Principle 6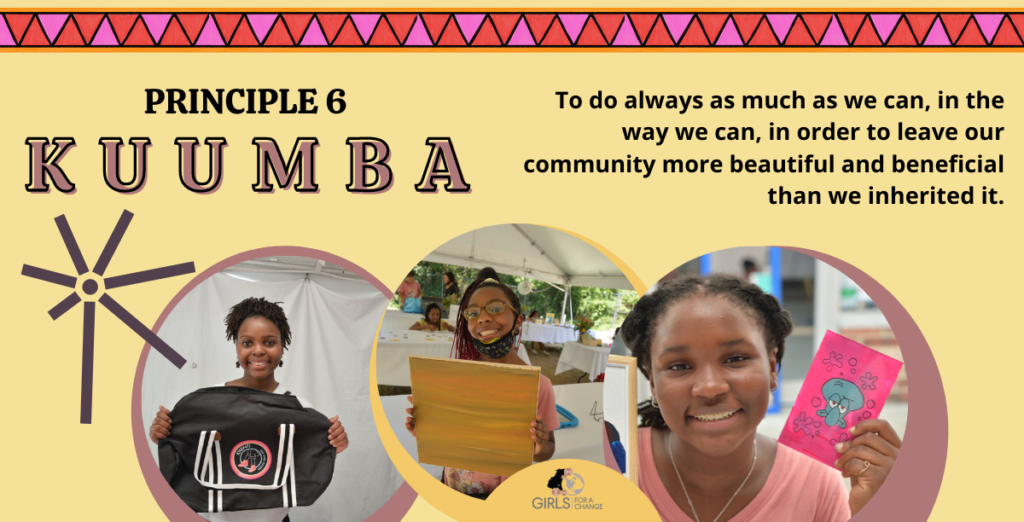 If you've ever attended Camp Diva Market Day, you've seen the creativity that lives in our girls. Participants act as artisans and entrepreneurs as they make their own products and sell them at the market. The sixth principle of Kwanzaa, Kuumba, centers on giving back to the community by leaving it more beautiful and beneficial than inherited. Market Day allows our girls to do just that!
Principle 7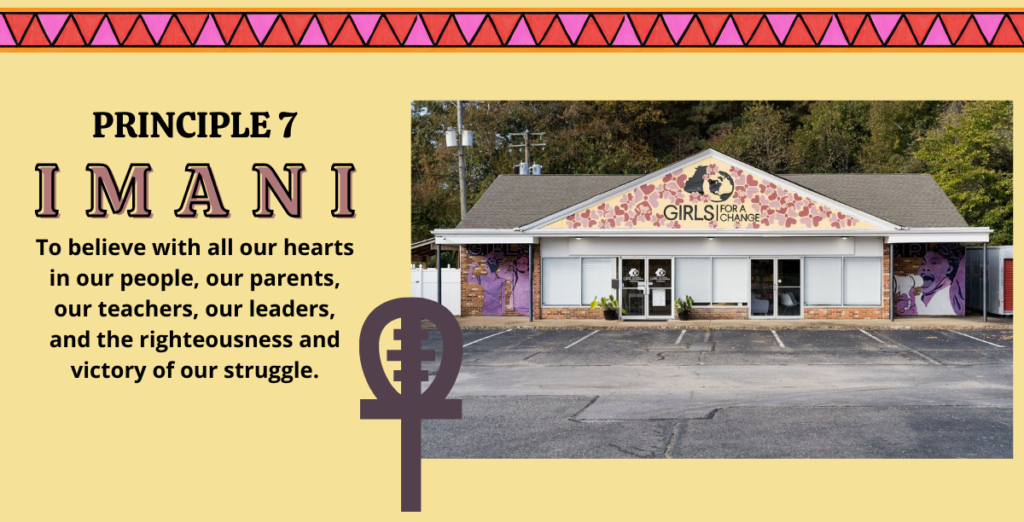 All throughout 2020 and 2021 we have had nothing but faith. Faith in our programs, parents, participants, partners, and so many others. Throughout the pandemic, we struggled and found success through resilience. We have practiced the final principle of Kwanzaa, Imani, through it all. The pandemic has tested us, but our willingness to learn, unlearn, and relearn has guided us.
Now, we continue to hold faith in our community as we raise money for our 1 Million Reasons to Build Campaign. Without you, our community, we won't be able to do it. Donate here.
Read all about our programs and successes in our 2020/2021 Annual Report.