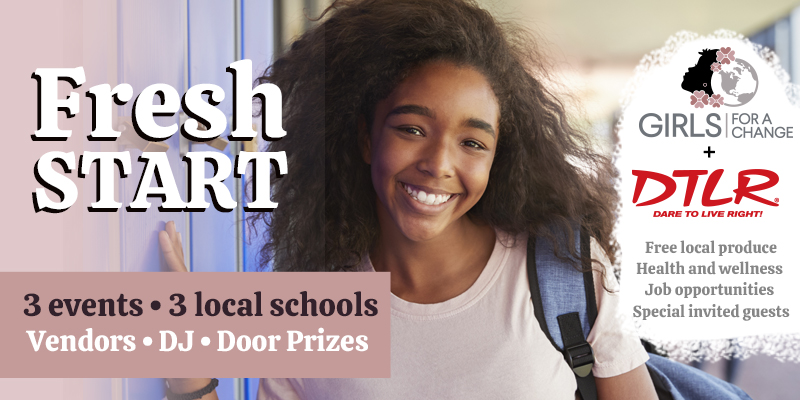 Girls For A Change + DTLR: Fresh START for local students
As the pandemic wanes, Girls For A Change and DTLR look to recharge students with a series of family and community engagement events.
Students need support more than ever as they enter into summer and look towards schools returning to in-person instruction. They need a recharge – a fresh start. We are excited to partner with DTLR for the launch of Fresh Start: a special youth event designed to show Richmond and Petersburg students that they have not been forgotten. 
The COVID-19 crisis has posed unique challenges for students: no sports or few after-school activities, time away from friends, and the canceling of school events and trips. Through it all, leaders have used Zoom and social media in an attempt to stay connected with students as their only option. After months of screens, many are now hoping for ways to engage teens and help them enjoy the summer while celebrating the end of an entire school year online in the midst of a difficult time. 
"DTLR is excited to partner with Girls For A Change to help provide a safe environment for students to stay connected with others, as well as an opportunity to promote health and wellness by providing fresh groceries to those in need," commented Community Outreach Director for DTLR Tremayne Lipscomb. "Our company has a longstanding history supporting students and local communities where our stores reside — and especially on the heels of a pandemic — we are honored to support this important cause throughout the summer." 
Through the Fresh Start initiative, Girls For A Change and DTLR will host three community events to promote health and wellness and celebrate the resilience of Richmond and Petersburg students. Attendees can expect music, activities, groceries, games, special guests, onsite employment opportunities, and the wisdom of the Girls For A Change Girls Action Team participants, who have been working on activities to share creative solutions and guidelines for a fun and safe summer break. 
Fresh Start event dates
Special Guests
First Lady Pamela Northam 

Richmond Mayor Levar Stoney 

Hamilton Glass 

Kelli Lemon
In addition, the following community organizations will be in attendance to offer information, special prizes and activities: Happily Natural Day, Vegan Action, Virginia Career Works, Fitness Warriors, Capital Area Health Network (CAHN), and King of Pops.
All In Together Community Murals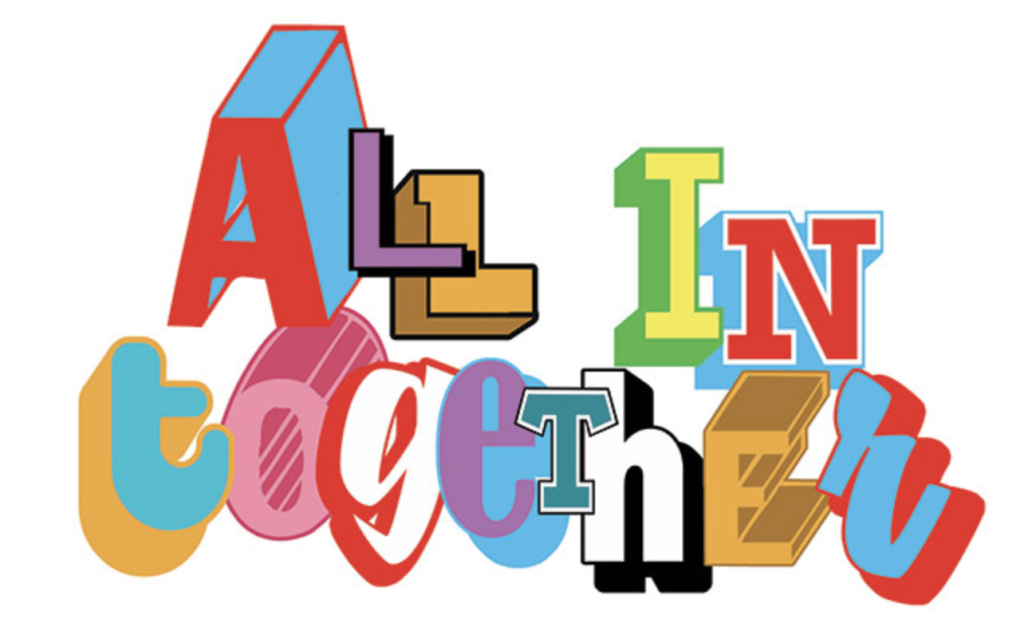 In addition to the Fresh Start events, Hamilton Glass and Matt Lively will be creating five new All In Together murals in select Richmond schools. The project begins with a series of coloring pages. Each individual page is part of a larger design that the artists will assemble to form a larger mural. Participants will take a coloring page or two and color it in a way that represents their own individual expression by adding color, sketches, writings, painting or collaging to the pages. Hamilton Glass will be on hand to help guide the process and engage with the participants. Girls For A Change will then work with representatives at Richmond Public Schools to select the schools where the murals will be installed.
About Girl Action Teams

Girl Action Teams support youth leadership development & civic engagement activities and provide Black girls access to improving their community while developing their capacity to become agents of change. Activities range from planning and participating in round-table discussions and participation on public boards and commissions, to community organizing in person and virtual public-awareness campaigns. Girl Action Team participants also receive extensive training to carry the voice of youth in public policy and planning processes.
About DTLR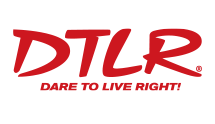 DTLR is one of the country's most successful lifestyle retailers with over 240 stores in 19 states. In fusing together our passion for fashion, entertainment, sports, and community empowerment, there is no doubt we run the streets. In the fall of 2017, DTLR Inc. joined forces with the lifestyle retailer Sneaker Villa Inc. to form one of the nation's largest fashion chains. As we accelerate our growth, you can look forward to DTLR/VILLA continuing to bring you the hottest and latest fashions provided by top apparel and footwear brands like NIKE, JORDAN, ADIDAS, LEVIS, TIMBERLAND, UGG, NORTH FACE, CHAMPION, BILLIONAIRE BOYS CLUB, ETHIKA, PUMA, FILA, NEW ERA CAP and MITCHELL & NESS. Make no mistake: now, "Better Together," we are the ONE STOP for young, trendsetting multicultural audiences. For more information, please visit www.DTLR.com.