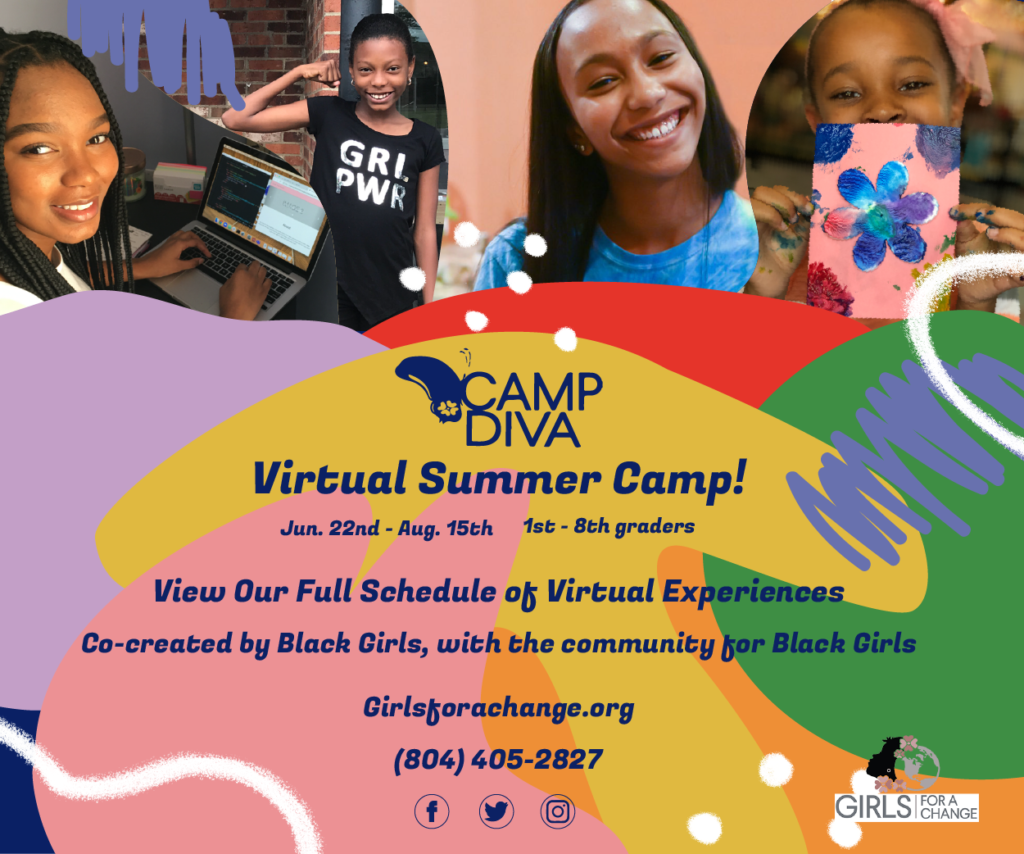 All of your Camp Diva Questions Answered!
Our summer virtual experience was created as a direct response to the social distancing and shelter-in-place protocols resulting from the COVID-19 pandemic. This year, Camp Diva Leadership Academy's Summer Camp for Black Girls is virtual/online and will include age-appropriate theme-based sessions for ages 6-14 (rising 1st through 8th graders) recapturing the true feeling of our 20 years of dedication to create, build skills, connect and entertain while stuck at home.
Who should attend?
Designed to culturally enrich and reinforce the strengths of young and adolescent Black girls (ages 6 to 14 or rising 1st to 9th grade) by promoting the joy in Black girls and other girls of color. Our participants will learn the growing mix of soft and hard skills to succeed in the future, while also making new friends and having fun through engaging and interactive workshops.
What are the dates, times, prices of Camp Diva Leadership Academy?
Camp fees are nonrefundable
Camp must be paid in full by June 16, 2020
Camp begins on June 22 and ends August 15th with various times and experiences for each age group:
1st and 2nd graders will have access to On-Demand, self-paced lessons, and content.
3rd – 8th grade will experience Live sessions available online. This means your daughter will work together with old and new friends across the region in real-time!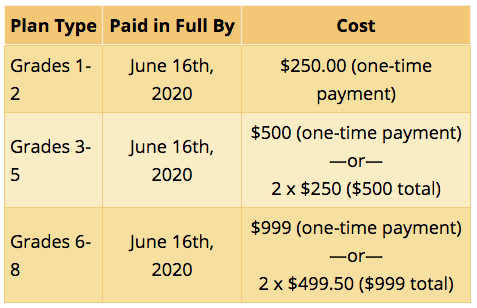 What activities should my daughter expect?
Girls will participate in Live interactive Online Classes with rotating weekly activities that are fun, culturally relative, and camp-like. Expect dance, exercise, cooking, DIY's, S.T.E.A.M., creative writing, exploring new passions, learning new skills, and building on existing interests as well as essential social/emotional skills, environmental exploration, and a chance to connect with friends and coaches – all from home.
What are the parent's expectations?
The Participant and Parent/Guardian Handbook provides quick access to answers for many of the questions participants and their parents/guardians may have about Girls For A Change virtual experiences, policies, procedures, and specific programs and courses. We ask that participants and their parents/guardians to review the handbook and keep a copy for reference as the year progresses.
When is the registration deadline?
We are implementing a deadline schedule of June 16th so that we can assign participants to appropriate groups, ensure adequate staffing, and have timely and accurate registration details for each participant. Safety is our highest priority. Accurate and timely enrollment information is a key ingredient in providing a safe place on or off site for every participant. We, therefore, can no longer accept registrations beyond the date. If you have questions or concerns, please contact info@girlsforachange.org.
What does my daughter need to bring to camp?
Since this camp will be entirely online, a good internet connection, comfortable and private space and digital device will be vital. After registering, your daughter will be placed into their virtual team, where they will remain for the entirety of the summer program. Supplies for activities are basic items that you can find in almost any household or on Amazon and you'll receive an easy list when you register.
Usually, any items you are expected to have available are listed on the website and in the workshop description. If you need to bring any special items with you to the workshop, you will receive those instructions in a separate email two weeks or so prior to the session.
In fact, if you register and pay in full before June 16th, you'll get an exciting Camp Diva Kit bursting with a multitude of hands-on activities and a raised bed or vegetable bucket for gardening projects that will keep your daughter exploring, engaged, and excited, all summer long.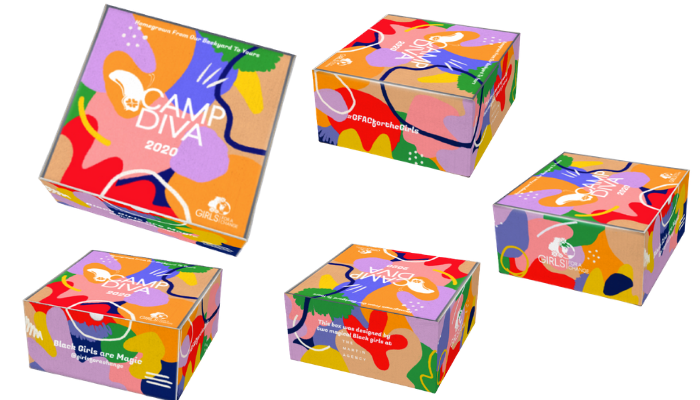 If you missed the registration and delivery deadlines you can schedule a time to pick up your Diva Kit from the Girls For A Change Branch or pay $25 for shipping and handling.
What does my daughter need to be successful?
Daily sessions will be a full active day and Fridays will be fun activities girls can do with items at home, with family, or with new friends on their own.
Access to her Camp Diva Kit
We will ship a week's worth of activity materials and supplies necessary to complete the sessions.
We will have requested one-on-one meetings with each family to make certain that all technology is in place to enable a successful experience for each girl.
Tablet, Computer or Laptop (if you do not have one, contact us and/or complete the scholarship application)
WiFi (if you do not have access to WiFi, contact us and/or complete the scholarship application)
1 Notebook, 1 Folder, 2 pens, pencils, 1 pack of markers
Yoga or exercise mat
Comfortable clothing
Gardening tools
Access to a cell phone for video sharing
Additional supplies to be announced two weeks before the program
And a great attitude!
Will there be a Meet and Greet for parents and girls?
Camp Diva Leadership orientation will be on Thursday, June 16 at 6:30 pm – 8:30 pm (EDT)
All families completely registered will receive an Eventbrite invitation.
What makes our program work?
Black women and girls are often labeled with various stereotypes. Sometimes it may be loud, ghetto, hypersexual, or combative. Our program can operate in ways that respond better to the needs of Black girls by intentionally creating healing-informed learning spaces. Camp Diva gives girls the confidence to break the mold in a single-sex camp environment. Surrounded by peers in the supportive, inclusive atmosphere of the camp, girls can find the confidence to step out of their restrictive shell and shift the paradigm.
There are a growing number of organizations teaching girls everything from technology to interpersonal skills. While we are all a little different, the common thread is that we all create a sense of community for the young girls, adolescents, and young women involved.
Is it too late to Register?
Registration continues into the summer every two weeks or until we are sold out! Please use the Register here before June 21st. A non-refundable late registration fee of $1100.00 is accepted until August 7, 2020. Camp Diva Kits and Raised beds will be included.
What does a Camp Diva virtual experience look like?
Our coaches will make it easy to check in with teams via online using our own branding and content.
A Camp Diva T-shirt (it's traditional )
8 Week Classes, 4 theme sessions
Live, Teacher-Led Online Classes
Self-paced modules
Students Attend Classes from Home. No transportation barriers
Hands-On, Interactive Classes, DIY's, etc
STEAM-related activities
Regular Parent Updates
Student Progress Reports
Virtual Market Day to promote Girl Powered Businesses
Virtual Field Trips
Closing Ceremony for Successful Class Completion
Since Camp Diva will not operate on Fridays, do you have any recommendations to keep my daughter busy?
Every Friday, Girls For A Change will participate in social distance community activities. If you are seeking more for your daughter to do, please consider continuing to check our newsletter for updates.
Where can I contact the organizer with any questions?
Contact Na'Kera Richardson at nakera@girlsforachange.org with questions. You deserve to have all your questions answered.
So, ask your questions here or call us at 804-833-8842 Mon-Thurs 8am-4pm. We aim to respond to all emails and phones within a 24-hour timeframe (not to exceed 48 hours).