Are you a


Young Black Woman Entrepreneur?
Apply for the Incubator.

Photo by Jay Paul Photography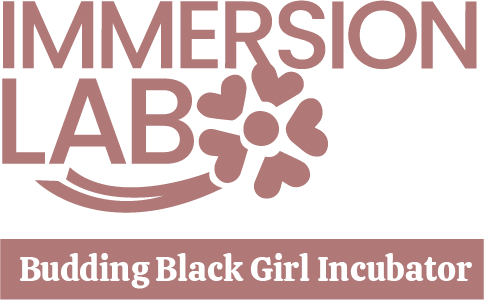 This program offers entrepreneurship education, skill building, and career skill gaps Black girls face. They learn the importance of financial literacy, critical thinking, organization, goal setting, and creativity.
Program dates:
Thursdays, 6:00pm - 7:30pm
November 3 - May 4
Sneak Peeks:
February 2
February 9
February 16
Girls For A Change Branch
100 Buford Road
North Chesterfield, VA 23235
This unique, youth entrepreneurship program approaches learning in an interactive, experiential manner. It is designed for aspiring or current young women entrepreneurs who have or are starting retail businesses in the Richmond Region. The incubator offers one-on-one mentorship, weekly programming focused on business fundamentals, pitching opportunities, and a vast network and community of supporters, educators, and local entrepreneurs who act as advisers.
Girls For A Change launched the Immersion Lab in 2019 to address the Digital Divide, providing young Black women with access to professional training, mentorship, networking, workshops and resources. However, the COVID-19 pandemic shed light on long-standing issues that disproportionately impact Black women who own businesses, namely the lack of adequate capital and the ability to test business ideas without jeopardizing financial security. Therefore our strategic focus shifted. It is our goal to offer a new retail element to the Immersion Lab program that surmounts the historic economic obstacles Black women entrepreneurs face. We want to see more Black women in the Richmond, Virginia, retail ecosystem. 
In addition to training and mentorship, participants will have an opportunity to test the market, working at local pop up shops selling their products. Participants will also have an opportunity to win seed money for their business - upwards of $5,000! Registration is open and spots are limited. 
Program calendar
March - May:
Work side by side with other cofounders to expand business knowledge and work on product development.
June:
Participants go through a week-long residency at GFAC's Creative Industry Camp where participants get a hands-on, behind-the-scenes look at successful retail businesses. 
June - July:
Test your business models, pivot ideas, and explore other areas for growth, both from a product and geographic perspective through pop-up shops and local market vending networks. 
August:
Compete in a pitch competition with local investors.
The Pitch Competition
Girls For A Change will bring together a committee of local investors to judge pitches from the cohort. Participants pitch their business models and share the lessons they've learned during the incubation process. The most promising entrepreneur will win $2,500 in capital to invest in their businesses, $1,000 in technology equipment, $500 in branding support, a 60-day membership to a local co-working space, and an additional one-on-one mentor session with a successful business owner in a similar industry. The winner will also receive vending opportunities at five summer events in Richmond, VA increasing her business visibility at no cost. Upon completion the winner will be eligible at age 18 to apply for the Women Entrepreneurial Leadership Certification at no additional cost. 
Participants who don't win the competition will receive $500 in seed capital, an opportunity for investment from the investors at the pitch competition, and three free summer pop-up vending opportunities. 
Upon program completion, graduates will continue their membership in the Immersion Lab for continued learning, resources and connections. They can engage with our other programs like the Girl Ambassador Program. Successful participants may apply for our annual college scholarships.
Participant requirements:
Black girls in High School or Girl Ambassador Alumni up to age 20
Starting or have already started a retail based business
Perks:
The chance to win up to $5,000 in seed money

Opportunities to sell your product at community events and markets

Gain real world business skills and knowledge

Grow your network of like minded peers and business advisors

Business mentorship and guidance

Access to market resources and business development services like accounting, marketing, and technology implementation