Celebrating Successes from the 2022 Girl Ambassador Program
By Makayla Williams
The 2022 Girl Ambassador Program (GAP) has come to an end, but this year's cohort learned skills that will last a lifetime. Girls For A Change has been working with the Greater Richmond area School Districts of Henrico, Richmond, and Chesterfield, as well as some private schools to recruit girls and spread the word about the program. This year, we had 15 girls complete the 2022 program, with two girls graduating after completing four years.
Each year, we kick off the program with several weeks of specialized training sessions to prepare them for the workforce. Girls attended in-person and virtual classes where they learned coding with Emily Todt, web design with Jolinda Smithson, customer service and code-switching with Mentor RVA, financial literacy with Lisa McCorkle, author of The Battle of Finance and Fame, and so much more.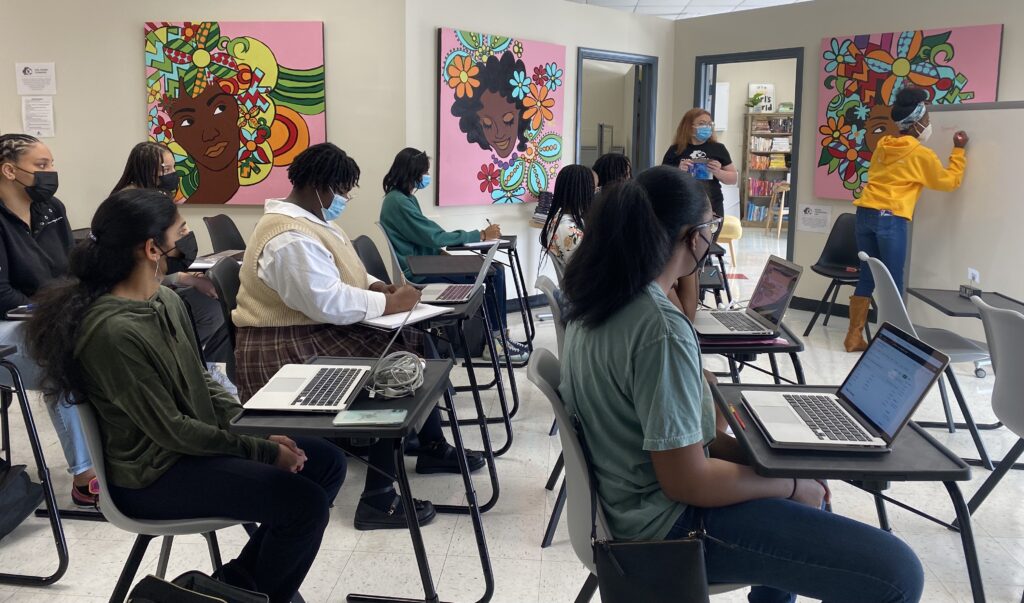 Most recently, Cynthia Newbille, Richmond's 7th district Councilwoman and co-founder of the SisterFund, stopped by the GFAC center to discuss the importance of charities and giving back to one's community. She even made the first $25 donation to the Build Black Girl Circle, which teaches GAP participants the importance of community service and philanthropy!
In addition to attending various classes, girls have been working hard at their internships with 11 of GFAC's hiring partners. Meet this year's GAP participants and hiring partners!
Mia Bryson: Shapes and Colors by Jolinda
Owning her business since 2009, Jolinda Smithson began working for herself as the founder of Shapes and Colors in 2019. Her goal as a marketing company owner remains to work with clients to tackle projects. Jolinda has been working with GFAC for over a year keeping our website up-to-date, beautiful, and user friendly. She has also been involved in creating our Camp Diva brochure, Closing Ceremony brochures, and other marketing collateral.
Mia Bryson, a 1st-year GAP participant, is interning with Jolinda this year. Mia has been working on website building and graphic design, including creating a Camp Diva brochure and templates for GFAC closing ceremony. They both joined us during Camp Diva Leadership Academy to offer a lesson in marketing design ahead of Market Day. With Jolinda's help, each Camp Diva participant created their own logos and table signage to prepare for selling their products at Market Day.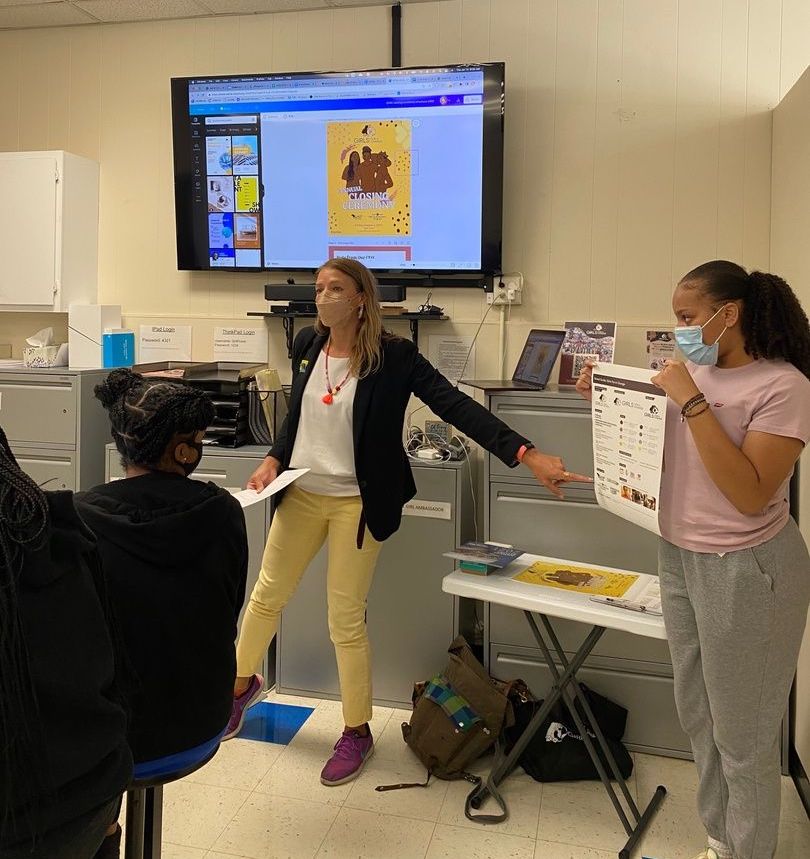 "I've learned Adobe Illustrator skills, like how to convert file to png and color and resize different shapes in Adobe. For the social skills, my internship has taught me that my voice matters and my boss cares what I have to say. I've met a lot of people and naturally I've became more social," says Mia.
Having a hybrid internship that was both virtual and in person, has helped Mia as well.
"I'm learning time management is very important when working virtual. Being organized really helped me juggle both."
Harshitha Lakshmi Balasubramanian: Children's Museum of Richmond
Founded in 1977, the Children's Museum of Richmond was created to make learning possible in a fun environment. From field trips to family visits, the museum continues to live out its mission statement. Harshitha Lakshmi Balasubramanian, a 1st-year GAP participant, is interning with the Children's Museum of Richmond Director of Human Resources, Whitney Fogg. Harshitha has been working on scanning documents and editing them.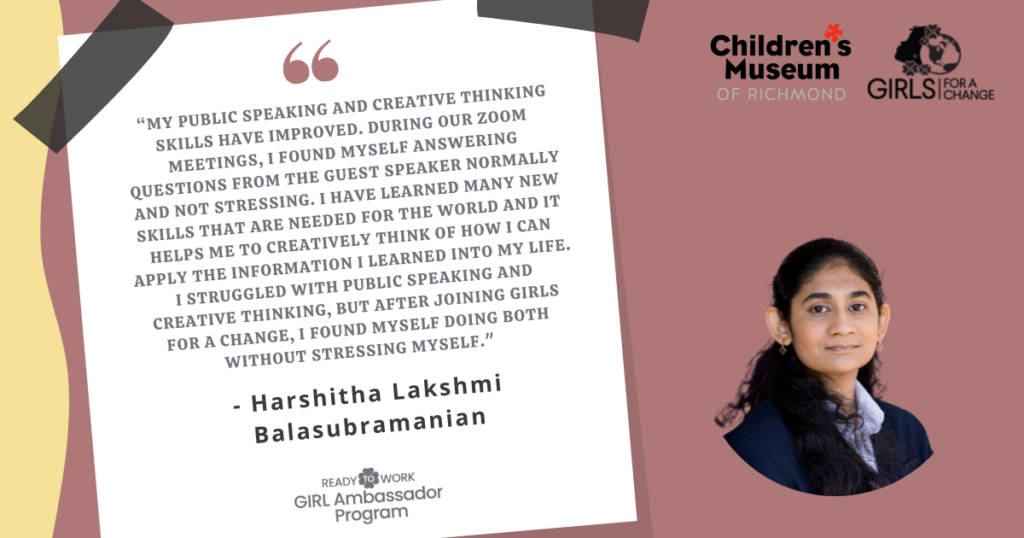 "My public speaking and creative thinking skills have improved. During our Zoom meetings, I found myself answering questions from the guest speaker normally and not stressing. I have learned many new skills that are needed for the world and it helps me to creatively think of how I can apply the information I learned into my life. I struggled with public speaking and creative thinking, but after joining Girls For A Change, I found myself doing both without stressing myself," says Harshitha.
Afryea Williams: Virginia Museum of Fine Arts
Founded in 1934, the Virginia Museum of Fine Arts (VMFA) was created to encourage the study of the arts. VMFA has been a great partner with GFAC over the past few years, hosting GAP interns and our unique VMFA Girl Action Team. This year, our Black Girl Showcase and our Closing Ceremony were both held at the museum.
Afryea Williams, a 2nd-year GAP participant, is interning with VMFA. Afryea has been interviewing people in exhibits while also working on social media projects. One of the projects is a personal project where she is making an exhibit or event proposal for the museum to consider.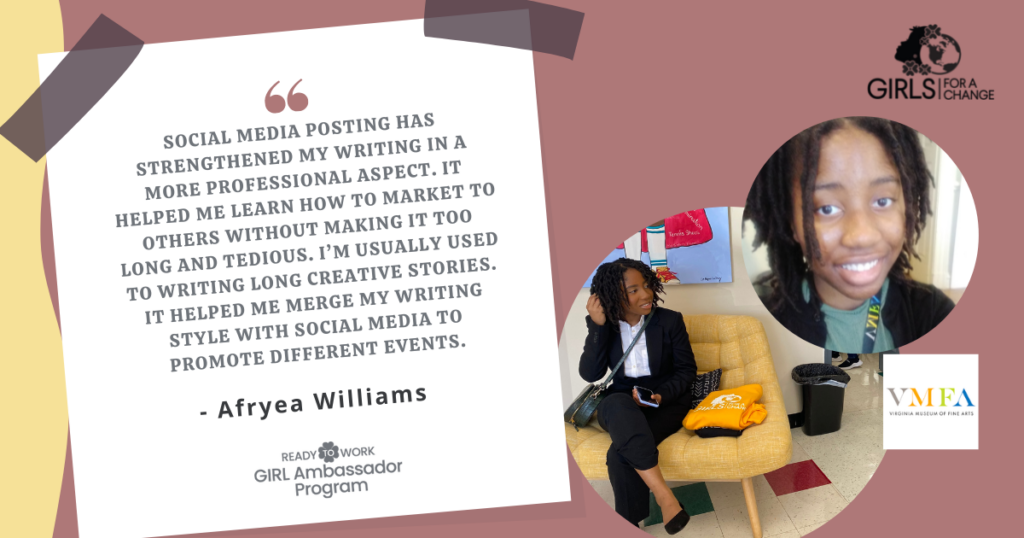 "I've learned how to make an Instagram post to promote an event. I've also learned how to plan an event and the different steps it takes to make an event successful. Social media posting has strengthened my writing in a more professional aspect. It helped me learn how to market to others without making it too long and tedious. I'm usually used to writing long creative stories. It helped me merge my writing style with social media to promote different events."
Madison Wright & Eisely Goldman: VCU School of Education Dean's Office
Virginia Commonwealth University (VCU) is a public research university located in Richmond, Virginia. Madison Wright, a 2nd-year GAP participant, and Eisely Goldman, a 1st-year GAP participant are interning with the VCU School of Education Dean's Office Special Assistant to the Dean, Erin Wilson. VCU is another great GAP partner and has been hosting interns since the program began in 2018. They took a break due to the pandemic, but we are so happy to have them back!
Both girls have been working on graphic design, project planning, finance, telecommunications, bulletin boards, and flyers for events. Madison has been learning leadership, creative design, and workplace etiquette. Eisley has been learning work boundaries, core values, and how to actively participate in meetings.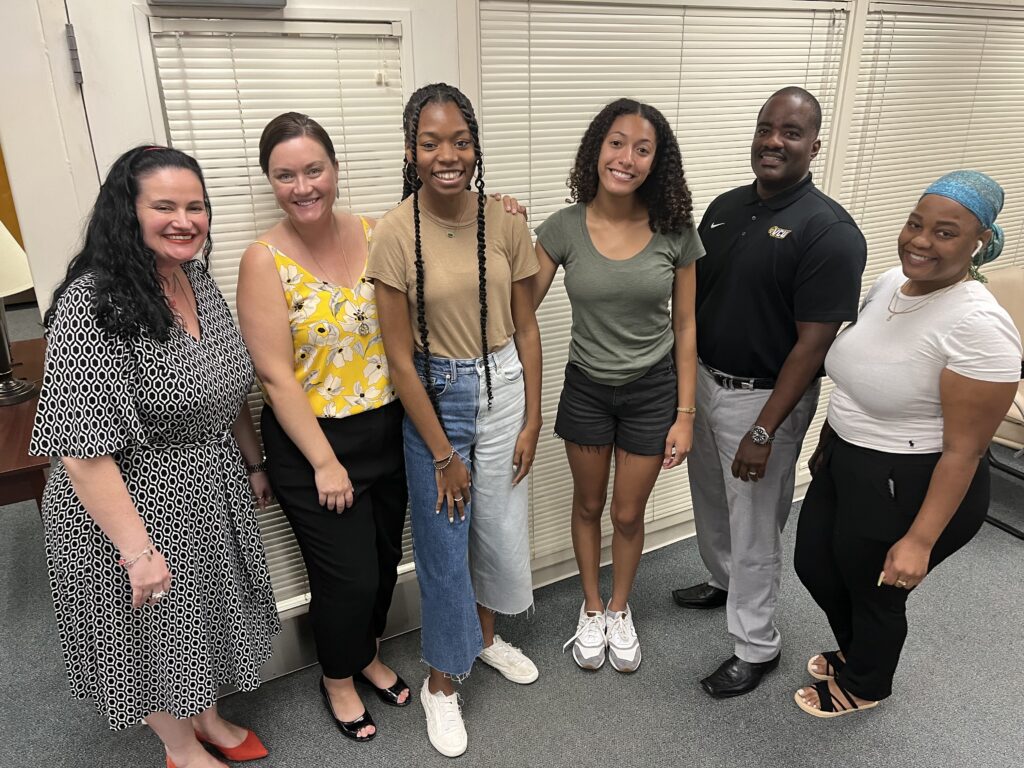 If you've been following our Girl Ambassador Program for a while, you may recognize Dr. Andrew P. Daire in the photo above. Dr. Daire is the Dean of VCU School of Education and is a strong supporter of the program. He joined us in 2020 for our Lunch & Learn series to help raise awareness for this program. Here's a clip below.
Faizah Muhummad & Jordan Gathers: Science Museum of Virginia
The Science Museum of Virginia was established to allow museum-goers and visitors to discover the world around them through exhibits, films, workshops, and interactive experiences. Faizah Muhammad and Jordan Gathers, both 1st-year GAP participants, are interning with the Science Museum of Virginia Director of Education, Timshel Purdum. This will be the second year the Science Museum has participated in GAP.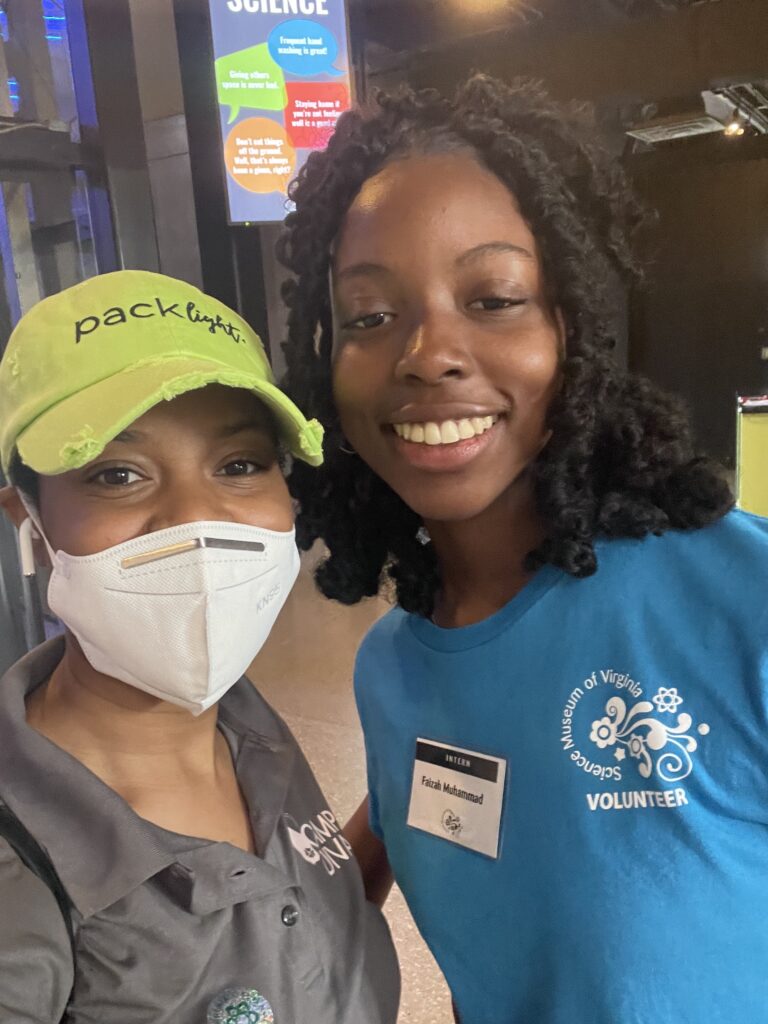 Faizah has been working on a variety of things, in which she is learning communication skills, listening skills, teamwork skills, and time management skills.
"One thing I learned from this experience would be time management. I had to adjust my schedule and figure out what time I needed to go to sleep, what time I needed to wake up… Another thing I learned was how to interact and talk to different age groups, for example, I would talk differently to a child than I would someone my age," says Faizah.
Jordan has been working on different wood-shop skills such as sewing, making stained glass, and painting.
"I've been learning how to engage in conversation with new people and also how to hold a conversation," says Jordan.
Layla Bryson & Kileya Johnson: Maggie Walker Community Trust Foundation
Formed in 2016, the Maggie Walker Community Trust Foundation is a nonprofit organization created to find homeownership opportunities for moderate and low-income families. It is the first and only combined Community Land Trust and Land Bank in the US. They are also a partner with GFAC on a new project: Agrihood.
Layla Bryson, a 2nd-year GAP participant, and Kileya Johnson, a 1st-year GAP participant are interning with Maggie Walker Community Trust Foundation Director of Fundraising, Kortenay Gardiner. They have both been working on community engagement as part of the Agrihood project. Layla has been learning different ways of outreach for the Agrihood project. Kileya has been working on creating presentations and distributing flyers.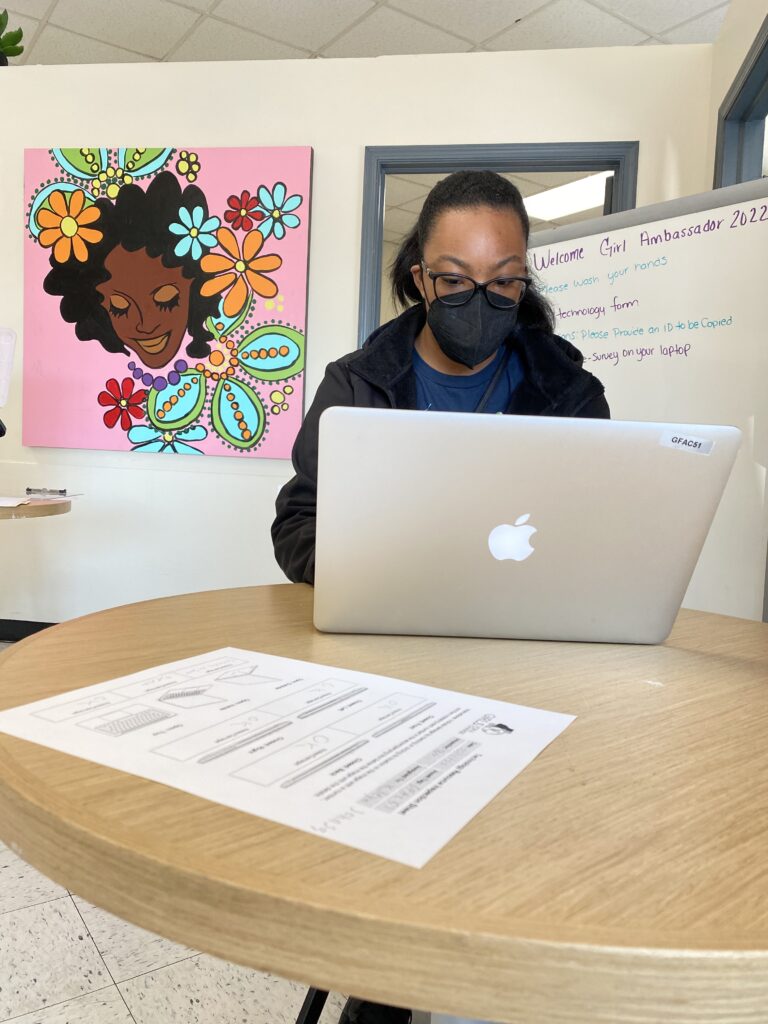 "I have been learning how to come up with and ask sensible questions to people of a community. For example, ​​one of the questions that we asked on our survey was 'What amenities do you feel the Bensley community is lacking? Example: Parks, event space, grocery store, etc.' This question was short answer, and it allowed us to understand exactly what community amenities the community members felt they were missing in the area," says Kileya
Jessica Saunders: Black & Creme Boutique
Black & Creme Boutique is a Black female-owned online retail boutique focused on sustainability and eco-friendliness. Jessica Saunders, a 4th-year GAP participant, is interning with owner Le'Marqunita Lowe. Jessica has been working on graphic design and research while learning about color schemes.
Jessica kicked off her beginnings with GFAC in Camp Diva Leadership Academy and has been growing with us ever since. She joined as a rising 9th grader and has stayed the course, completing four years in GAP and earning a GAP scholarship to her chosen university: Virginia State. We are so proud of Jessica's accomplishments in and outside the GAP!
"During my time in the program, I have learned Microsofts skills, coding skills, and networking skills. I have grown while in Girls For A Change and feel like it prepared me more for the business world. I can apply these while in college because I will be networking with other people while getting my name out there." – Jessica Saunders
Makayla Williams: Emergent Social Solutions
Emergent Social Solutions is a communications firm focused on content creation and event coverage. Makayla Williams, a 2nd-year GAP participant, is interning with GFAC Communications Director and Emergent Social Solutions owner, Ashley Ray. Makayla has been honing her content creation and communications skills working on social media posts, visual content designs, and blog writing. She also worked side by side with Ashley and the GFAC team to cover GFAC's Annual Market Day.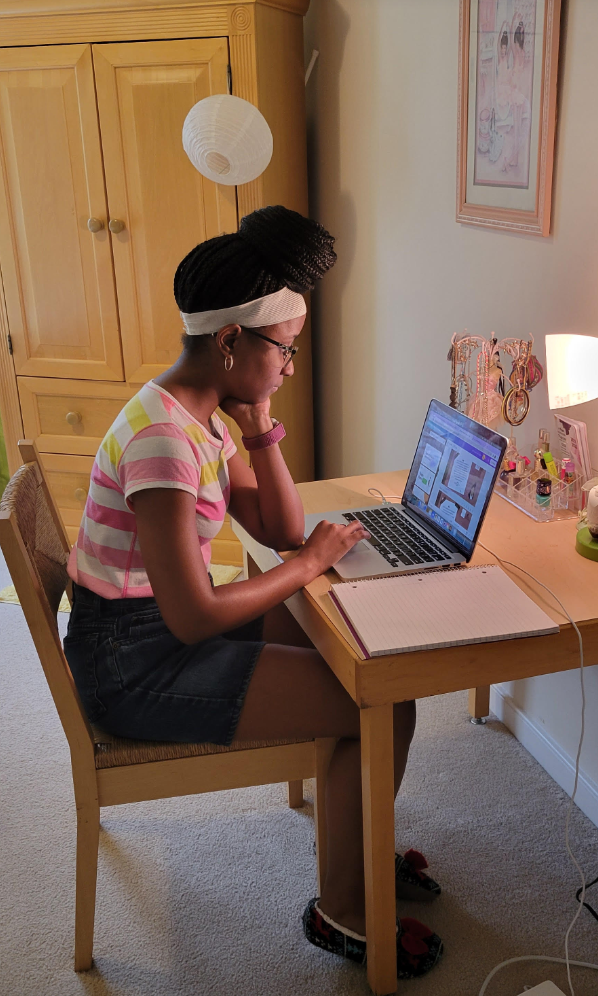 "I've learned how to creatively use social media to promote different events like the Diva Bag Auction. I've also learned how to capture content at events like Camp Diva Market Day, where I interviewed the girls and encouraged GFAC supporters to attend Market Day. Additionally, I believe my writing skills have greatly improved from when I wrote my first social media post to when I wrote my first blog post."
Harmony Kimbrough & Chayce Evans: Fit4Kids
Founded in 2010 by Sportsbackers and the Robins Foundation, Fit4Kids is a nonprofit organization focused on improving youth health and reducing childhood obesity through partnerships with schools and communities that promote physical activity and healthy eating. This is their second year participating in the program. Harmony Kimbrough, a 1st-year GAP participant, and Chayce Evans, a 2nd-year GAP participant and Camp Diva Leadership Academy alumni, are interning with Fit4Kids Program Coordinator, Sam Clavel. Harmony has been working on leadership and teamwork skills to promote physical fitness for middle schoolers. Chayce has been working on communication and interaction skills while assisting youth in the garden.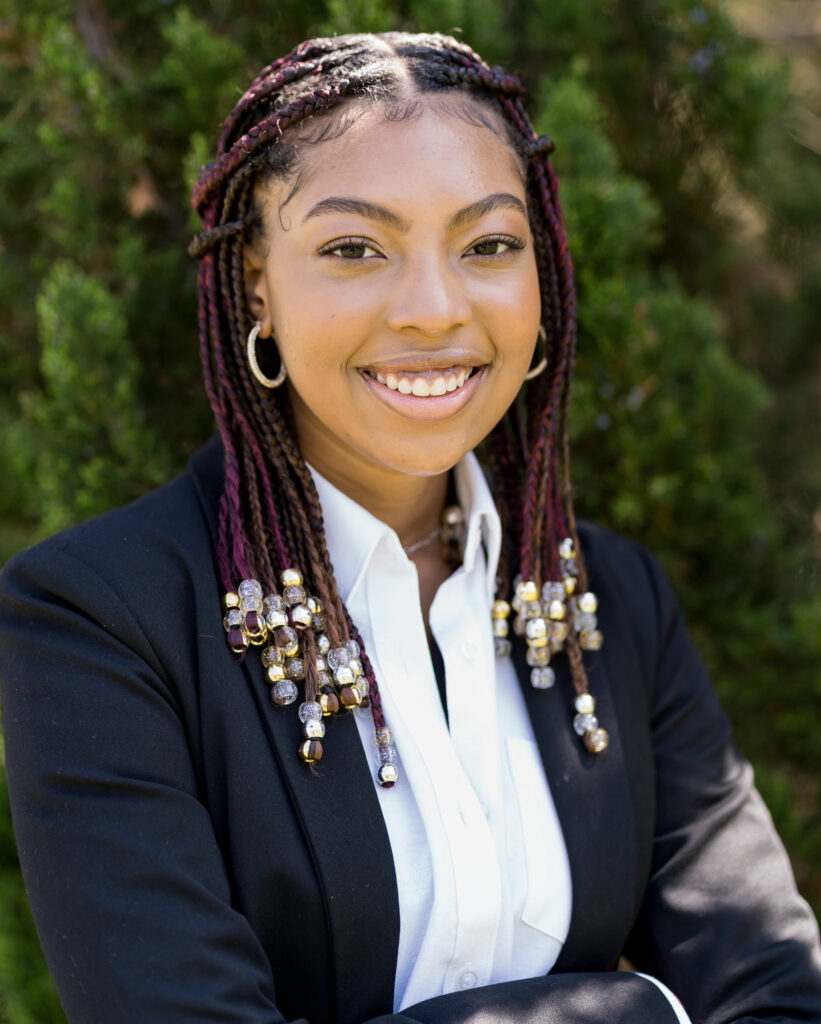 Madison Saunders: Winged Wellness
As a result of personal experiences and struggles, Jessica Mulligan created Winged Wellness in 2017 with a focus on helping other women with sleep, mood, energy, and stress needs. Women suffer from anxiety, depression, and insomnia at a higher rate than men, which is why Jessica formulates CBD and non-CBD products with specifically women in mind. Madison Saunders, a 2nd-year GAP participant, has been learning how to operate an online business through her internship with Winged Wellness.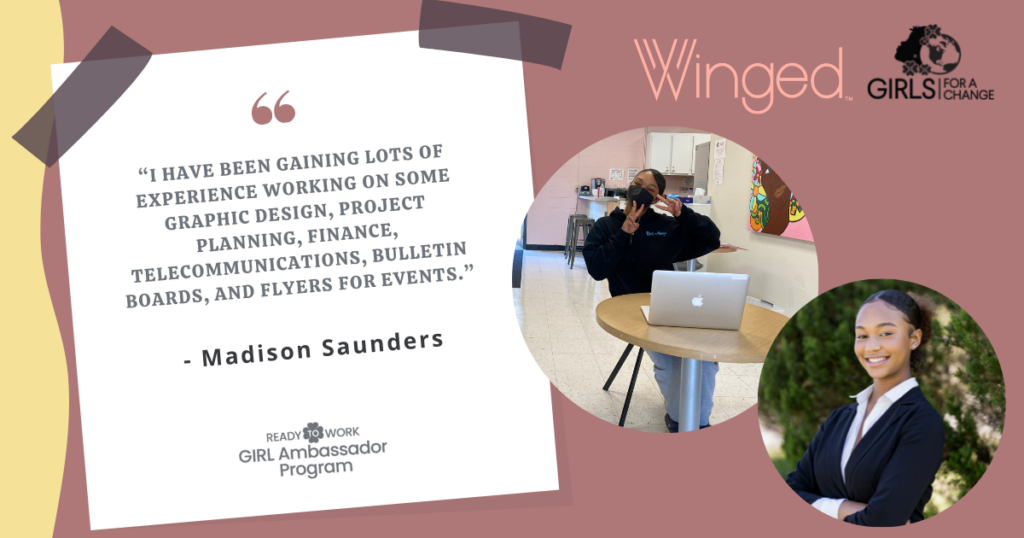 We love working with Jessica and her team as this is their second year in the program. Last year, Iyanna Hardin interned with them and during her internship created a NEW Winged Wellness product that will be released within the next year!
Iyanna Hardin: Afrikana Film Festival
Founded by Enjoli Moon in 2014, Afrikana Film Festival is a 3-day independent film festival based in Richmond, Virginia. It was created to showcase cinematic works by people of color to elevate and celebrate Black culture and stories. Iyanna Hardin, a 4th-year GAP participant, has been learning about the film industry and event planning through her internship with Afrikana Film Festival. Iyanna is also a Camp Diva Leadership Academy alumni and is a GFAC Brand Ambassador. We are proud that Iyanna has participated wholeheartedly in the four-year program. She started at Sassy Jones as an intern in 9th grade and is now an employee supporting storytelling. Iyanna is attending Full Sail University in the fall to study film!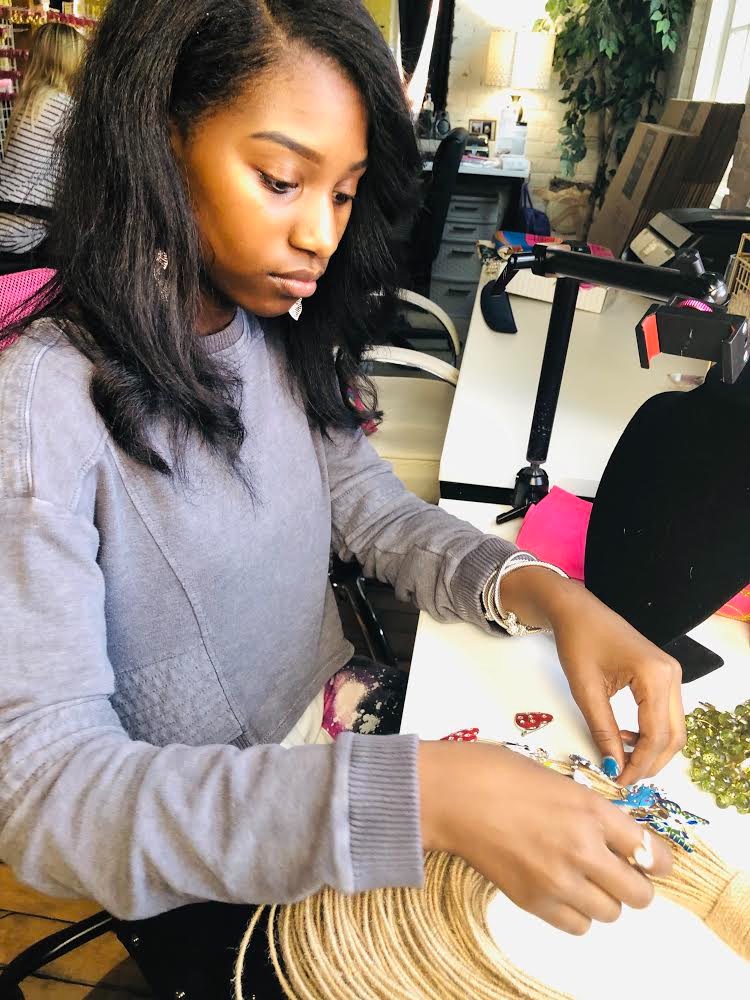 My time in the Girl Ambassador Program was such a beneficial learning experience. I learned a number of valuable skills and was able to apply them in internships and in my everyday life. In my eyes this program put me ahead of the curve. Each year I was placed in a new internship experience where I've had the opportunity to work in Fashion/Beauty, Social Media and Communications, Wellness, App Development, and Film. GAP has opened my mind to endless career opportunities. Lastly, GAP has given me a professional network that I can continue to connect with throughout my career.
This year I had the opportunity to intern with Afrikana Film Festival. Where I was able to experience the behind the scenes of preparing for this event I learned a lot about the world of film, event planning, and promoting for such a big event. I've enjoyed my time working with the team! Thank you for this amazing opportunity!" – Iyanna Hardin
These amazing opportunities and experiences were not possible without the program's numerous supporters and donors. Girls For A Change would like to thank Pearl Milling Company for their selection as a P.E.A.R.L. Pledge 2021 grant recipient. P.E.A.R.L. Pledge is a community initiative started by Quaker and the newly rebranded Pearl Milling Company, with a mission to support organizations like Girls For A Change, which are working to uplift Black women and girls nationwide. You can learn more about the P.E.A.R.L. Pledge here.