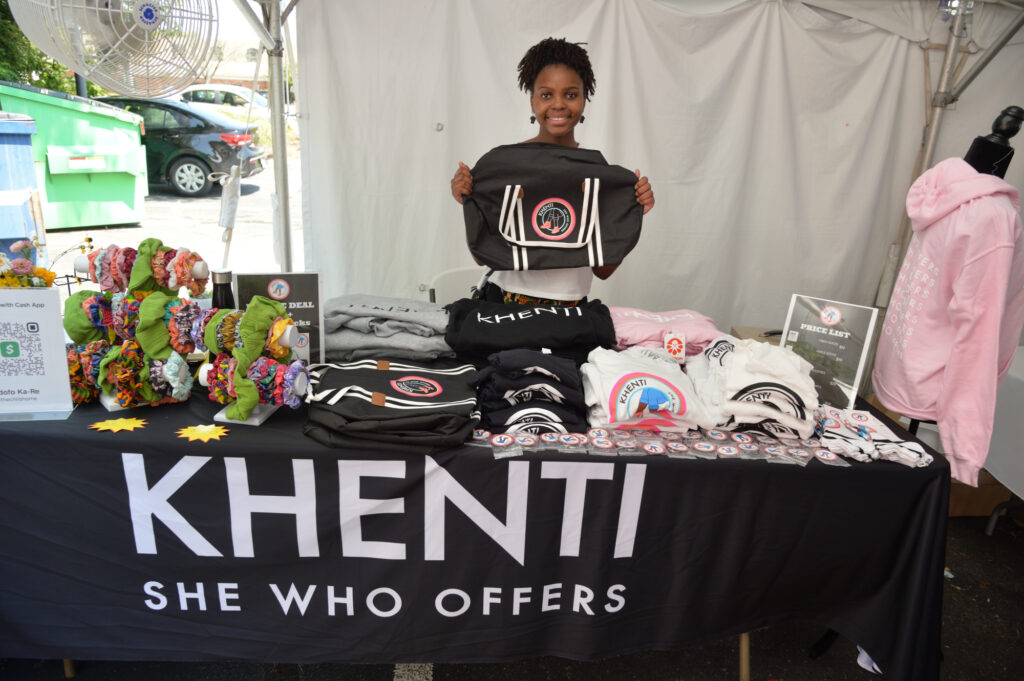 Why Youth Entrepreneurship Matters
Business ownership is easy to visualize and attain if you have parents who are entrepreneurs. Mentors and advisors are easy to find when your family network runs deep. Startup capital is easier to come by when the decision makers look like you – and maybe even know your family.
These privileges are not accessible to everyone, which is why we bake financial literacy, network building, access to successful professionals, and entrepreneurship skills into our programs.
Entrepreneurial greatness is in our girls, but it's hard to be what you can't see.
Entrepreneurship education and exposure breaks that cycle by offering additional skill-building and career options. Entrepreneurship is often an avenue for Black girls and women to pursue their goals without navigating the racist and sexist policies that exist in many workplaces. Additionally, entrepreneurship skills teach leadership, the importance of financial literacy, critical thinking, organization, goal setting, and creativity.
Here are a few ways we incorporate youth entrepreneurship education into Girls For A Change programs.
Market Day at Camp Diva Leadership Academy
Girls who enter our programs in middle school through Camp Diva Leadership Academy learn about entrepreneurship and financial literacy as part of their summer. During our eight weeks of summer together, amid other experiences, participants learn about product development and ideation. Each girl is tasked with decided what they will sell for the Annual Camp Diva Market Day. They must make a product, create a logo for their business, consider product packaging, pricing, table display, and how they'll take payment. They do all this with the help of local entrepreneurs and business experts who come to our center to offer workshops, hands on learning, and advice. During Market Day, we invite the community to come our to the Girls For A Change center and support our entrepreneurs by shopping the market. Girls get real life experience marketing and selling their products and interacting with customers. This builds confidence, teaches market testing, public speaking, and offers a glimpse at business ownership.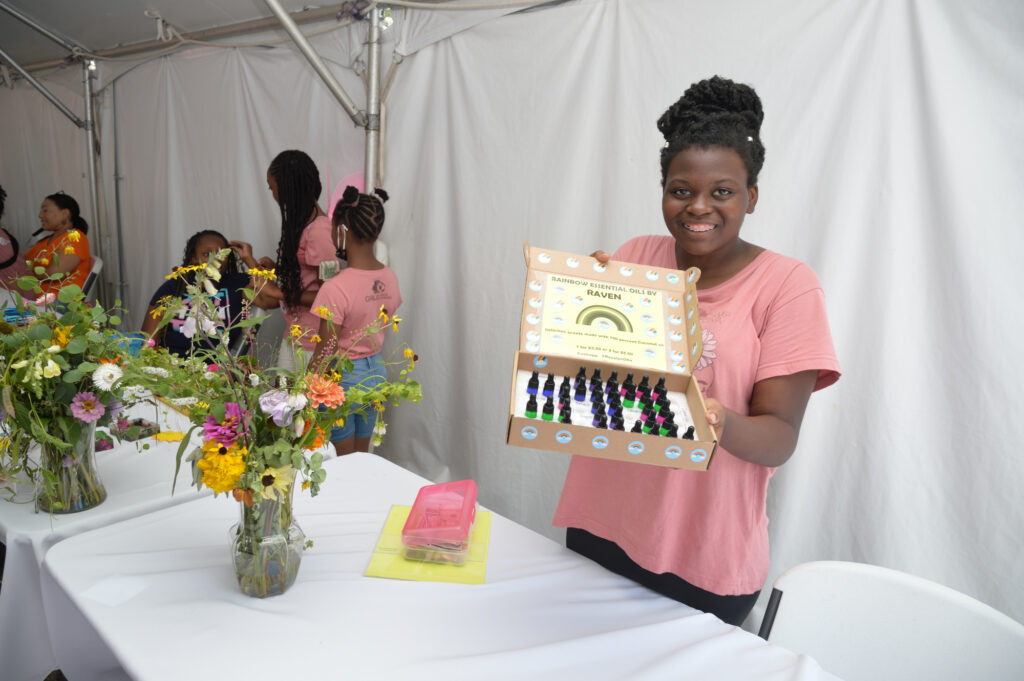 "I've been passionate about this since I was 7. I just didn't know where to start. Now I'm starting it, so I'm really proud of myself." – Asani Ka-Re about the apparel brand she launched at Market Day. Pictured below, Asani at Market Day in 2019 with her scrunchis and then again in 2021 with a fully developed line of apparel. Read the article in the Richmond Times-Dispatch – which made it to print!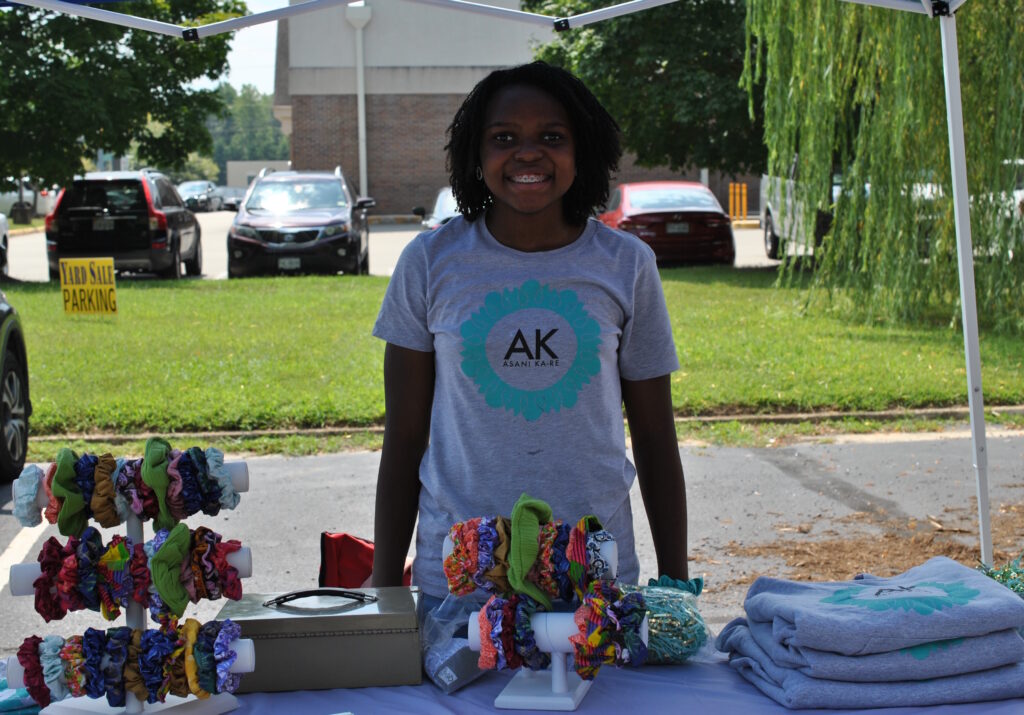 Girl Ambassador Program
Our Girl Ambassador Program takes a workforce readiness approach by partnering with professionals and entrepreneurs in the community and beyond to teach digital and professional skills and learn from industry experts in a wide variety of industries. Through workshops and then summer internships, girls build their network, gain work experience, and get a glimpse at the entrepreneurial path.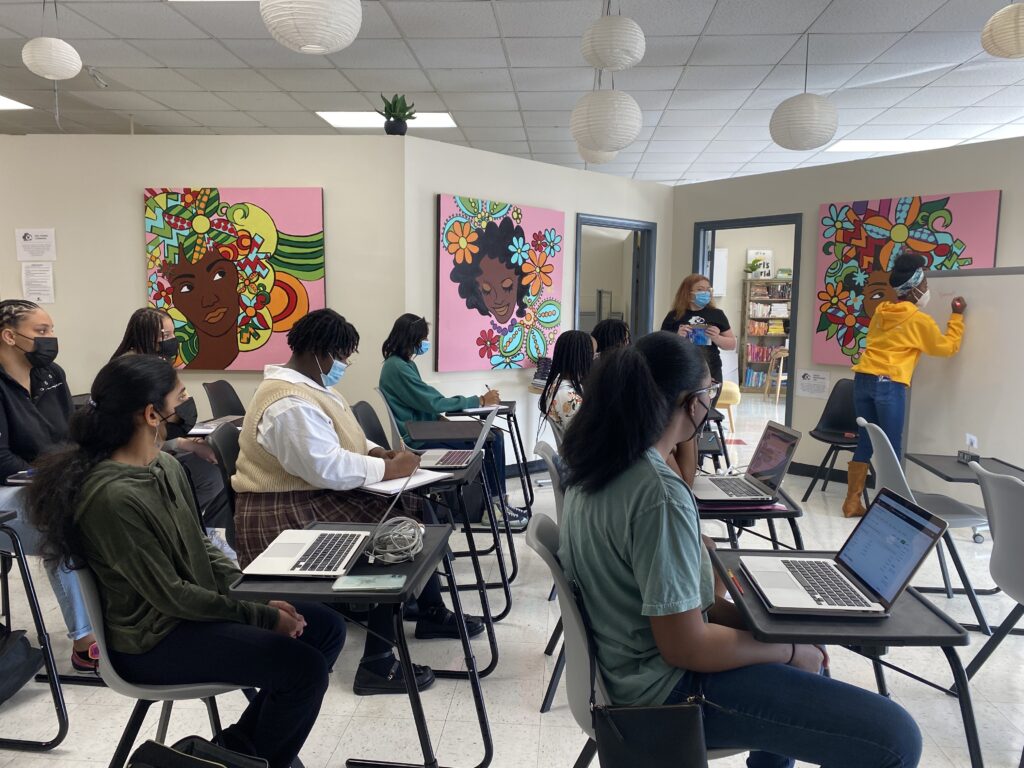 "My favorite thing about the Girl Ambassador program is being able to advance my skill set, learn skills related to technology, advance my career options, and expand my network opportunities." – Iyanna Hardin, Girl Ambassador Participant and Business Owner.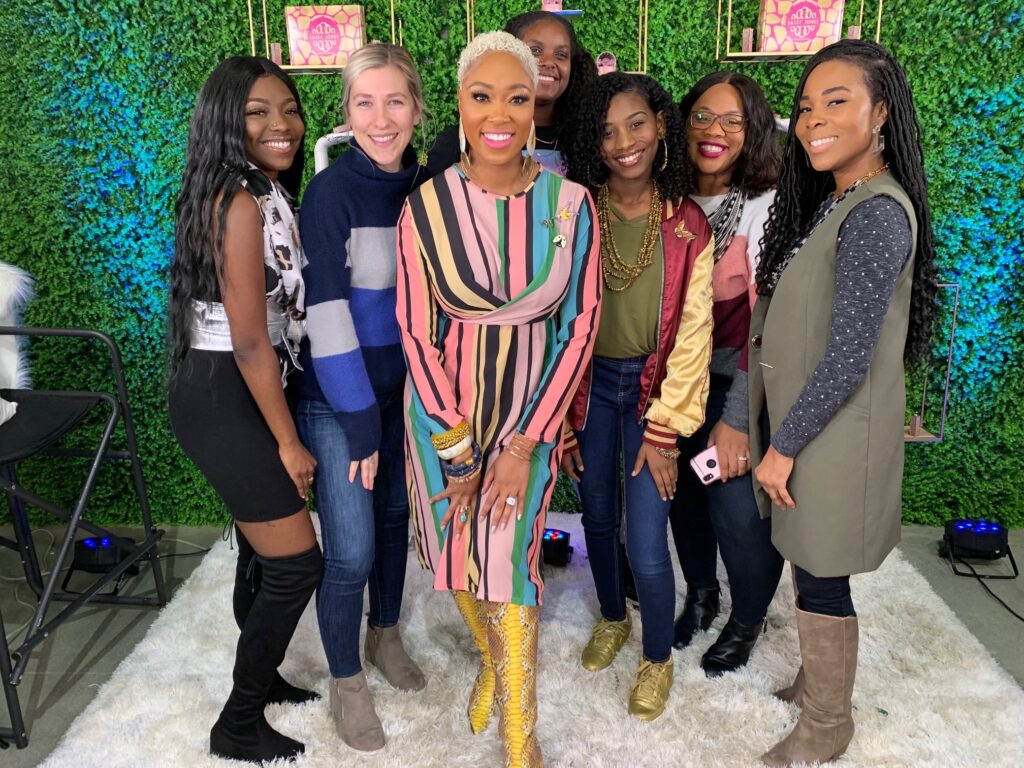 Pictured above, Iyanna in her internship with Sassy Jones where she learned more about product development and marketing. Pictured below, Iyanna selling her handmade cosmetics line at an event in Los Angeles. Iyanna started with GFAC at the age of seven in Camp Diva Leadership Academy where she developed and sold her products at Market Day. She has been an entrepreneur ever since. Watch her interview on WTVR here.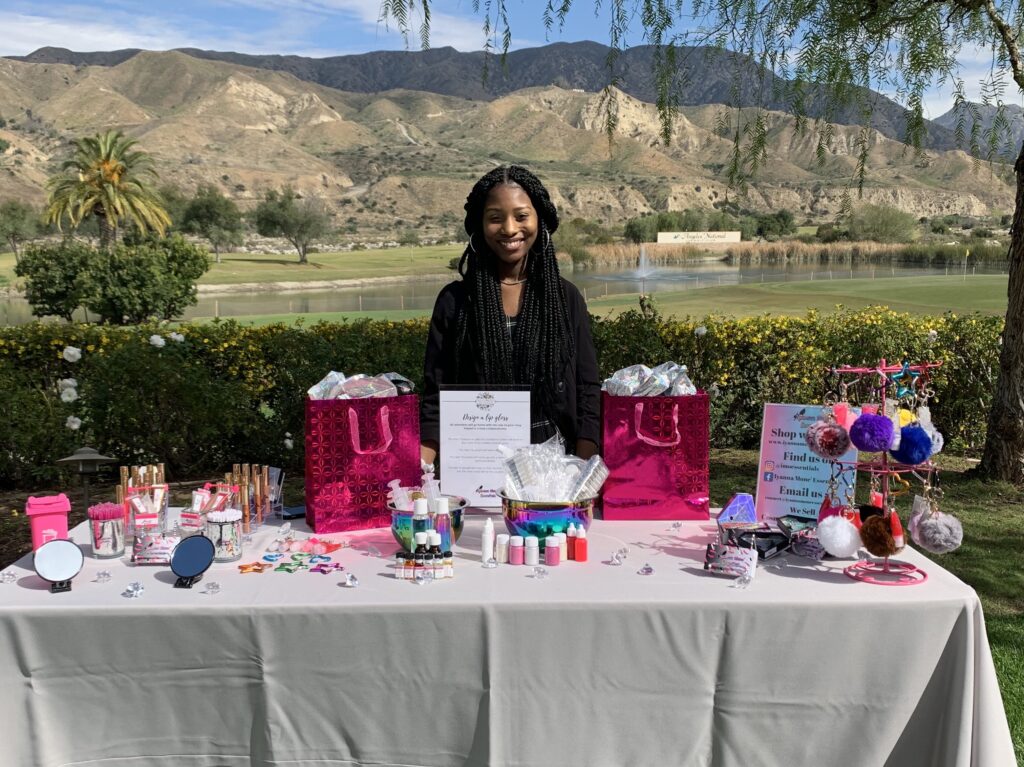 The Immersion Lab
Finally, our Immersion Lab offers skill-building and entrepreneurship lessons for girls interested in exploring the path of business ownership. This year, Immersion Lab participants had the option of drop-in classes and workshop series to continue building and growing or they could apply to the Budding Black Girl Incubator, where they go through 8 weeks of immersive entrepreneurship training. This program is for girls interested in retail who are starting or growing their businesses. Girls in our very first cohort are getting ready to sell their products at Market Day and enter a pitch competition to win seed money for their business.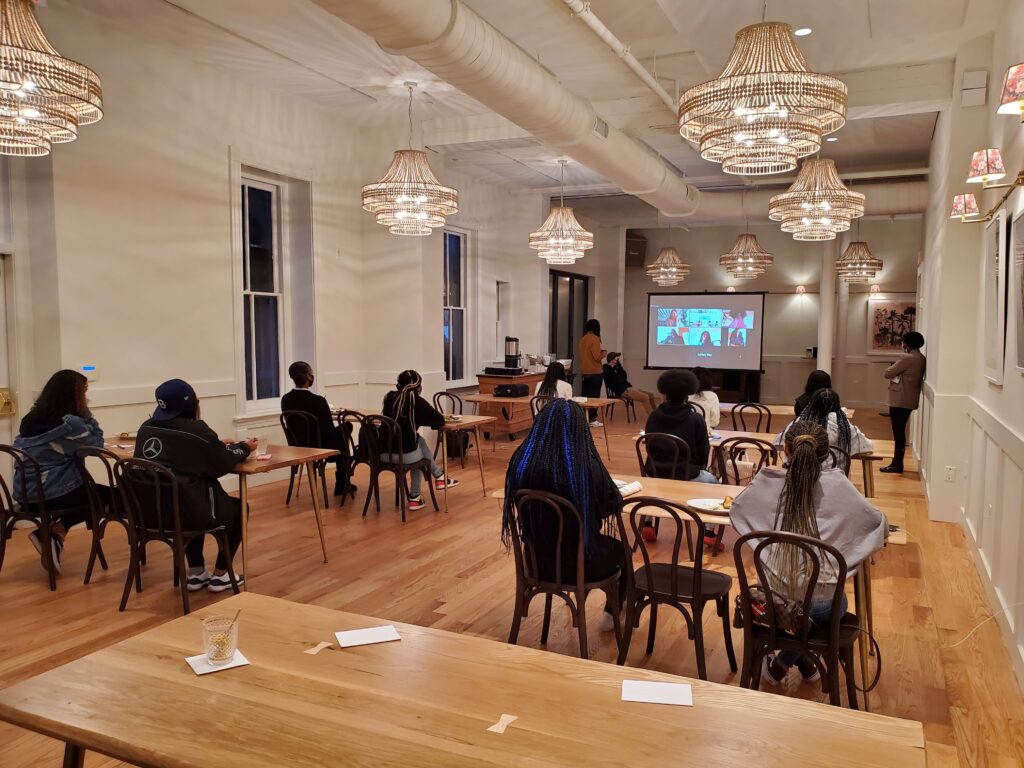 Girls who complete this program will leave with a list of established relationships from entrepreneurs, mentors, and partner organizations who are committed to helping them grow, first-hand experience at selling products in the market, and fully planned and established businesses that they can continue to grow.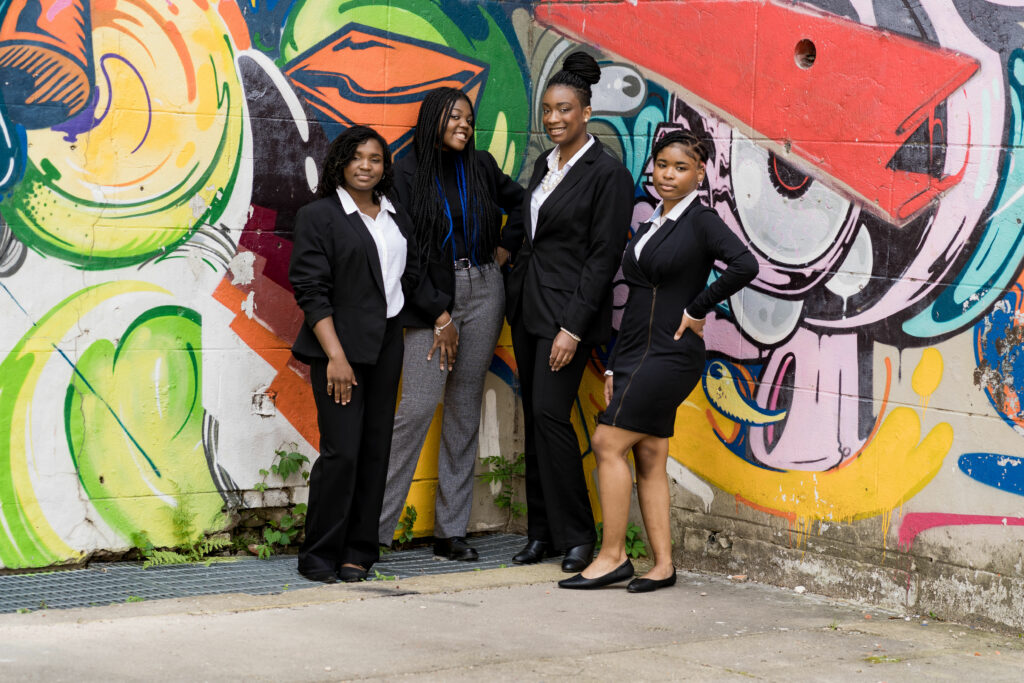 "My business is a tee-shirt business with tiktok quotes or slogans in the front but i plan on using recycled clothing. My mission is to make comfortable loungewear. My target demographic is 12-25. I chose this idea because so many materials (clothing) get thrown away and put to waste when you could recycle them and help the environment." – Gabrielle Saunders
Regardless of what career path our girls take, we want to ensure they are ready for anything. Entrepreneurship is just one of those paths, however, the skills and knowledge needed to pursue an entrepreneurial path are valuable for any scenario.