#BLAIRISMS T-Shirt Design Contest
We are proud to announce a new partnership with #BLAIRISMS, a leader in brand activism! This strategic partnership kicked off Sunday, October 11 with the celebration of  International Day of the Girl, a day set aside to amplify the voices of girls globally and advocate for gender equality.
We put the call out on our social media for design submissions for a T-Shirt design contest in celebration of International Day of the Girl. The design needed to incorporate the theme: "Don't Forget to Be Your Own Inspiration." We collected designs from girls aged 10-18 for one week, chose three finalists, and opened the competition up for public voting! The winning design will be printed on a t-shirt and sold as a fundraiser for Girls For A Change to raise money for this year's Girl Action Teams. 
"Our goal at Girls For A Change is to ensure that Black girls are seen, heard, and celebrated. This campaign will help us raise funds for our Girl Action Teams, a program very much aligned with International Day of the Girl. Girl Action Teams work within schools and community centers to help empower girls to find their voice, advocate for themselves, and make a change in their community. We love when partners seek to showcase the talent and brilliance of Black girls. I am excited about this new partnership with #BLAIRISMS, and am looking forward to future projects together."

Girls For A Change CEO, Angela Patton
The Finalists
Here's a look at our three finalists.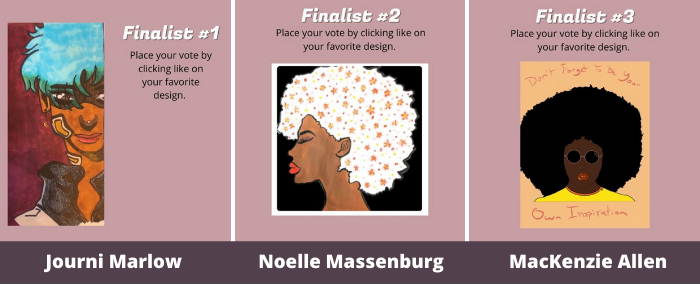 "The #BLAIRISMS believes, as Cashawn Thompson has said, 'Black Girls are Magic.' We are honored to partner with Girls For A Change, an organization that shares our commitment to empowering the next generation of Black women."

#BLAIRISMS co-founder Blair Dottin-Haley
Contest Details
The #BLAIRISMS' original quote "Don't Forget To Be Your Own Inspiration" will be used in a design with the GFAC logo.
The design contest is open to Black girls and other girls of color aged 10-18.
Girls have until Thursday, October 8 at 5pm EST to submit their original design to accompany the #BLAIRISMS quote.
On International Day of the Girl, GFAC and #BLAIRISMS will announce the three finalists of the contest and open up public voting for the winning design.
Public voting is open until 11:59pm EST October 11.
The winning design will be announced Monday, October 12 at 6pm EST on the Girls For A Change and #BLAIRISMS Instagram Live, incorporated into a co-branded t-shirt and sold on The #BLAIRISMS website to raise funds for Girls For A Change Girl Action Teams. #BLAIRSMS will also donate winning design t-shirts to the GFAC organization. 
The Winning Design
After an incredible social media competition, the winning designer was  Journi Marlow, who received over 500 votes!

"The sky in my drawing hair represents her dreams and unlimited nature of her creativity. The bandages on her face represent the challenges she has overcome. He earring which is a moon and a star reminds us to always reach for the stars and to "Be our own inspiration." – Journi Marlow
Journi is a 13-year-old visual artist from Richmond, Virginia.  She enjoys the adventure of art and the ability to create beautiful things that appeal to all the senses.  Being a young Black artist, Journi draws inspiration from her culture and community and seeks to increase the representation of all the variations of the black experience.  Journi has been a featured artist at The Richmond Night Market, completing a live painting during the Camp Diva Virtual Market Day. She is the owner and visionary of "Marked" which is a visual arts company focused on "Doing your part to leave a mark on the world".  Journi is mentored by national fine artist S. Ross Browne and is excited to explore all art mediums and carve out space for herself in the art world.
She was recently interviewed on In Your Ear Studio's Shockoe Sessions, which you can watch on YouTube below.
You can purchase the winning design on a T-shirt, sweatshirt, or coffee mug on The Blairisms website here. This shirt os a fundraiser for Girls For A Change, which means a portion of the proceeds goes directly to supporting our work lifting up and empowering young women like Journi.