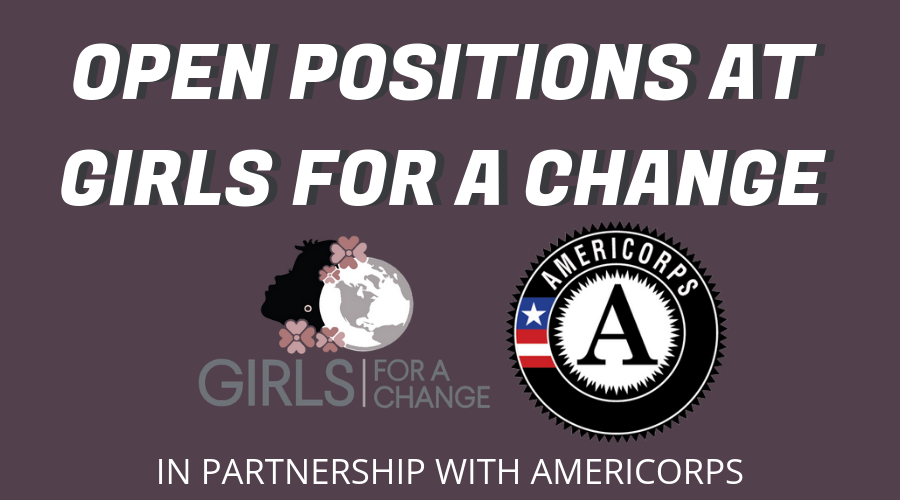 Open Positions at Girls For A Change in Partnership With Americorps
AmeriCorps is an organization that partners the various skills of American citizens with different non-profit or agencies, and we've partnered with them to offer several job opportunities. We're looking for skilled individuals in Richmond to help us out with various tasks such as research, communication, and development. 
The Americorp Process:
To apply for these positions, you must first complete the long-term volunteer application on our website AND the Americorp application. You can find GFAC Americorp positions here. 
After being accepted by Americorp, you will be required to interview with us. You can read more about these job opportunities below. 
Development VISTA:
Document programs focused Resource Development activities and outcomes.
As an employee working in development, you will be expected to:
Create a plan to solicit cash and/or in-kind donations from loca, statewide and national organizations.
Research and document funding sources and resource opportunities.
Develop a prioritized contact list including the goals of the resource, grant calendar, and upcoming funding dates.
Write grants and prepare correspondence to outreach to individual donors.
Use Development Plan to systematically outreach to identified organizations and individual donors.
Develop and implement a digital record-keeping system to retain proposals and correspondence in file as a resource for future development activities.
Prepare a report at the end of the fiscal year that documents the status of the resource development efforts for that period.
Prepare monthly, quarterly and end of year summaries of resource development activity. Complete a final report for fiscal year.
Communication VISTA:
Facilitate Girls For A Change's (GFAC) engagement with the community by providing factual, clear, practical, persuasive and timely information about the programs, activities and outcomes of GFAC and emphasizing their value to the community. The Communication VISTA's assignment is to document program focused Communication (Monthly, Quarterly, Fiscal Year) in a report format.
As an employee working in communication, you will be expected to:
Develop and implement a Communication Plan that incorporates social media, print media and community updates in an organized system of presentations.
Schedule social media, print and community updates monthly.
Develop a media contact list to support quick dissemination of program updates, supports scheduling of radio, and television community updates, and creates a schedule for print media submissions.
Assist with preparation of communications that correspond with GFAC's program implementation calendar for social media, print media, and to promote live information sessions that promote GFAC programs.
Utilize organization calendar to develop a schedule for communications. Utilize the media contact list to support scheduling.
Write communications on schedule.
Use Communications Plan to systematically connect with participants, parents, community partners, funders, individual donors, and others.
Create reports and an end of the fiscal year communication that documents the status of communications efforts for that period.
Maintain monthly calendar documenting outcomes.
Prepare quarterly summary of communication activity.
Complete final report for fiscal year.
Research VISTA:
Plan, and organize program data collection, by creating a collection schedule, and an analysis and reporting system. Identify applicable data sources, and to collect data that intersects with and compliments GFAC programs'.
As an employee working in research, you will be required to:
Create a research plan to ensure timely and accurate collection of data reflecting attendance, retention, program accomplishments vs. projected process and outcome data points.
Review available data associated with program impacts and outcomes across the
program schedule to document program status.
Organize focus groups conduct of focus groups and the collection of individual, group, community and partner input from surveys.
Utilize data summaries to supplement data analysis and data presentations in report form.
Collaborate with GFAC evaluators to prepare end of year/program reports reflecting program status related to projected outcomes.
Partner Relation VISTA:
Develop and pilot a database to be used by GFAC to effectively communicate and coordinate with active program partners and community contacts. This VISTA will help build a system that identifies each partner, their goals and mutual objectives with GFAC, critical program information regarding mutual program(s), required data collection points, reporting, scheduling, collaboration points, and suggested approaches to problem solving. The initial plan will focus on active program partners, and community contacts.
As an employee working in partner relations, you will be required to:
Create and implement a database to be used by GFAC to communicate with and support collaboration with program partners.
Connect with active partners and community contacts to document the accuracy of shared data and to update as needed.
Configure database to support notification of data collection points and reporting deadlines.
Configure database to support digital retention of data collection and reporting outcomes.
Pilot system, and recommend adjustments to enable systems launch.
Prepare a user instruction manual to maintain and support access to the database.
Volunteer Recruitment and Management VISTA:
Develop and pilot a plan for a GFAC volunteer management program that will attract and support volunteers and ensure that they view their service as an important element of sustaining GFAC programs. 
As an employee working in volunteer recruitment and management, you will be required to:
Development and facilitate the implementation of a volunteer recruitment and management plan.
Create volunteer role descriptions, and interview scripts.
Develop orientation plans for different levels of volunteers.
Identify an approach to manage volunteer scheduling and communicate effectively with GFAC volunteers.
Plan approaches to volunteer recognition.
Create volunteer evaluations for different types of volunteers.
Plan a system pilot, collaborate on adjustments and plan a full launch.
Prepare quarterly reports on the status of the volunteer recruitment and management plan.
Remember, after applying and receiving a job through AmeriCorps, applicants are required to attend Volunteer In Service to America (VISTA) orientation. Currently, the new VISTA orientation will be held on September 3rd, which means candidates must be placed by August 19th in order to attend. 
Contact info@girlsforachange.org with any questions, comments, or concerns. 

[ninja_forms id=24]