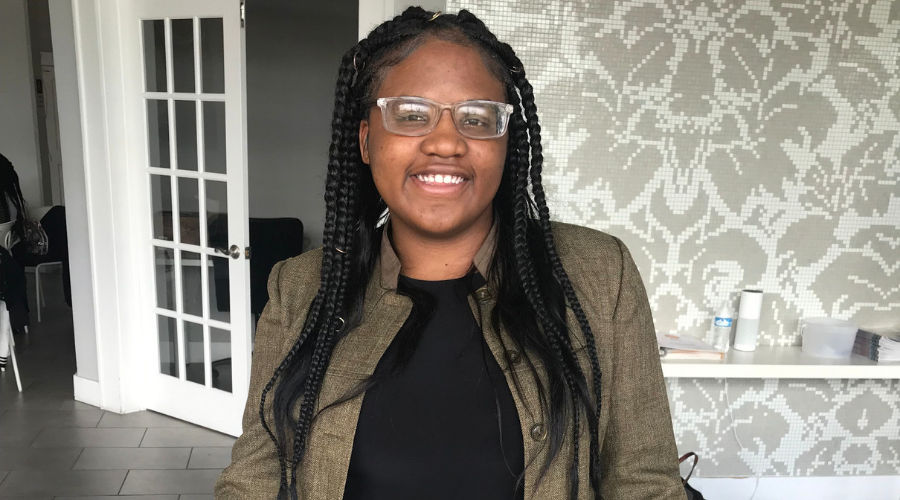 How I Become An Artist In A Week
"I became an artist in a week!" This may sound like an exaggeration, but it's my reality. I gained this skill through the Creative Industry Camp, a camp dedicated to young, talented, teenage girls of color who are aspiring fashionistas.
Before I was a participant of the camp, I didn't know how to draw and that was pretty insane since I come from a family of skillful artists. I always tried to improve my artistic capabilities, but previous attempts at design resulted in something unidentifiable and I became completely ashamed of my drawing skills.

The first day of camp was probably the hardest day for me. We were instructed to sketch a shoe that we would like to create in the future. Imagine the look on my face when I heard the words, "sketch a shoe." The last time I picked up a pencil to sketch something remotely recognizable, it was an epic fail. By the time I actually processed how I was going to complete this task in a timely manner, the girls around me were almost finished with their sketches. This made me nervous! As I was thinking my world couldn't crash down lower than this, at the 5-minute mark, my instructor Ms. Reamy announced that we MUST present our sketches when the time runs out. Oh wow!

The sketch I was focusing on didn't have an identical twin in the footwear industry because it looked very different from a shoe. How was I supposed to explain this to the class? My head was spinning and my heart was pounding incredibly fast. My nightmare was becoming a reality. It was now time to present. Somehow I convinced Ms. Reamy to let me present last. Everybody stood up and showed off their design and explained why they chose to sketch that shoe. All their shoes looked magnificent, then there was my shoe.

It was finally time for me to stand up to present my sketch. I tried to make my speech as short as possible and to start it off I mentioned, "Please don't judge my picture because I don't know how to draw." I immediately got cut off after that statement by Ms. Reamy. She was disappointed with the way I was doubting myself. Subsequently, she stated, "Don't you ever say that about yourself. Everyone can draw, you just have to practice and put forth the effort."

As a result of our discussion, I finally was ready to put my doubts aside and explore. As the days continued to pile up, my artistic capabilities improved. I really knew I was an artist when I was able to draw an identical twin of the FILA Disruptors 2 Multicolors. Have you seen that shoe? Trust me, that was not an easy task to complete, but I finished it with an almost exact replica of the shoe.

Although I stated earlier that this was the hardest day for me in the camp, it was also one of the most valuable days in camp. It led me on a voyage to become the artist I knew I could be. It all started with that shoe. For that reason, I am an official artist and an amazing one at that! I will continue to work on my skills and improve every day so I can reach that level of bragging rights against my family and friends.

My experience in the Creative Industry Camp was quite exciting and valuable. I will never forget about the opportunities and skills I developed due to this two-week long camp.

All that I referenced above was just an outline of the first week, so envision the unrest I needed to persevere through the subsequent week. To demonstrate the difficulty in the second week, I'll sum it up in one word, "none." There were absolutely no barriers to face after week one. I faced my illustration demons and I was now ready to conquer the rest of the camp. However, the second week was totally different from the first week. Week two consists of networking, skills-developing workshops, and a presentation of the shoe designs. We had to present our shoe design to a representative from the Last-Report, who is the chief editor on their blog, as well as a product developer in footwear and accessories. This profoundly compelling and amazingly skilled individual is known by the name of Tanita Gray. I heard about all her accomplishments before meeting her; which caused me to be somewhat scared to present my shoe design to someone so incredible in the shoe designing industry. Once I met her, my fears dissipated, and I quickly realized her presence wasn't as intimidating as I envisioned it would be. In fact, it was quite welcoming.

Finally, it was time to present the shoe designs, the only thing that was causing slight apprehension was my dread of public speaking, however, it was just a gentle dread. This fear was easy to overcome because as soon as I began speaking about the inspiration behind my design, I immediately emerged into a talking frenzy. From the exact instant I voiced the motivation behind my shoe design, you could naturally hear the enthusiasm in my voice and my eagerness to roll out an improvement on the world.

I got to meet some amazing people and feel like my experience wouldn't be completed without mentioning some of my peers and showing off their masterpieces. Below are pictures of a few participants' (including mine) final shoe design.

Shoe Designs and Descriptions
"My shoe is called Question "The Authority." It is a western cowboy boot made from white vegetable tanned leather, reflective fabric, recycled wood, and 3D print ink. I wanted to create an art/statement piece and combine classic western style with contemporary abstract. The inspiration behind my design is a cowboy from the 1800s named Isom Dart."

– Ramsey Buskey
"A classic suede cheetah print stiletto heel, with a silky smooth, black satin point heel that comes with a nude synthetic lightly cushioned on the heel of the foot, so you can be comfortable on a fun night out."

-Brianna Porter
"This shoe is called Kami shoe. This shoe is inspired by my amazing Aunt named, Kimmy. Aunt Kimmy was always a free spirit and an empowering person. Not one day goes by that she hasn't taught me something new and valuable. She taught me self-love and to never give up on your dreams no matter what might come my way so this shoe is in honor of her, the woman who always inspired me to be my crazy ambitious self."

-Camryn McBurnette
"The Oshun shoe by the Eternally Ethereal brand is a yellow platform boot with a yellow black and white color scheme that includes a checkerboard pattern. It also includes black detailing on the sole.This shoe also has black satin ribbon laces. The eternally ethereal brand is meant to be a brand that appeals to people who think outside of the box and are free and open minded with their fashion choices. The alien ship represents someone who is an outside the box thinker and the symbol behind the ship is an ankh which is an Egyptian symbol for eternal life. Therefore, the logo means eternally being weird and being comfortable in that weirdness."

-Khefera Phillip-El
"This is not an ordinary shoe, it is an artistic view into a huge challenge amongst earth. This obstacle is known as global warming. Global warming is the increase of overall temperature of earth's atmosphere; which is caused by the greenhouse effect (hence the name of the shoe). The name itself causes you to think about what you are doing to the earth and how you can be the cause to its demolition. The blackness of the shoe represents the earth dying while the vines are holding on for dear life. An interesting fact about the Greenhouse Effect heels is while making a statement, it is also made up of eco-friendly and recyclable materials. Therefore, these shoes are going to make a mark on society."

-Antonia Cheatham