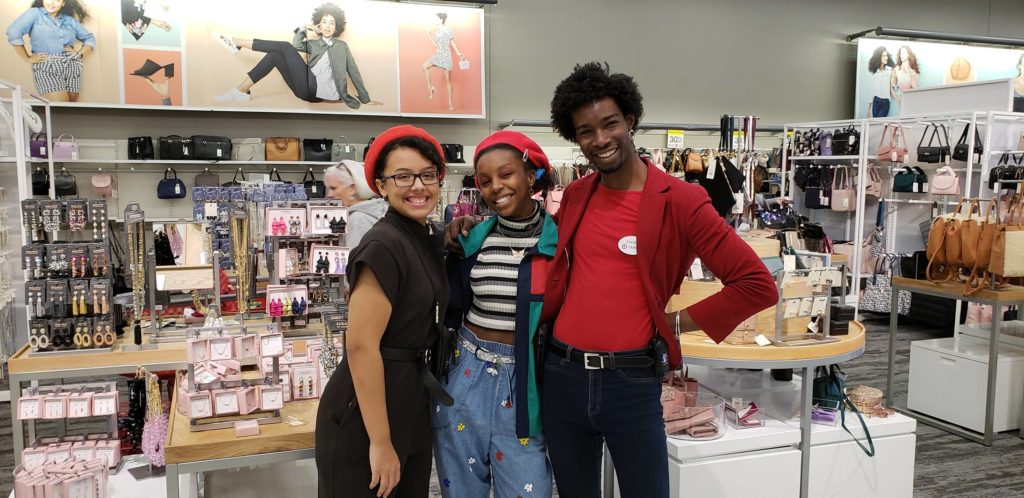 Opportunity Happens When You Breakdown Barriers
Did you know that across all fields in the Design/Fashion industry, just 3% of practitioners in are black while 73% are white? Among the many limitations to design careers that girls of color face, lack of funding for design + arts education in public school systems is first in line. Exposure to design is critical to excite potential designers and bring a more diverse perspective to an industry that so clearly shapes our youth and culture.

"There first thing I noticed… very little people of color on the design blogs… There was nothing that spoke to me as a woman of color. It almost felt like I didn't exist." – Product designer Jeanine Hays in a Huff Post interview.
In addition to this, there has been a ton of epic fails among iconic fashion brands with regards to diversity and inclusion. Gucci perpetuated blackface via a sweater. Prada perpetuated blackface via its window displays. Burberry sent a noose down the runway. Philipp Plein fat-shamed a journalist. D&G offended many in one of its key markets when its ad showed. We could go on.

Prada did recently debut the Prada Diversity and Inclusion Advisory Council, a global effort to empower people of color within the company and the fashion industry. Gucci announced their new approach to diversity and inclusion in the company through their "Gucci Changemakers" programs, but these "solutions" were only introduced after being called out for their inappropriate and insensitive behaviors. These efforts are simply not enough.

Our Way
Girls For A Change's Creative Industry Tour is an attempt to tackle the racism that is seemingly entrenched in luxe fashion. No matter how much regressive, prejudiced, downright wrong attitudes and practices are still prevalent in the industry, our girls still want to be included due to their love of Fashion. They want to bring skills, new perspectives and change attitudes on and off of the runway.

That's why we've partnered with some of the biggest names in the industry to offer this unique experience to our girls. And it's working. Meet Odessa, a Creative Industry participant last year who will head back to New York over the summer for her first internship with Fashion Snoops!
Tell us a little bit about you and your career goals.
"I was born and raised in Richmond, Virginia and am 17 years old. I go to JSARG part-time [she's a dually enrolled community college student] and am taking American Sign Language. I will walk in graduation in a few semesters. I'm currently weighing options, but am interested in fashion and cosmetics."

Tell us about your trip to New York.
"Last year, we went for one week in New York City. It was very rigorous and very busy. Five straight days of networking and meeting people in the fashion industry – where I made connections to pursue internships. It was very enriching."

How did you get connected to Fashion Snoops?
"Creative Industry Camp introduced me to Fashion Snoops. I have an internship this summer – in June for three weeks. They plan to place me in either womenswear or the beauty department."

For those who don't know, Fashion Snoops is a trend forecasting service and consulting company that empowers leading companies around the world with the data behind the trends. Fashion Snoops was our first partner in the Creative Industry camp and we are so grateful to have them.

Odessa reached out, submitted her application asking if she could do an internship. They immediately knew who she was, knew her experiences with GFAC, and offered her the internship. Odessa will actually be staying with GFAC alumni Kayla Jones during her internship, a connection we made for her to further support her.

In addition to that, Odessa is currently going through our Girl Ambassador Program to help sharpen her digital skills to prepare her for work at a fashion firm where everything they do is digital.

"I really like the Girl Ambassador program and am currently focusing on Excel and Microsoft.
It has been a very valuable experience. I've learned a lot about myself and my community and I've met a lot of people in my community I did not have exposure to." – Odessa

Odessa is a great example of how we help break barriers and support our girls no matter what!

About Creative Industry Fashion Camp
This year, our camp will run for two weeks. We will expose the girls to different aspects of the creative process, give them a glimpse into the fashion and design industry, and share some of the secrets of fashion trend forecasting and interior design. The Creative Industry Camp provides exposure to multi-disciplinary design opportunities. These experiences invite BKA to consider designer girls and other girls of color education and STEAM careers.

Week one will be held in Richmond and the 2019 Summer Creative Industry Experience will focus on shoe design. Our local partner, to be former VCU Arts' Associate Professor Donna Reamy (1997-June 15, 2019) and a new collaborator Tanita Gray, a California based African American who designs shoes, have planned 5 days (June 24th-28th ) of learning, experiences, exposure and fun for the girls participating in the program this year. Prior to their departure for New York City, the girls will complete a shoe design course developed by Ms. Gray. Their participation in the course will be supported by Ms. Reamy and Ms. Gray. The trip will involve our traditional visits (Fashion Snoops, Target, Kate Spade and more) and exposure to Fashion Journalism, and will simulate reporting their exploration of the upcoming shoe trends as journalists. The trip will allow the girls to continue with the exploration of footwear supplies, a visit to Saks 5th Ave's extensive shoe collection, along with stops at Brother Versailles, and the Brooklyn Shoe space. The girls will experience a presentation on technical packages and costing followed by a discussion and design presentation.

Week two, we will head to NYC for an intensive week of networking and workshops. This is the week for participants to build a network of support to advance their opportunities for continuing their education and/or employment.

Scholarships are available for girls who need financial assistance thanks to our partner, Target. Interested in enrolling yourself or your girl in the Creative Industry Fashion Camp? Join us for an information session on Saturday, April 13th. Click here to register.

Make a donation of $1000 to send a girl to our 4th Annual Creative Industry Camp.

For anyone connected to the Fashion Industry who would like to host a visit, please contact Angela Patton we would love to partner with you. – angela@girlsforachange.org or (804) 852-4385