Camp Diva Summer Camp Counselor
Seasonal hourly position, 40 hours per week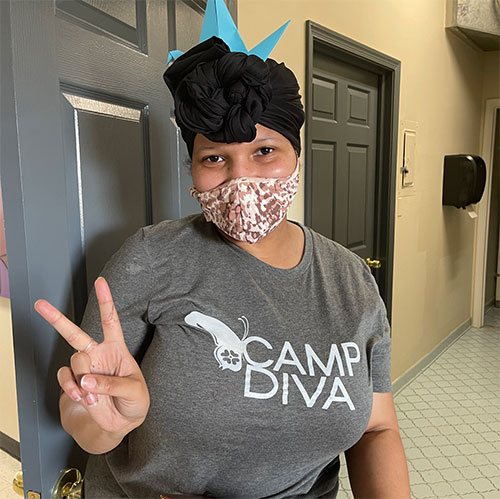 Job Description
Girls For A Change is seeking energetic and responsible individuals to work as Camp Diva Leadership Counselors in person at our Chesterfield Branch. This seasonal position runs May-August and is part-time/ up to 40 hours/week. 
Girls For A Change changes stories for Black girls. Camp Diva Leadership Academy aims to stand in the gap through access to education, cultural awareness, mentorship, and transformational leadership training.
We are excited to provide another successful season at Camp Diva Leadership Academy and  depend on a positive, enthusiastic, kind, caring, and supportive counseling staff.
Great position for college students, teachers, and specialty instructors.
Organization Mission: Prepare Black girls for the world and the world for Black girls 
Work Days: M-F
Hours: 9 am- 6:30 pm 
Mandatory Onboard and training
Staff training is May 30, 9:30am - 5pm 

Summer session: June 26 - August 4 only (full Summer options available)
Our summer camp is a 6-week full day, in person day camp for rising 4th- 9th grade girls (ages 10-15). Camp Diva Leadership Counselors should be energetic, accountable, and passionate about providing a safe and memorable experience for our participants. The Camp Counselor will be responsible for an assigned group of 12-15 participants for the duration of the summer along with another camp counselor. Our camp offers staff a unique opportunity to mentor youth as they develop leadership and teamwork skills while working on a variety of projects designed to allow them to make discoveries about themselves, their peers, and the world. Each session offers a different theme for participants to explore. We offer a safe and brave space to teach our innovative curriculum, in small groups with a supportive community and endless opportunities to inspire.
Duties include:
Organizing and leading activities such as arts and crafts, demonstrating various techniques and encouraging children to come up with ideas.
Communicating with parents, providing updates where required and answering questions about the camp.
Checking on children with medical needs to ensure they have taken any required medication.
Providing guidance, motivation, and support.
Guiding your small group of girls on a journey of self-exploration.
Delivering pre-designed programming that offers growth and meaningful progression for girls in leadership development with a particular focus on voice collaboration, self- discovery, and resilience.
Providing active supervision and attention to ensure participants are encouraged, feel safe, stay active, and heard.
Guiding participants through their fears and frustrations to learn through failure and laugh along the way.
Support each girl in setting and achieving their goals for the camp session.
Overseeing transitions to and from scheduled events and lessons, and facilitating and participating in group activities.
Serve and monitor meals.
Keep track of camper dietary restrictions and allergies and ensure proper snacks/meals are distributed to each girl in your group.
Facilitate group activities during free periods.
Mediate any conflicts that may arise between members of your group.
Delegate chores to maintain the cleanliness of your designated areas.
Report any notable concerns or incidents to the Director.
Participate in the Closing Ceremony on August 5.
The ideal candidate will be an excellent multi-tasker with a genuine passion for working with and empowering Black girls. Applicants should be patient, fun-loving and confident in their ability to motivate and assist participants in everything from learning new skills to empowering them with the Girls For A Change mission.
Qualifications and Skills
At least 1-2 years of experience with childcare, teaching, or camp counseling required

CPR certification preferred

Proven track record of superior organization and multitasking

Excellent interpersonal skills

Must be able to participate in potentially strenuous physical activity

Demonstrated skills in conflict mediation