Lights On Afterschool Celebration – Meadowbrook High School
October 24th
at
3:00 pm
–
8:00 pm
EDT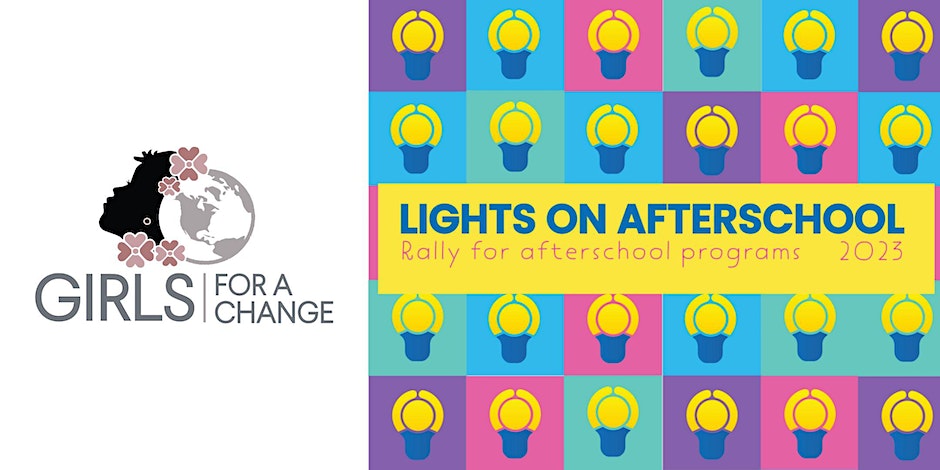 Tuesday, October 24 · 3 – 8pm EDT
Meadowbrook High School – 4901 Cogbill Road North Chesterfield, VA 23234
Girls For A Change invites you to our 21st Century Community Learning Center: Girl Ambassador Program, in collaboration with the 24th annual "Lights On Afterschool" event on October 26, 2023, from 3 pm – 8 pm, to celebrate our after-school program with Meadowbrook High School. We extend a warm welcome to students, faculty, families, community leaders, and residents to join us in celebrating the power of community and creativity through mural painting, guided by the popular and local artist Hamilton Glass.
The mural draws inspiration from Meadowbrook's vision, where the Monarch family thrives in an empowering, safe community, actively engages in relevant and rigorous classroom learning, and evolves into productive global citizens.
From 3 pm to 6 pm, students can enjoy a Chick-fil-A meal and actively contribute to the creation of Meadowbrook's next masterpiece. Parents and community members are encouraged to join us at 6 pm for music, door prizes, Starbucks treats, mingling, and painting together. Additionally, you can explore the array of afterschool opportunities at Meadowbrook.
Whether you're a student looking to participate in mural painting between 3 pm to 8 pm or a community member eager to join the creative fun from 6 pm to 8 pm, kindly sign up for a time slot. We also welcome those who wish to attend without painting, providing an excellent opportunity to connect with local representatives, school board members, leaders, and, of course, celebrate the accomplishments of Meadowbrook High School students.
More Ways to Get Involved:
"It's honestly just a labor of love," said Glass. "It's something I love doing. I love connecting communities. It's something that really, I think, is an asset to a community beyond just a pretty picture." Hamilton Glass
(804) 405-2827
info@girlsforachange.org
Related Events