EcoStyle Elevation: Crafting Sustainable Fashion Identities
November 9th
at
5:30 pm
–
6:45 pm
EST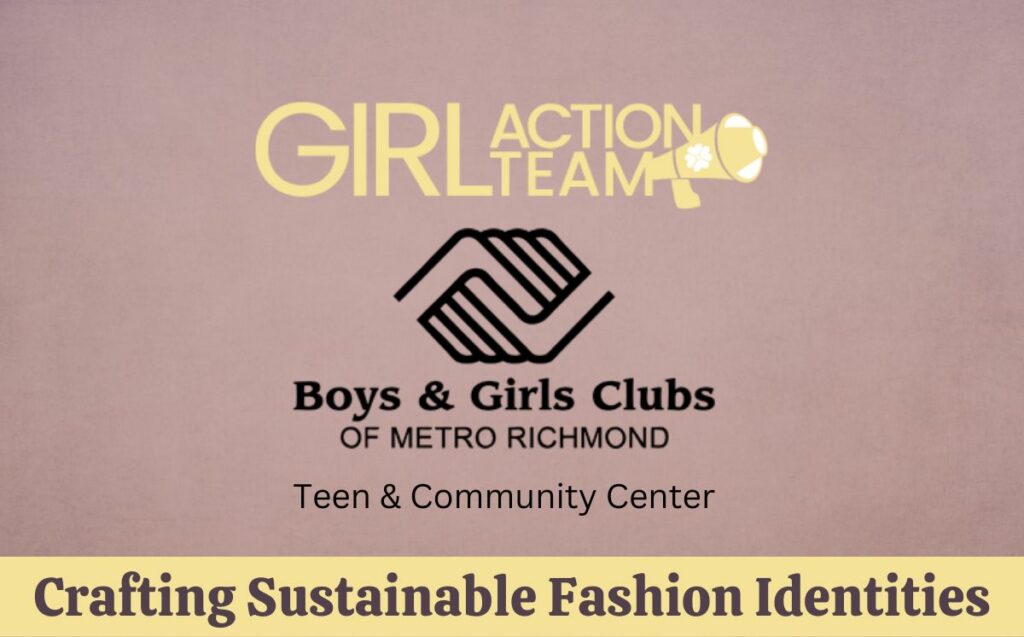 Orientation Dates: Thursday October 19th and Thursday October 26th
Date: Starting from November 9th to May 16th
Time: Thursdays, 5:30 pm – 6:45 pm
Location: Boys and Girls East End Teen Center, RVA
Transportation: Provided to and from some schools; parents can also drop off and pick up contact to learn more about transportation needs. Transportation provided through Boys and Girls Club to and from the following schools: John Marshall, George Wythe, Huguenot, Armstrong, Highland Springs, Franklin Military, Code VA, Crysto Rey, and RISE Academy
You need the two forms to register from 1. GFAC registration form , 2. Once GFAC Form has been completed the participant will be emailed a form to be completed to receive the Boys and Girls Club guest pass
Event Description:
This engaging session, titled "EcoStyle Elevation: Crafting Sustainable Fashion Identities," aims to inspire participants to dive deep into the world of sustainable fashion. It offers a unique opportunity to explore the intricate connection between sustainability and personal style. During this event, attendees will be encouraged to articulate their thoughts and values by creating a persona that reflects the principles, aesthetics, and eco-conscious choices of sustainable fashion. The culmination of this creative exploration will be the crafting of visual mood boards, representing the essence of these sustainable fashion personas in their entirety.
Benefits for Participants:
Participants in this program will gain valuable insights and experiences, including
Participation in RVA Sneaker Week
Involvement in Spring RVA Fashion Week
Opportunities to travel to boutiques and meet fashionistas
Collaboration with VCU Fashion major students
The chance to create their own production for the Black Girl Showcase, Saturday, May 18, 2024
Skills:
Participation in the "EcoStyle Elevation: Crafting Sustainable Fashion Identities" program will equip girls with valuable skills, including sustainable fashion knowledge, creative expression, artistic abilities, critical thinking, collaboration, event planning, communication, project management, environmental awareness, self-confidence, problem-solving, leadership, and entrepreneurial skills.
About the Collaborating Artists:
Kamala Bhagat: Kamala Bhagat is a visionary biophilic sustainable fashion designer and stylist with a mission to revolutionize the industry. Her unique approach to fashion transcends aesthetics, exploring the intricate interplay between mind, body, and spirit. Through her work, she seeks to awaken a sense of harmony and interconnectedness with the natural world. Kamala meticulously selects eco-friendly materials and implements ethical production practices in her creations, blending contemporary fashion with timeless elegance. She envisions a future where fashion and sustainability coexist, leaving a positive impact on individuals and the planet.
Shawnda Harper-Martin is an exceptional education teacher, mixed media artist, and mental health professional based in Richmond, Virginia. Under her brand name, Nappy Nerd, she has inspired others to explore their creativity and experience the positive effects of art on mood and well-being. Shawnda brings a wealth of experience and passion to her role in this collaboration, enriching the program with her expertise.
Join us on this transformative journey of self-expression, sustainability, and creativity, where fashion becomes a powerful tool for personal and environmental change.
(804) 405-2827
info@girlsforachange.org
Related Events