Bensley Agrihood: Discuss & Dine Series
October 13th, 2022
at
6:00 pm
–
8:00 pm
EDT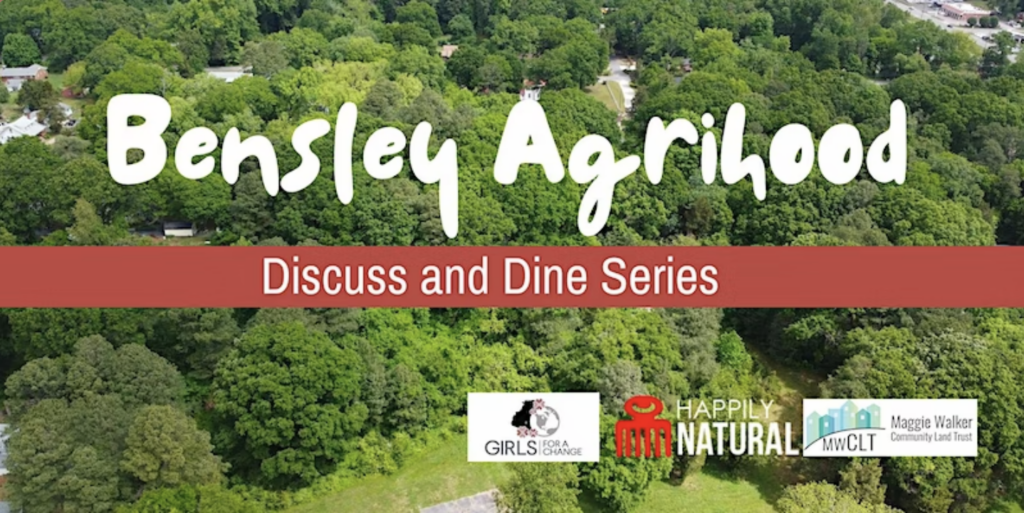 Incredible things happen when three non-profits come together!
A small agrihood with a big impact.
The Bensley Agrihood at 2600 Swineford Rd, Richmond, VA, is an initiative of Girls For A Change, Happily Natural Day, and Maggie Walker Community Land Trust to build a sustainable community centered around access to healthy food and supporting young women of color in the Richmond region. A working organic farm and fruit orchard will be the centerpiece of new homeownership opportunities — providing residents and community members in the Bensley neighborhood of Chesterfield County, Virginia with access to fresh fruits and vegetables.
But unlike other agrihoods, the Bensley Agrihood has a mission of empowering and readying young women of color for the world of today. Through Girls For A Change, the community will also support programs that help young Black women start businesses and prepare them for homeownership.
We are excited to roll out the "Bensley Agrihood: Discuss and Dine Series" and wish to invite the Bensley community and community leaders to share the vision of the Bensley Agrihood over food and fellowship. We want your feedback on this initiative and to let us know how this project can best serve the Bensley community.
Come to the potential site of the Bensley Agrihood for a catered meal to meet with the project partners and your fellow community members to learn more about this innovative development!
Free. Multiple dates available.