Tutor Meadowbrook High School - Contract Position
$500-$750 per month, 2-3 hours per day M-Th
Deadline for applying for the position:
Friday, September 29, 6 pm EST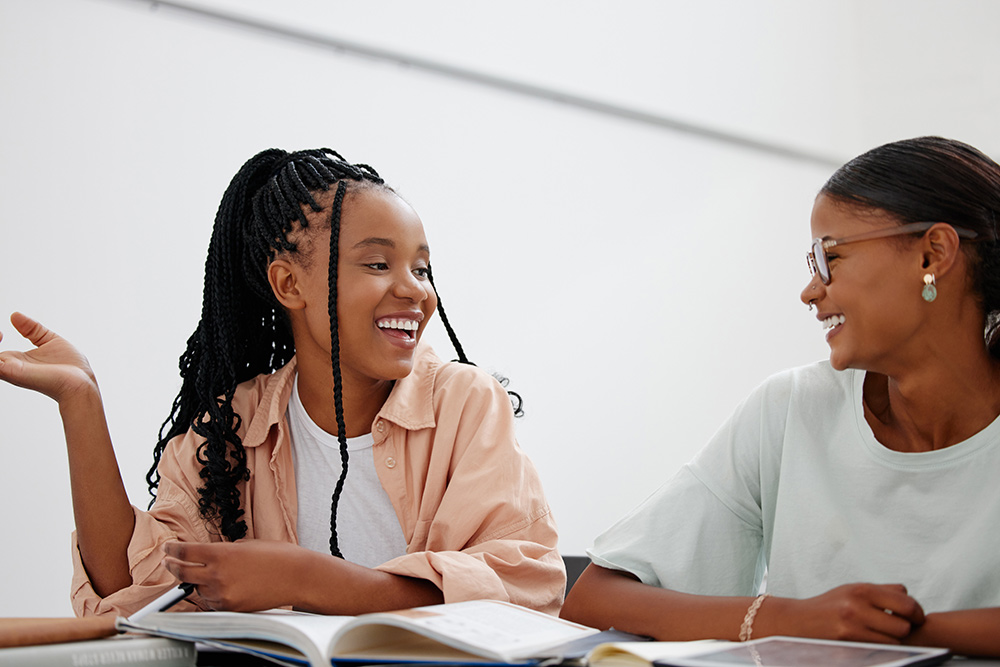 Introduction
Girls For A Change seeks a confident, creative, and energetic self-starter passionate about girl empowerment to successfully deliver culturally responsive tutoring services. The applicant should be enthusiastic and enjoy connecting with the community, families, and young people. 
Locations:
Girls For A Change Branch
100 Buford Rd, North Chesterfield, VA 23235
Meadowbrook High School
4901 Cogbill Rd, North Chesterfield, VA 23234
Beulah Recreation Center
6901 Hopkins Rd, North Chesterfield, VA 23234
Language:
English and Spanish (Bilingual Preferred)
License/Certification:
CPR/First Aid Certification required
Contractual Position:
$500-$750 per month
2-3 hours per day M-Th  
Unpaid School closing and paid holiday
Contracted positions are expected to:
Report to work as scheduled

Perform work as assigned

Obtain approval before changing work hours, including arriving early or leaving late.

Enter work hours accurately on Little Green Light each pay period

Must be a caring professional and committed to the success of our students

Hours: Candidates must be able to work a minimum of 4 days/week in the afternoon for 2-4 hrs.

Proof of Virginia required vaccinations for schools.
Days/Hours Available:
Monday and Wednesday 
OR 
Tuesday and Thursday
OR 
Program Schedule 
Monday -Thursday 
3:00 PM  (set up) 
Tuesdays:  2 PM-3 PM Weekly staff meeting (all shifts are required to attend the weekly staff meeting)  
3:30  PM Welcome and Serve Snack 
3:45 PM - 4:45 PM Tutoring session (1 hour) 
4:45 PM- 5:00 PM Breakdown/ Clean up 
Some Saturdays (make-up hours)

Responsibilities
Deliver engaging specialized academic and test-prep instruction to high school (and some middle school) students 

Build relationships in a supportive and professional manner

Maintain an accurate calendar in Google Calendar

Respond to administrators, students, and parents promptly

Demonstrate classroom management skills and professionalism in both remote and in-person settings

Attend required training and professional development events
Benefits
Since contractual employees aren't Girls For A Change employees, they aren't eligible for benefits. These self-employed individuals are responsible for obtaining their insurance and coordinating retirement savings.
Competitive pay, starting at $15 hr for 1-on-1 tutoring and starting at $20/ hr for classroom teaching, with potential for increases based on performance.

Some flexibility in building your schedule while supporting the needs of our students.

Paid training.

Personalized coaching and development, support, and continuing education from our Instructional Management Team.

Exceptional proprietary curriculum and instructional materials.

A friendly, respectful, supportive culture focused on best supporting students, parents, faculty, full-time and part-time staff.
Before You Begin the Application
It may be helpful to collect the following before you begin the application:
Your résumé.

The contact information for 3 references

Please note, all candidates will be required to complete a background check, fingerprinting, and Virginia required vaccinations for schools.
Characteristics
Approachable: They can build rapport and make students feel comfortable in an online classroom environment. Students feel comfortable approaching our tutors with questions, making them feel relaxed throughout class.

Patient: They take the time and effort to ensure students understand the complex subjects and materials at whichever speed the student requires.

Adaptive: They can tailor the lesson and environment to each student's needs and learning capabilities.

Considerate: They have the emotional intelligence to understand when students feel discouraged and can build their confidence.

Enthusiastic: They are passionate about education and have a contagious energy that makes for a fun environment for the students.