DJ Instructor - Contract Position
Instructor with a background in music and DJ history
Instructor will lead our Girls Drop Beats, Too Girl Action Team.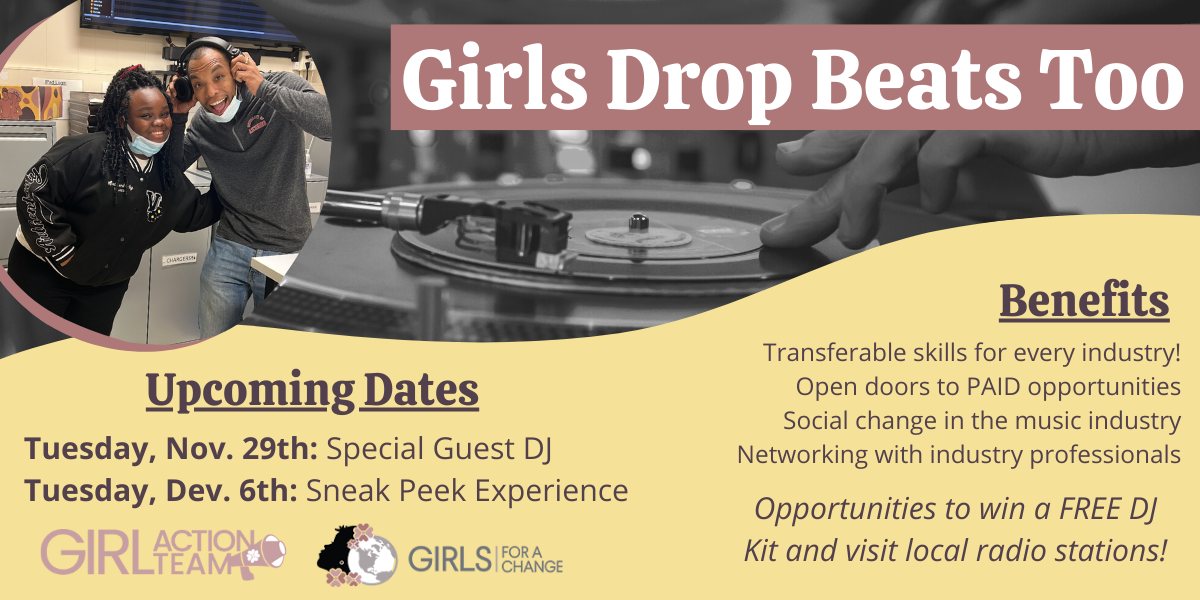 Job Description
Our organization is looking for an Instructor with a background in music and DJ history, that will lead our Girls Drop Beats, Too Girl Action Team! Join a group of fun, loving, and culturally affirming environments with other like-minded individuals that care about empowering girls with tools to set them up for success. Our DJ instructor will lead weekly private, semi-private or group DJ or Music Production instruction classes to middle and high school girls interested in learning the art and business of DJing.

Job Responsibilities
Specific duties and responsibilities include the following but other duties may be assigned.
Administrative Support by recording the attendance of participants in the program

Move, set up, and break down equipment at  Girls For A Change and other locations that apply. 

Assist with moving furniture, equipment and materials to prepare for classes or an event. 

Support and or Perform basic repair of minor equipment used in the class

Assist with equipment inventory, picking up purchases, rentals and care for equipment. 

Planning, preparing, and delivering lessons to all students in the class.

Teaching according to the educational needs, abilities, and achievement of the individual student and groups of students.

Providing guidance and advice to students on educational and social matters to further their education and career goals.

Communicating and consulting with other staff, including those having special responsibilities such as counselors and parents/guardians of minors, to ensure the best interest of students.

Monitoring performance and providing feedback to parents, participants, and staff during bi-weekly check-ins. 

Working with the students for a minimum of 8 hours per week. 

Assist with field trip planning and attend events and activities with girls outside of the facility. 

Teach and support the participants the art of booking and creating a business in DJing
Before You Begin the Application
It may be helpful to collect the following before you begin the application:
A recent resume
A cover letter
Applications will not be considered if the above requests are not included. 
Qualifications and Skills
To perform this job successfully, an individual must be able to perform each essential duty satisfactorily. The requirements listed here are representative of the knowledge, skills and abilities required. Under the ADA, reasonable accommodations may be made to enable individuals with disabilities to perform the essential functions.
1+ years of experience leading children between the ages of 9-18 and/ or 6th -12th grade.

Ability to maintain workflow efficiency in a fast-paced environment

Strong communication and leadership skills

Ability to create lesson plans and facilitate a classroom environment that is culturally relevant, engaging, productive, and safe for students. 

Alignment with the mission and vision of the organization

 Must demonstrate an understanding of DJ Mixing, Scratching, or Music Production concepts and be able to communicate those concepts to participants effectively

 Must DJ at a professional level of competence

Must be able to receive constructive feedback on teaching techniques and apply the feedback to new teaching situations, and environments

Must be able to be physically present at scheduled lessons on Tuesdays for a semester ( 12-16 ) weeks. 

Ability to interact effectively with the public, staff , parents , and participants. 

Ability to operate basic office equipment 

Participate in a bi-weekly meeting to discuss curriculum delivery, changes , updates and  for a general check in 

Effective time management and organizational skills

Be willing and capable to book virtual and in person guest 

Ability to work effectively with staff and management 

Adaptable to be flexible and except changes in the workplace( weather , make updates   location etc)

Ability to pass a background check

Attend coaches training on January 14, 2023 from 9am-5pm.
Education and Training
Teaching certificate and or degree in music is preferred; those who are currently enrolled in a music degree program will also be considered as well as those who have multiple years in DJing and talented. 

Experience in the subject area and or professional musical performance may be substituted for degree or licensure is recommended but not required. 

Attend the end of the year celebration on May 20th, 2023 from 12:00pm to 4:00pm to celebrate the participants success. 

Create opportunities for the participants to apply their skills at at least one or two events.  

Must be proficient in English speaking and writing skills
Next Steps
Please complete the application below

 and upload your resume.

You may contact our Director of Operations, Na'Kera Richardson at

nakera@girlsforachange.org

if you have any questions or concerns.