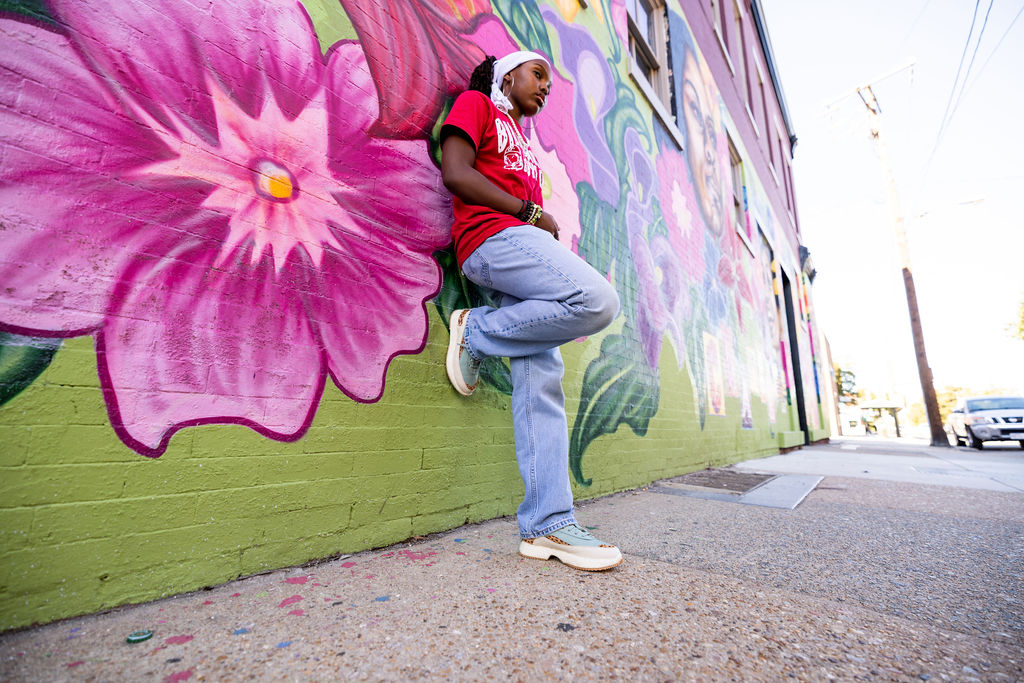 The 2021-2022 Thomas Jefferson High School Girl Action Team spent the Fall and Spring exploring how the fashion industry affects climate change with Tanita Gray of Last Report. After learning about sustainable shoe design and meeting other designers and fashionistas, they got to work creating their own sneaker in partnership with COMUNITYmade.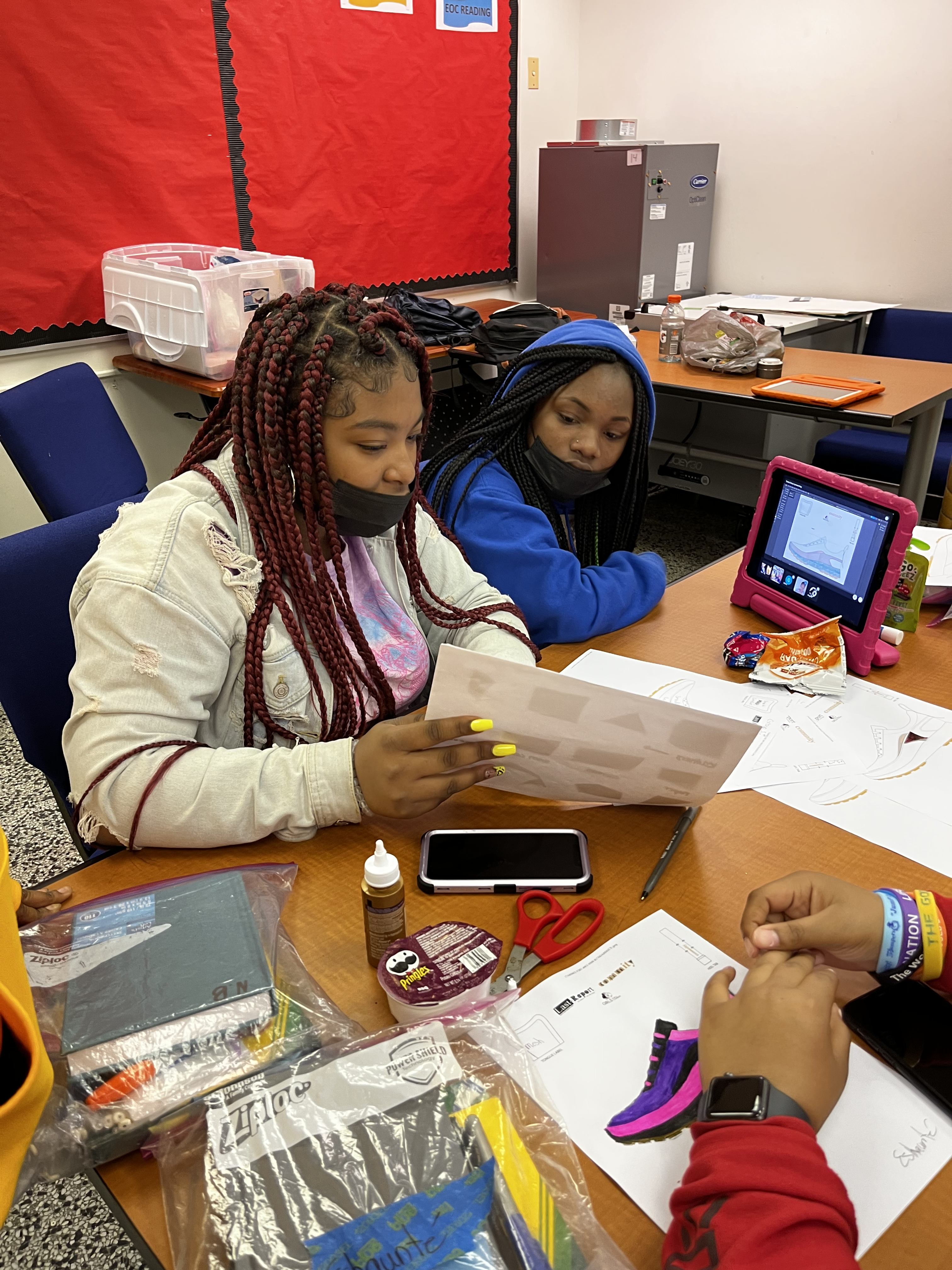 Their final design was made professionally by COMUNITYmade and is ready to be sold, with $20 per pair benefitting Girls For A Change!
"COMUNITYmade's mission of empowering others to create sustainable solutions for the future aligns perfectly with the Girls For A Change mission. Our collaboration on this Limited Edition model is a great way to help further the Girls For A Change initiatives." – Shannon Scott, Founder and President, COMUNITYmade
The sneakers will make their first public appearance on Saturday, October 8 for Day 2 of RVA SneakerFest! Here's a collection of the AMAZING lifestyle shots taken by Nick Davis, with GFAC Peer Ambassador, Asani Ka-Re at the Girls For A Change Mural.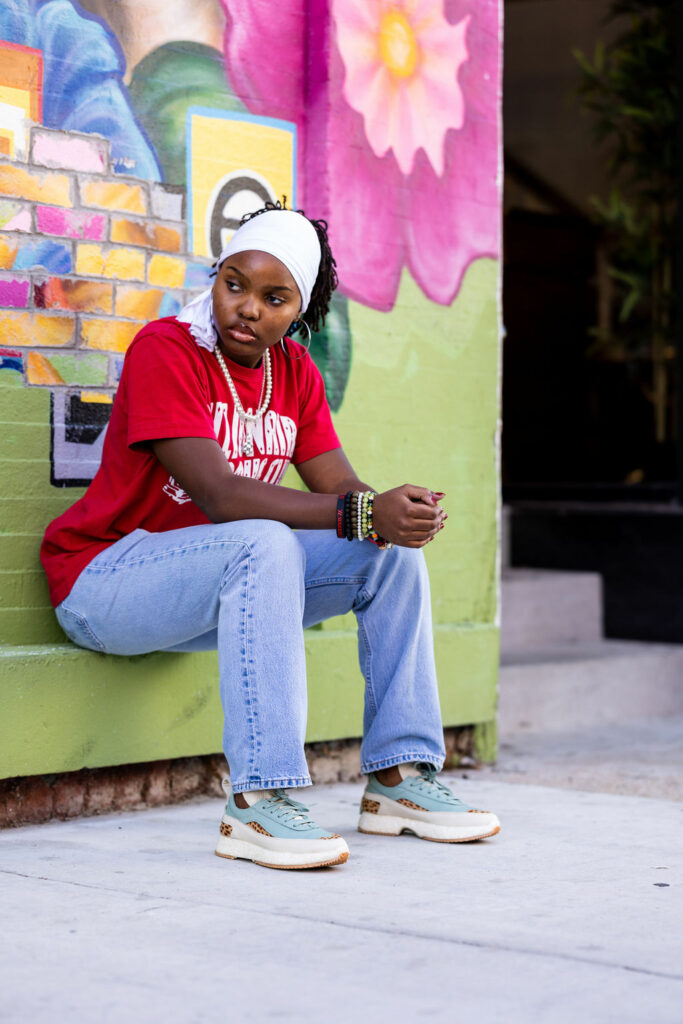 About RVA SneakerFest
Part of Richmond Fashion Week, RVA SneakerFest celebrates the Richmond sneaker culture. SneakerFest will start Friday, Oct. 7, at Black Iris. It includes an art gallery show featuring several artists during RVA First Fridays. Day 2 of SneakerFest moves to Tang & Biscuit from 2 p.m. to 2 a.m., creating a fusion of sneaker culture installations and vendors, streetwear fashion shows and music performances throughout the day. Among sneaker vendors, will be our Thomas Jefferson High School Girl Action Team selling their COMUNITYmade shoes. This year, Girls For A Change is among the chosen nonprofits that will benefit from the event. Learn more here.
About the Project
Hear the girls talk about the project during the Black Girl Showcase.
Where to buy the shoes
You can grab a pair on Saturday, October 8 at Tang and Biscuit during RVA SneakerFest OR purchase on the COMUNITYmade website.
About COMUNITYmade
Founded in 2017, COMUNITYmade strives to be a catalyst to inspire action, participation and empowerment to its members and create positive change within the community through locally crafted footwear. Located in the vibrant Arts District in downtown Los Angeles, COMUNITYmade's headquarters are located at 584 Mateo Street and serves as a blended mix of lounge/showroom, cobbling station, multi-use work and event space.
COMUNITYmade believes that producing premium products closer to where the customer is in smaller batches reduces the carbon footprint and reduces landfill waste by not contributing to "mass-produced fast fashion" throw away products. For more information on COMUNITYmade products and charitable partnerships, please visit www.comunitymade.com. Follow COMUNITYmade @comunitymade on Instagram and Facebook.