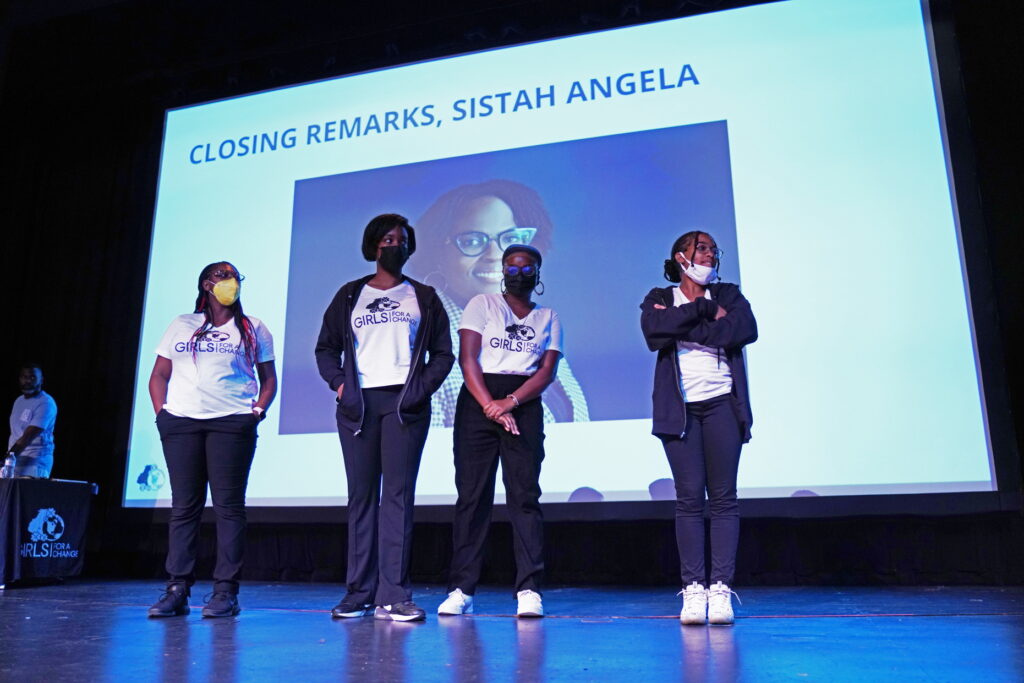 Celebrating Milestones with GFAC Alumnae
This month we closed out our 2022 summer programs with a joyful, cultural Closing Ceremony Celebration. This year at Camp Diva Leadership Academy, we celebrated a few important firsts in the program and in the organization as a whole. We celebrated the completion of the first Mission In Bloom group, a special Camp Diva curriculum to help prepare rising 9th graders for the transition to High School. This is our first group of girls to go through the curriculum to better prepared them for their next step on the path to womanhood.
We also celebrated the return of many GFAC alums as Camp Diva Counselors. Four out of six of them are past participants! This marks the first time that has happened in our organization and is a huge signifier that we are doing something right. We always ask participants to stay it in with us from program to program and even after they leave Girls For A Change. It's a powerful testament to watch these girls become women and then come back to lift up the younger generation.
"Overall, no matter what program you're in at GFAC, you are a part of our community. We want you to stay in it with us. I am so proud that this year we have FOUR Camp Diva counselors who are GFAC alumni. Women who grew up with us as girls and want to turn around and give back to the next generation. That fills my heart with joy." – Sister Angela Patton
Meet this year's Camp Diva Counselors and hear why they continue to support GFAC.
Karimah Turner
Sister Karimah is a Camp Diva alumni who was part of Camp Diva from ages 11-14. She also participated in the Annual Date with Dad Dance and was always willing to volunteer in her spare time. She returns to Girls For A Change not only as the Camp Director but now as a full time staff member, filling the role of GFAC Program Director.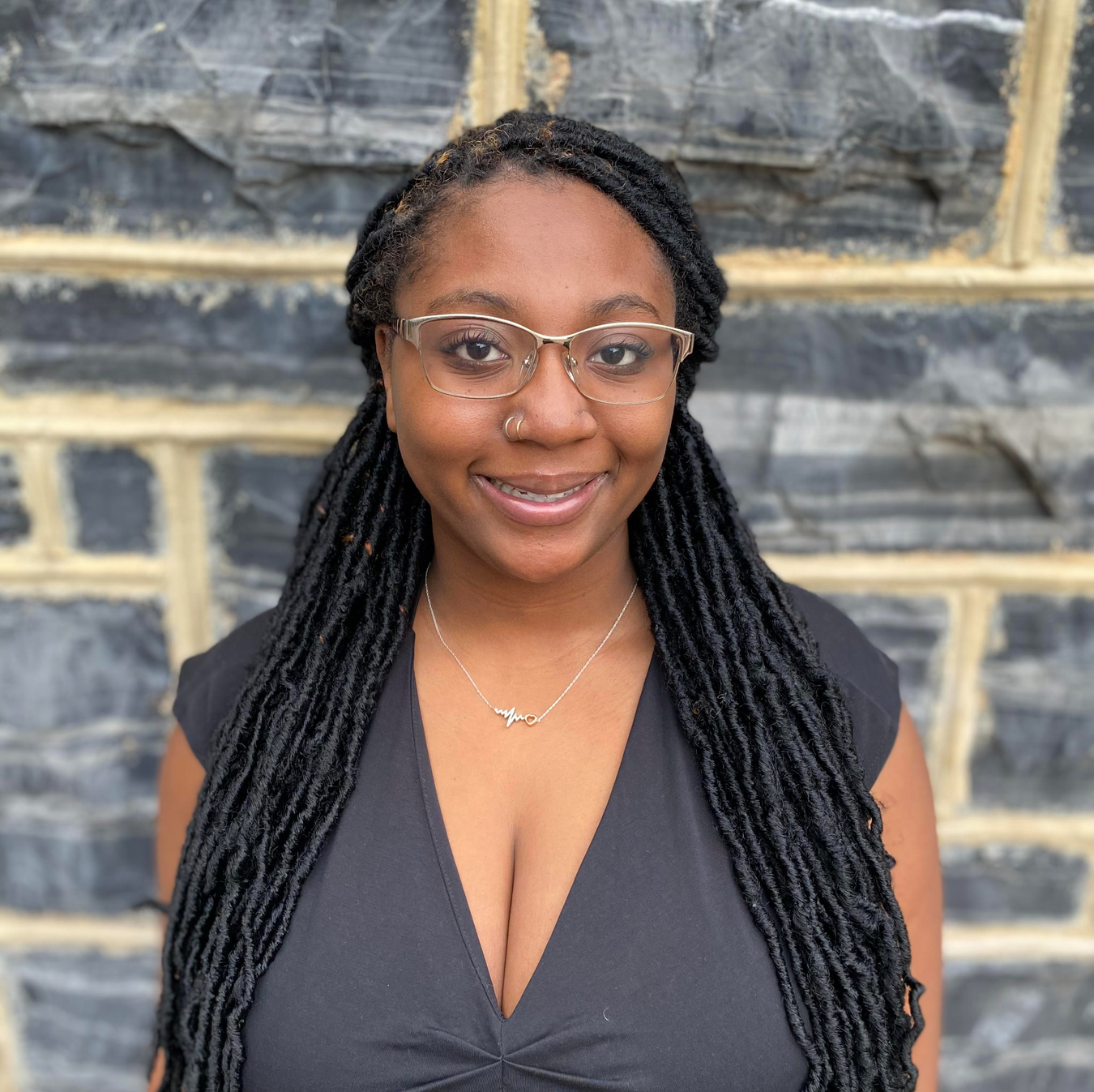 What's the most impactful lesson you took with you into womanhood from your time w/GFAC?
"I have learned so much at such a young age throughout my time with Camp Diva. I have utilized communication skills and flexibility skills throughout my time in college. Another impactful lesson I have learned and continue to take with me is the importance of sisterhood in the Black community. Learning how to create unity and safe spaces among Black girls has been something that has helped me make new connections in college."
What are your career aspirations?
"As a recent graduate, my career goals are to continue helping and making a difference in the Black community. Specifically, become a licensed clinical therapist and raise awareness about mental health in the Black community. I also want to incoorparte mental health into the different curriculums as this is an important topic that should be discussed and adjusted based on age ranges."
What made you decide to come back to GFAC as a Camp Counselor?
"I came back to GFAC to be the mentor I had as a child. I wanted to be able to give back to an organization that had such a positive impact on my life and to continue to help Black girls."
Shanthi Bhagat
Sister Shanthi and her family are no stranger to Girls For A Change. She is a Camp Diva alumni who attended Camp as a rising 6th grader through age 11.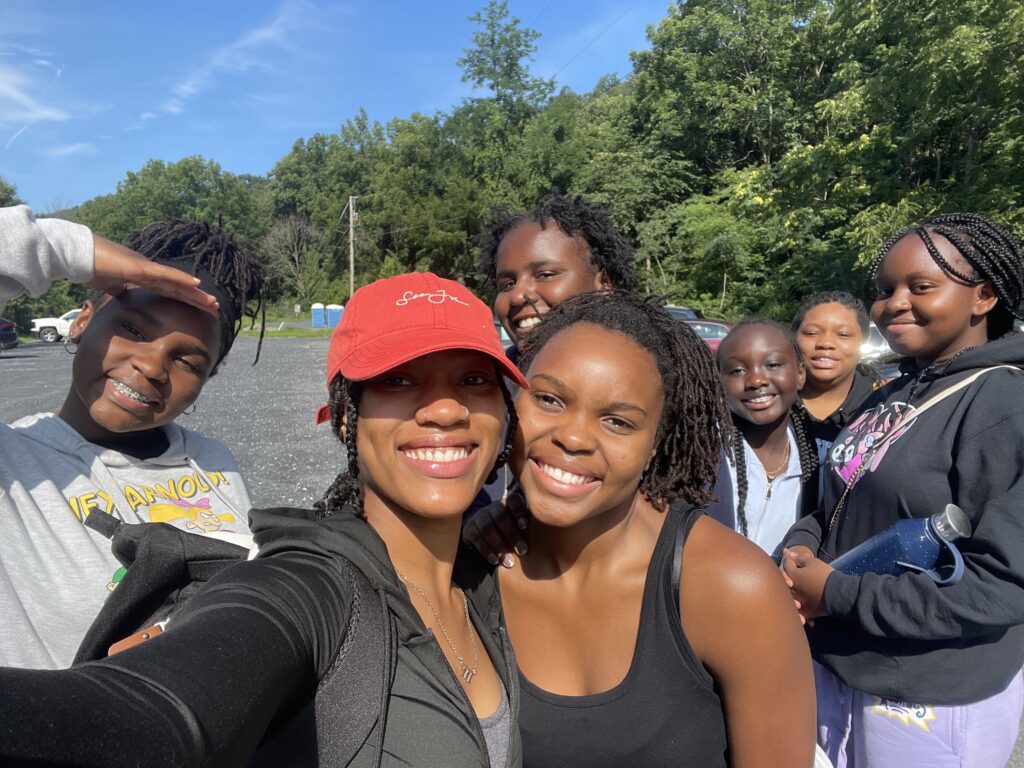 What's the most impactful lesson you took with you into womanhood from your time w/GFAC?
"GFAC has taught me to know, acknowledge and exude my power as a young Black woman. Living in a misogynistic society makes it vitally important to be confident and love who you are as a Black woman."
What are your career aspirations?
"I'm studying psychology at VCU and plan to add on alternative and contemporary medicine as a minor. I aspire to be a forensic psychologist using plants and herbs as a rehabilitation technique for my clients."
What made you decide to come back to GFAC as a Camp Counselor?
"I came back to GFAC to plant the same gems that were given to me. Middle school ages are a crucial part in a young women's life, and I want to be a role model and mentor to help these girls through this transition."
Genisus Holland
Sister Genisus is a SEVEN time Camp Diva counselor, a Girl Action Team coach, AND an alumni. She was part of the Girl Ambassador Program and the Speaker's Bureau.
"I was about 15 the first time I volunteered, I continued in the programs all of my high school career. Alongside that, I have been working as a Camp Diva counselor since 16."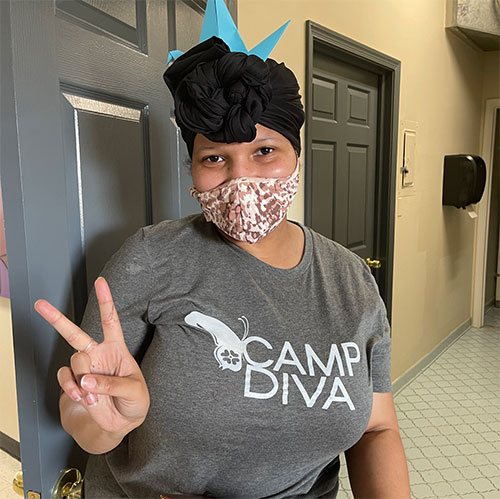 What's the most impactful lesson you took with you into womanhood from your time w/GFAC?
"When I look on my development into the person I am today it's almost impossible for me to separate Girls For a Change's role in it. They taught me so many things, how to give, how to receive, how to be a change maker in my community. What made it so great is they never forced me to learn any of this it happen organically. Girls For A Change just wants to see each girl live out there potential, whatever that potential may be, with out having to be forced in a box. They have given me such unwavering support and opportunities. They have been one of the most positive impacts on my life."
What are working towards in school?
"I'm double majoring in Journalism and International Relations. I would like to do something in the investigative section, or even tv news. I just want society to be more honest and transparent about the things happening in our world and the impacts of those things."
What made you decide to come back to GFAC as a Camp Counselor?
Like I said, Girls For a Change taught me how to receive and to give. One of the ways I try to give back is by doing Camp Diva. I have been helping out with Camp Diva since I was a Freshman in high school. I am about to be a junior in college. So it's been a while. The energy of Camp Diva is so unique. Watching all these people come together to create new and impactful experiences for our girls is nothing short of amazing. The girls grow, laugh, and live in this safe and adventurous bubble created by Girls For a Change. It's an easy thing to want to come back to and do again."
Michelle Johnson
Sister Michelle is a Girl Action Team and Girl Ambassador Program alumni who is on a full ride scholarship to James Madison University. We were so happy to have her this summer as a recent program alumni.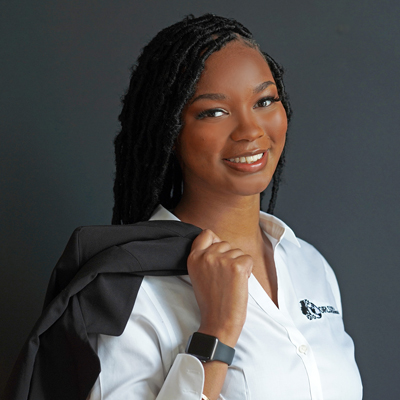 What's the most impactful lesson you took with you into womanhood from your time w/GFAC?
"The most impactful lesson I took with me into womanhood from my time with GFAC is how important it is to pass on what I learn and continue to stay in contact with the mentors who have guided and provided awesome opportunities to me."
What are your career aspirations?
My career aspirations are to work in the healthcare field and work with children or possibly young adults.
What made you decide to come back to GFAC as a Camp Counselor?
"I decided to come back to GFAC as a Camp Counselor to gain more experience with working with young bright children, and provide them with my guidance and motivation to push them to strive for greater success in the future."
Lahjae White-Patterson
Lahjae is a Girl Ambassador Alumni and student at Virginia Polytechnic Insitute and State University.
She participated in the Girl Ambassador program during her last two years of high school and is currently a part of our Budding Black Business Immersion Lab cohort.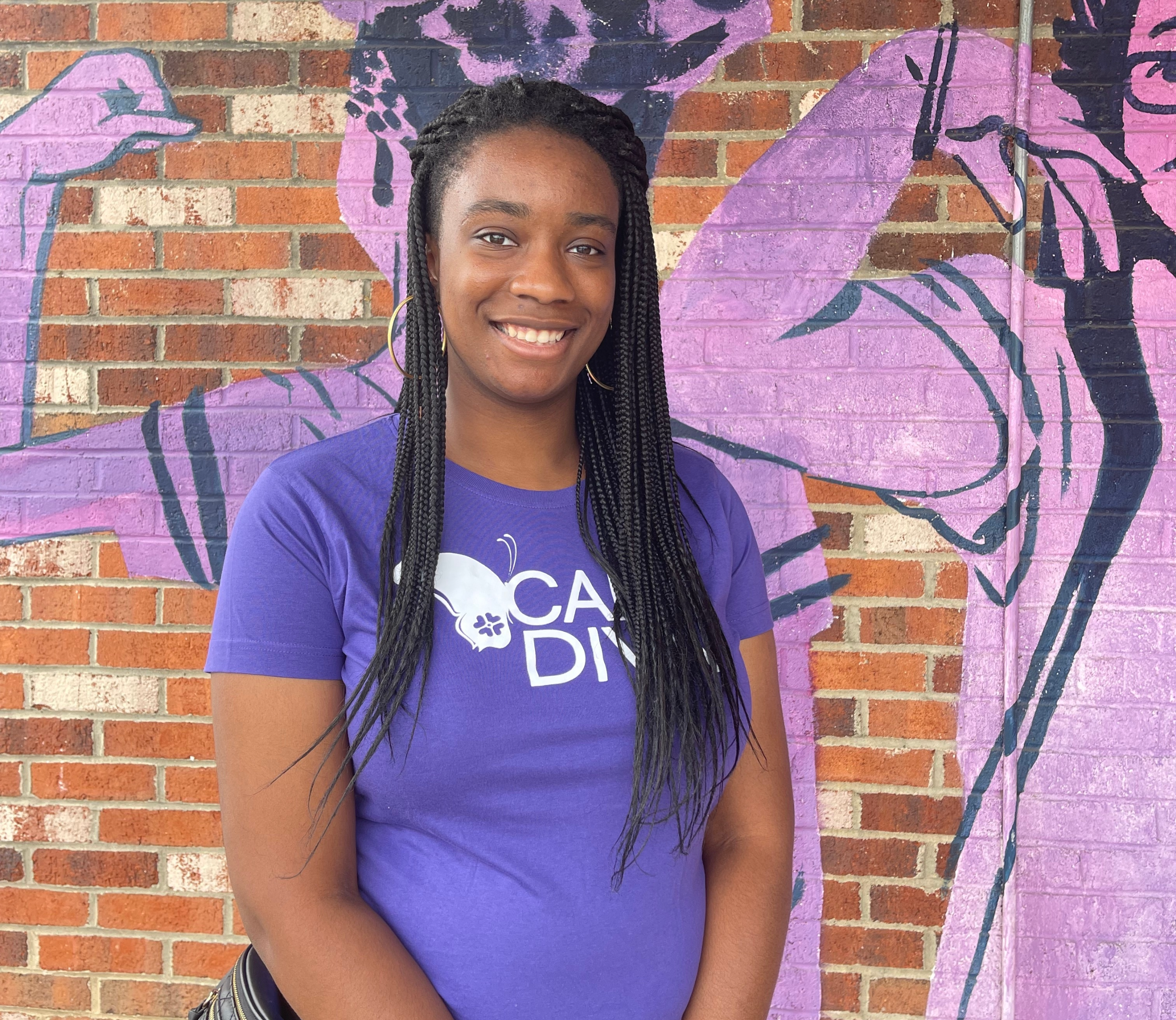 How has GFAC impacted you?
"Girls For A Change has impacted me by giving me a support network that helped me find jobs during the summer, develop my networking skills, and gave me another place to call home."
What are you working towards in school?
"I am in school pursuing a bachelor's degree in creative technologies which I plan to use to become either a 2D animator, an illustrator, or character designer. Along the way I plan to continue growing my apparel business so I can have a second source of income."
What made you decide to come back to GFAC as a Camp Counselor?
"I decided to come back to GFAC because I enjoy being a part of this organization that uplifts and empowers young Black girls by providing resources for them to flourish in a world that would ignore their potential."
This year's Camp Counselors have made a big impact on Camp Diva participants and are a part of the growing community we have here at Girls For A Change. We are proud to have offered Sister Karimah a full time role and are excited to share that the Girls For A Change team is growing to include more full time and part time staff members. That kind of capacity building for a nonprofit organization is a huge milestone that we are proud to have reached.
We also started an alumnae association! Right before the Fall, a group of GFAC alumnae from college students to graduate students to post-grad women came together to discuss the impact of our programs. They were eager to discuss their fondest GFAC memories, connect again, and express their most pressing needs from GFAC as women who have entered the world. This alumnae cohort has big plans, so stay tuned to see what is to come! We are recruiting officers to help lead the initiative. Positions include President, Vice President, and Secretary. Want to join us? Fill out this form.