All of The Great Things our 2019-2020 Girl Action Teams Accomplished
Due to the COVID-19 crisis, schools across Virginia were closed for the remainder of the 2019-2020 school year. Unfortunately, that means our Girl Action Teams (GAT) were suspended. Despite not being able to finish the semester, each team made great strides towards their action plans. We want to celebrate their work by highlighting each team and what they were able to accomplish.
For those who don't know, Girl Action Teams are at the heart of Girls For A Change. The program takes place after school in partnership with public schools and community programs. Each team goes through our unique 12-week curriculum where they learn about social justice and then tackle social issues they feel passionate about with the guidance of their coaches.
This year, our Girl Action Teams were expanded through a partnership with Richmond Public Schools. Here's a look at each of our Girl Action Teams. 
Richmond Public School Girl Action Teams
Within Binford Middle School, girls were able to participate in hands-on activities that stimulated imagination and innovation. The girls were able to identify challenges in their communities such as homelessness and poverty. Before social distancing, the girls were taking the steps to creating a plan on how to confront these issues.
As for our Boushall Middle School team, with the help of Sistah Anna and Sistah Nancy, the girls were able to distinguish the difference of true social change and charity work. Together, they worked to narrow their focuses to develop a few topics that were important to them. Some topics included saving the turtles, spending time with family and friends, having and using their voice and having mentors and role models to look up to. They participated in several bonding and leadership exercises. Before leaving school, the girls were asked what they had taken away from GAT so far. Many of the girls answered with "loved", "cared for", and plainly just a "fun time". 
At Huguenot High School, a team of 5 girls were granted the opportunity to focus on a Summer program consisting of topics in financial literacy and other digital skills as their social change project. The girls even had the chance to speak on CBS News. Although they were unable to implement their ideas, the girls spent several meetings researching and outlining the design of their project
Our John Marshall High School "even day team" was quick to narrow down their project topic. The girls decided to pursue solutions to decreasing gun violence within their communities. From the beginning they were very open about their experiences with this issue, and took to their artistic abilities in finding the resolution. 
Our "odd day team" quickly found comfort in each other. The girls were excited to choose the topic of mental health within the Black community for their social change project. They quickly got to work on a Black Girl Poem Book where they would share their own mental health experiences and journeys. Unfortunately, the girls were not able to begin the implementation of their own poems, but they were able to participate in writing activities to prepare themselves.
At MLK High School, a team of 14 girls, led by Keonna, Niyasia and Iman, completed several team bonding exercises that reflect their growing personalities. Many of the exercises focused on reflecting on personal powers and strengths. At their last meeting before school closures, the girls discussed a focus on mentorship with younger girls for their social change project. They wanted to offer advice and support for girls who may be experiencing the same things they had in the past.
The ladies at Thomas Jefferson High School were excited and had several ideas for their social change projects. Topics ranged from assistance and support for single parents, people with disabilities, and girls struggling with mental health. While GATs were still meeting, the girls discussed how to cohesively join all of these ideas into a single project.
Chesterfield County Public School Girl Action Teams
For many of the girls at Thomas Dale High School, their GAT sessions were cut short without the opportunity to identify key issues within their community. However, this is not to say they didn't find new friends and learn about social justice. The girls at TDHS had many discussion-based meetings to talk about family, their future, and personal goals. Each meeting helped the girls become more and more transparent with themselves and their coaches.
At Meadowbrook High School, a team of 11 girls spent time having discussions on their individual experiences within their own lives, schools, and community. Coaches Anna and Keonna were very helpful in creating a safe space where support was the number one goal. The girls communicated a desire for sisterhood and social change. 
Henrico County Public Schools Girl Action Teams
At Petersburg High School, girls were able to identify personal strengths and problem solving skills by applying them to their own experiences. They focused on distinguishing the differences between social change and charity while expressing their concerns about gun violence issues and substance abuse.
At Highland Springs High School, the girls were able to set up a donation station within their school in hopes to fill a gap in materials and supplies. Within the first two meetings the girls were able to form bonds while they worked on their project.
Community Projects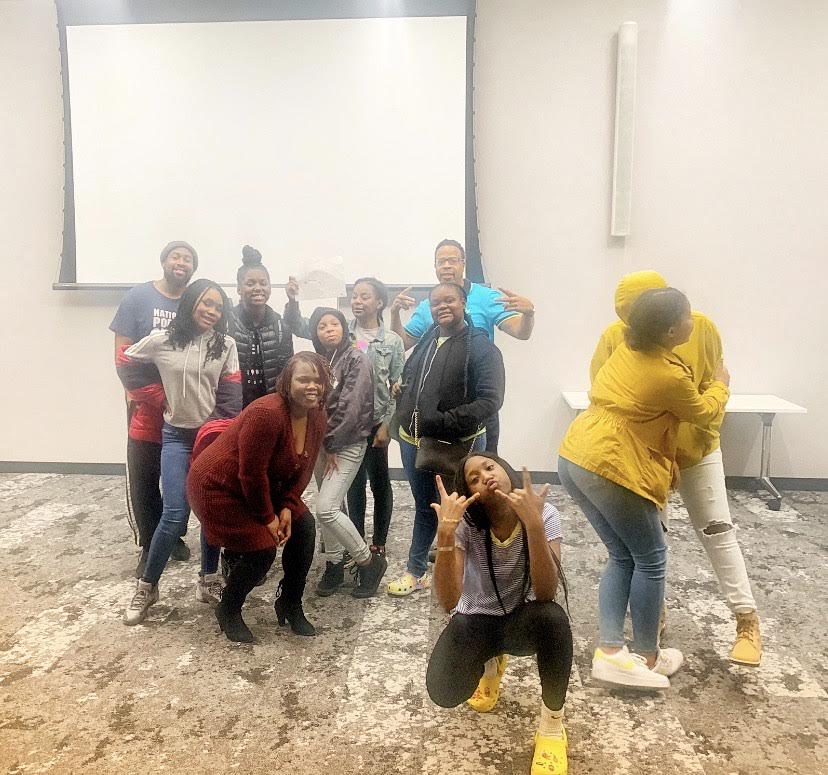 Within the Northside Boys and Girls Club, co-coaches Kai and Tiffany enjoyed getting to know the girls on the team. Together they worked on instilling the values of respect, self-love, goal achievement and the importance of empowering themselves and others. Initially, the girls hoped to create a "cool-down relaxation" room within the building, since they felt as though they did not have a space with this purpose. The girls also brainstormed how they could assist the homeless.
The UPRVA Girl Action Team consisted of 7 girls who were passionate about their social change project on gun violence. Collectively, the girls would create a visual presentation after interviewing students and other community members about the subject and how it had impacted them. Before the crisis, the girls were in the process of identifying questions, the course of action for obtaining consent, and prospective areas for interviewing purposes. Outside of the work of the team, the coaches facilitated a space for the team to build respect for each other.
At the Anna Julia Cooper Episcopal School, a GAT of 12 girls pursued Grade-Level Reading (GLR) as their social change project. Together, the girls planned a week of awareness that would incorporate family engagement, book drives, advocacy, and more. Before school closures, the girls were in the early stages of visualizing their project, focusing on the overall goal of increasing literacy rich environments and bridging the gap in family engagement and access to resources, as well as igniting systemic changes through education and advocacy.
At Elkhardt-Thompson Middle School, our Next-UP team focused their social change project around violence in their community. Although they were not able to create an outline for their project, they were able to enjoy team building activities.
Our Girl Action Teams will continue to do amazing things for their community, but they will only be able to complete social change projects like this with the help of our coaches, volunteers and most importantly resources. Supporting our Girl Action Teams means being a part of incredible initiatives that not only help girls develop critical thinking skills but also give them a platform to build their voices. You can learn more about our Girl Action Teams here and how you can donate for the following school year.