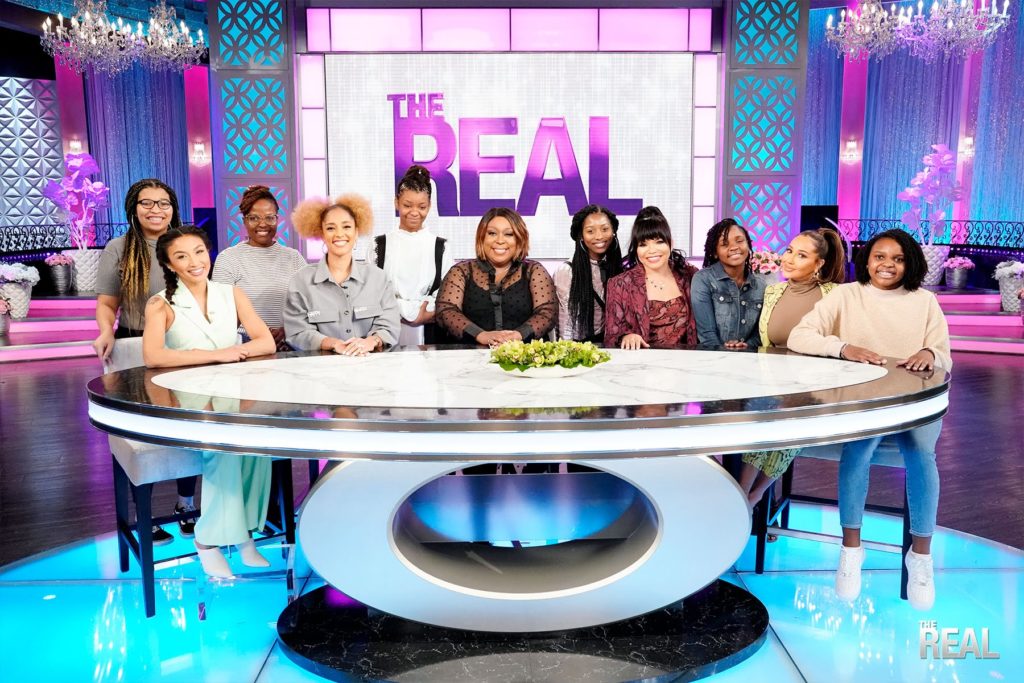 Over the years, our CEO Angela Patton has been establishing relationships in Los Angeles with amazing and passionate supporters of Girls For A Change. Through her relationships, she has been able to start the first of what will hopefully be many Girl Action Teams in the Los Angeles area. Thanks to Warner Bros. Studio and the vision of their Publicity Manager Wendy Berry, Girls For A Change held a launch event to announce the launch of the first Girl Action Team in Inglewood and to gather the community together to meet us, learn more about Girls For A Change, and hopefully get people involved.
The fundraiser was a huge success! Not only did our girls get to see first hand, a major fundraiser come together, they also had many experiences and opportunities while in L.A. Special shout out to Slomique and Carpe Diem Events for making this a truly exquisite event! Thanks to our supporters, the girls got to network, meet many successful Black professionals, and learn more about the entertainment industry. Here's what a few of them had to say.
Journi
"I had an AMAZING trip. Our flight was delayed so we got to LA a lot little later than usual but we got to go in this really cool limo/van with disco lights.
The first morning we went to the talk show called The Real and got to meet all the hosts, take pictures with them, and I even got to sit in one of their really fluffy chairs. Afterwards, we had lunch with two Warner Bros. executives (the food was really good) and we learned what they did for the company. For dinner we went to a really nice Ramen restaurant where I had some of the greatest food I've ever tasted.
The next day we went on a tour through Warner Bros. Studios where we saw things like the Bat Cave, the Warner Bros. water tower, and the set of F.R.I.E.N.D.S. We then went to this really cool women's work space called The Wing. It had basically everything you would want like a café and porch. Lastly, we went to a restaurant called Yard House. The food was also very delicious and I kinda wanna go there again.
On the third day, we went to this filming space called Epoch. We had lunch there, got to see some of their work, and went on a tour. Then we went to Market Place where I got this really good chocolate milkshake (best chocolate milkshake ever) and went in this HUGE Nike store with an ELEVATOR. I repeat an ELEVATOR. Best mall I have ever been to.
Saturday was the big event which I was super excited for. We had started preparing for it the night before but I wasn't ready for how beautiful it was. There were flowers on all the tables, gorgeous couches inside and outside, and it was a sunny day which made the whole day even better. I had the opportunity to meet some great people and be introduced to new things. The entire trip was just amazing. On that note I would like to thank everyone that made this amazing experience possible. I am so grateful of all the things I got to do and sights I got to see.
Genisus
We arrived at LAX in the early hours of Wednesday morning after starting our travels around 4 pm the previous day. I have gotten used to long flights since being with Girls For a Change. I experienced my first flight with Sister Angela in 2018 on our way to San Francisco. Since then, the magic of being up the air has not died down, in fact it has grown. I wouldn't be a seasoned flier without this program and I'm very thankful for that experience. Once we arrived at the hotel, I was in awe of the beauty of the place. The beds were comfortable and we had a huge TV. We were all exhausted but woke up later that Wednesday with a lot of energy because that was the day we were going to The Real!
Being in Warner Bros. was truly an amazing experience. From the second we stepped foot into the building we were treated like queens. We were given a V.I.P area to relax before the taping of the show, there we met some amazingly nice people, which would become a theme throughout this trip. We were led to the set of The Real where we got to see behind the scenes and take pictures with the cast! I got a chance to learn more about the people behind the camera and discovered how essential they are.

After that we were able to have lunch with two amazing people who work at Warner Bros. They treated us to the meal, and during it we had fun and insightful conversations that helped me understand what it is like to be successful as a Black woman in the business. After that we drove around and went back to the hotel to regroup. We ended up having ramen that night, which was my first time having authentic ramen.
We woke up the next day just as excited as the day before. We had a tour at Warner Bros. and saw so many amazing things. I was overwhelmed to be so close to these things that I usually watched through a tv screen. The Harry Potter and F.R.I.E.N.D.S things are the ones that made me truly geek out as those are things I have grown up on and have loved for a long time. That experience is a memory that will last me for years to come.
After that we went to The Wing, a coworking space for women, which Sister Angela is becoming a member of. The decor was amazing and so were the people, I enjoyed every moment of it. I was able to talk to some truly amazing women who gave me advice about journalism, my field of choice, and who congratulated me on my acceptance to George Mason. One of these women even treated me to lunch! It was so cool and made me feel great that I had made some strong allies in L.A. who I plan to keep in contact with as they are people I could truly look up to. That was the end of our Thursday.
Friday, we were surprised with a tour of EPOCH films. There we were able to learn from this group of amazing women and also see the trailer for the Dance with Dad film. We ate lunch with them, explored the office, and watched some of their video reel. Afterward, we headed to the location of the event. We all tried to help as much as we could to make sure Saturday turned out wonderful. There was a lot of staff there that worked well into the night and who were there early the next day.

Saturday was amazing, the event contained so many Black females showing us their talent. The whole experience was filled with so much love and community I almost shed a tear. I was given the privilege of presenting award to both Ruth Carter and Erika Alexander, two formidable women in the industry that I was grateful to honor. We also got a personalized message from Tiffany Haddish!

We were treated to dinner later by some of the people we met including actor and filmmaker Joel Edgerton, Maureen Jules-Perez the VP of Technology at Capital One, her husband and their son. I met so many amazing people during the function and in L.A. in general, and I think I have made connections that will last me a lifetime. I will forever hold this trip close to my heart. To everyone who helped make this trip and the experiences possible you have my biggest thanks! Thank you so so much!
Asani
My favorite part about the L.A. trip was getting a tour at the Warner Bros. Studios. First, we got our tickets to go on the tour. Then, we all took selfies and pictures. We took group pictures, and I took a picture with my brother and my mom changed that to her wallpaper.
We got to see a little clip about what Warner Bros. is all about. We had a tour, and I really enjoyed it. We even got to go in a golf cart which was super fun. We took several photos, but were not permitted to take any videos. During the tour, we went to "New York" style set first. There were so many bricks but none of them were real. My mouth dropped when I heard it wasn't real! One of my favorite movies "Annie" was placed in " New York." I was so happy!
We also saw so many other cool things. We got to see where "Aquaman" and "Harry Potter" were filmed. I'm not really a fan of either, but I still thought it was very interesting. My favorite part is when we got to see Batman's vehicles. It was awesome!!!! All but two of them were real, and Batman actually rode in them. We also got to see the set of the second second of All American, a show by Warner Bros. It was super cool because there was a school and a pretty house.
After the tour was over we got to go to the gift shop. I felt like I was in heaven. I got an Ellen shirt, a keychain that had the letter A on it, a Warner Bros. Keychain with the cast from "Looney Tunes", a "Pretty Little Liars" lip gloss, and Warner Bros. sticker that I love. We also got to explore a museum that they had. We took a picture on the set of "F.R.I.E.N.D.S.", and I loved it. It was so cool and cute. I took a few pictures of outfits from one of my favorite movies called "Crazy Rich Asians". I wish I could do it again though! Thank you for reading.
Nadia
The plane to L.A. was super loud but super scary and fun! The plane was so crazy it had a TV, Games, drinks, and so much more cool stuff. We had a blast touring Warner Bros. Studios and being on set at The Real. The Real is not how you would think it looks. There are so many cameras, it is not live, and they redo their lines sometimes. There is a hype person that makes us clap when we are supposed to and gives us prizes for doing things.
I learned that just because you see it on TV doesn't mean that it's real. You have to go through practicing and cameras all in your face and everything. Timing is everything and the camera crew does that a lot they have to communicate with each other and if you mess up you have to go back in the
recording.
We went to this place called wings (not a chicken place)and we had food and we got to do our school work which was amazing though I wish that they had wings.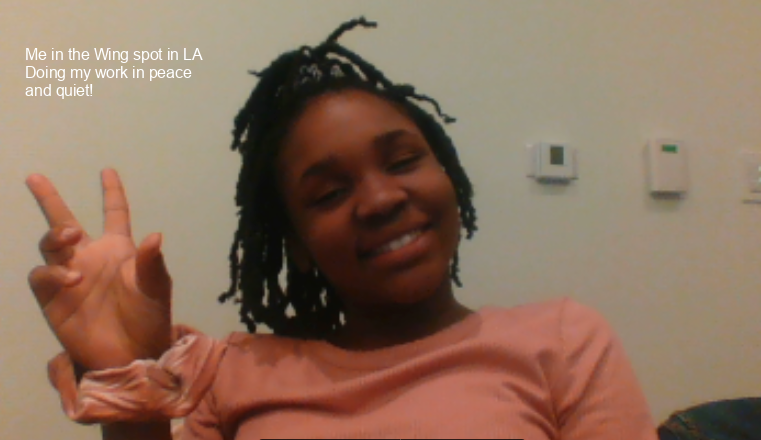 The event was fun we met Ruth Carter and Erika Alexander and had food and venders.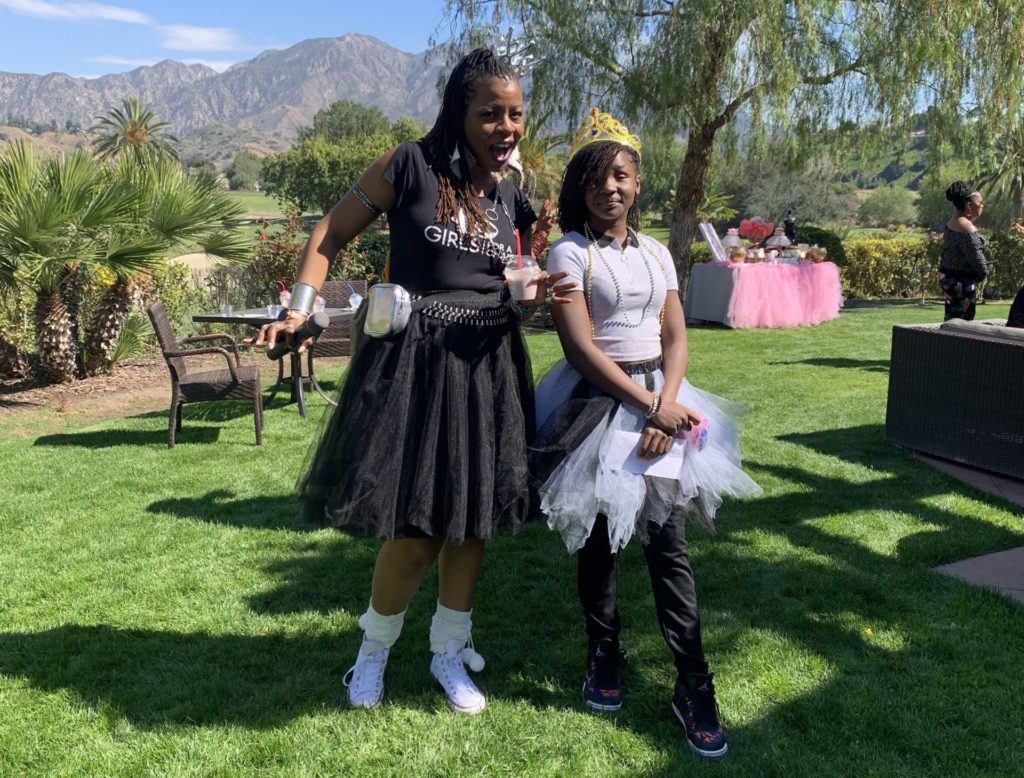 Iyanna
Preparing for this trip was exciting but stressful. This was my first time going to L.A. and I got to experience some things that a girl my age would dream of! When I was first picked to go on this trip Sis. Angela and Genisus mentioned it would be a great idea if I did an Activation Station. I was honored that Sis. Angela thought my company Iyanna Mone' Essentials would be a great addition to the event! So from there I started working on my Activation Station. Coming up with an idea, finding cute decorations, planning out the flow, and finding ways to attract the attendees to my table! Through this process I got to work with an amazing event planner Slomique Harlow. She listened to my idea and helped me bring it to life! For the next few weeks I was shopping for the amazing L.A. weather and preparing for my Activation Station. It became a little stressful due to the fact I'm a perfectionist and I didn't want to let anyone down.
Day 1: Once we arrived at Warner Bros. my mouth immediately dropped at the thought that this is where a lot of things I watched were filmed. Seeing all the stages, gates , and sets was unreal to me at that moment. Once we got off the party bus. We headed to the stage where "The Real" is filmed. Then, Joseline brought us to the VIP Lounge. In my head I was like " when did I become a very important person". We sat and waited for them to bring us on set. As we waited I peeked through the curtain and I saw Adriene Bailon, one of my favorite Disney actors as a child. I was the biggest fan of Cheetah Girls! Then the others started walking in Loni Love, Jeannie Mai, Amanda Seales, and guest host Tisha Campbell! It was crazy that there were like 6ft away from me.
Day 2: We woke up early and headed back to Warner Bros. That day we toured the sets, stages, and different studios of Warner Bros. It was pretty cool to see where they filmed so many shows and movies.
You would think some of these shows were filmed in places they appeared to be filmed. But, Warner Bros. has sets that look like Chicago, New York, and more. They even have fake oceans and with technology they are able to make it bigger than what they appeared. We were even able to see the original costumes used to filmed these movies and tv shows. After Warner Bros. we went by The Wing, which is a cool coworking space for women with different locations all over the globe. We spent a few hours catching up on homework and enjoying the space.
Day 3: This day we started off our morning going to Epoch Films. They produce content for all forms of media commercials, music videos, television, digital content, short films, and feature films. We toured the facility and also got a chance to chat with them.
Day 4: The day of the event we have all been waiting for! We came that morning to continue setting up. I immediately went to set up my Activation Station. My station turned out so nice. The attendees loved what I had to offer. My new lip gloss shade was a success and will be dropping on my website www.iyannamoneessentials.com March 2020! I had a chance to meet the lovely Erika Alexander, Ruth Carter, Wendy Rose, Slomique Harlow, Erica Ash, Dourien, Joel Edgerton and so many great others! Later on that day we had dinner with Joel Edgerton whose an actor and a great supporter of Girls For A Change!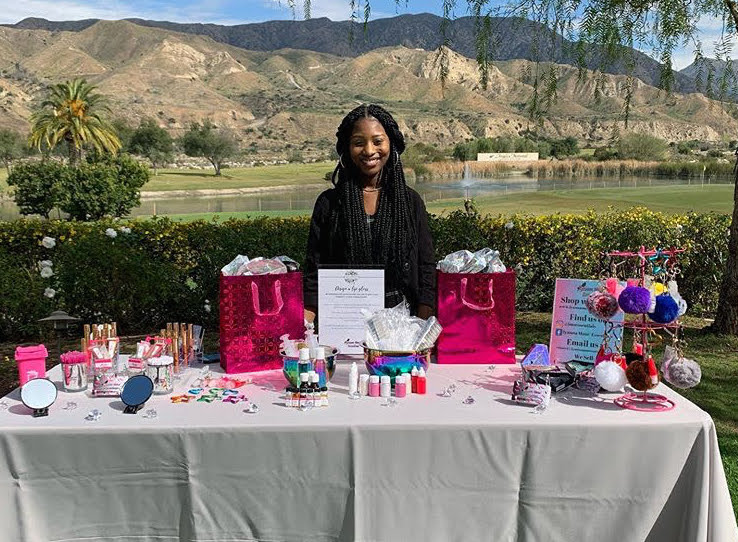 Special Thanks to all the lovely people I met and had the opportunity to network with. A VERY Special Thanks to Sis. Angela for giving me and the girls this amazing opportunity to go to Los Angeles and do amazing things! I am forever grateful for the opportunities Sis. Angela has continuously given me. I'm so proud to be a part of this amazing organization Girls For A Change!
We would like to thank Warner Bros. for being such an amazing partner and providing so many great experiences for our girls as well as being the presenting sponsor for our event. We would also like to thank EPOCH for giving the girls a tour of their studio and for assisting with A/V during the event. Thank you to The Wing for allowing our girls to use the space for networking with them and even taking them to lunch. Thank you to the staff and cast of The Real for being so kind and giving the girls an experience they will never forget.
Thank you to Joel Edgerton for being such a big supporter and introducing us to so many influential people in Los Angeles. Thank you two our Interim Board Chair Maureen Jules-Perez for bringing her family out to LA and for treating us to dinner.